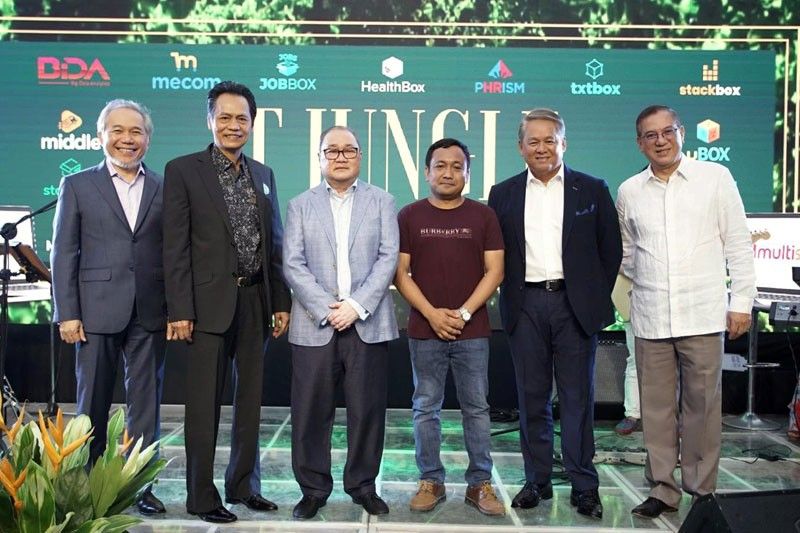 Multisys Technologies Corp. chief executive officer and founder David Almirol Jr. (3rd from right) poses for a snapshot with PLDT executives during a recent thanksgiving event at the Multisys smart community headquarters in Parañaque. Also in photo (from left) are Meralco deputy chief executive officer Ray Espinosa; Amado Valdez; PLDT chief executive officer and president Manuel V. Pangilinan; PLDT executive vice president Ernesto Alberto; and Metro Pacific Investments Corp. chief executive officer and president Jose Ma. Lim.
File
PLDT-backed Multisys targets 8 sectors in software rollout
MANILA, Philippines — A PLDT-backed systems solutions firm has identified eight priority sectors for the rollout of its software technology services in line with efforts to help the telco giant achieve its goal of becoming a full-scale digital services provider.
Multisys Technologies Corp. chief executive officer David Almirol Jr. said the company would focus its system development efforts towards eight sectors to support the goal to revolutionize Philippine industries through massive technology adoption.
The eight industries are information technology, government, healthcare, utilities, hospitality, retail, banking and finance, and the academe.
"We believe that there's still a lot of room for introducing and enhancing technology adoption for different industries, and we would like Multisys to play a vital role in the Philippines' technology adoption path. Through the trust and added expertise provided by our partner, PLDT, Multisys is in a very strong position to apply its values of speed, efficiency, and accuracy to help companies, big and small, to keep up with the ongoing global digital transformation," Almirol said.
Multisys enjoys a synergistic partnership with PLDT, as the latter invested P2.15 billion in the company in November last year.
The investment resulted to the telco giant owning a total equity stake of 45.73 percent in the software firm.
Multisys currently has 200 employees, 75 of which are elite full-stack programmers creating and running systems solutions for various industries and companies.
Almirol said Multisys' roster of both young and seasoned IT professionals provides the company with more than enough ammunition to drive both business for the company and results for its customers.
"As we shift from being a telco company towards becoming a full-scale digital services provider, our partnership with Multisys becomes progressively ever more important, especially with the leadership of David Almirol. We need a strong, strategic partner who is fully immersed in the IT space, to help bring PLDT to the future," PLDT chairman and chief executive officer Manuel V. Pangilinan said.
Pangilinan earlier said the Multisys investment would position PLDT as a telecoms and digital services provider with core software development capabilities.
Multisys is also expected to strengthen the ongoing digital initiatives of ePLDT and Voyager Innovations, particularly in the fields of electronic payments and digital financial services.