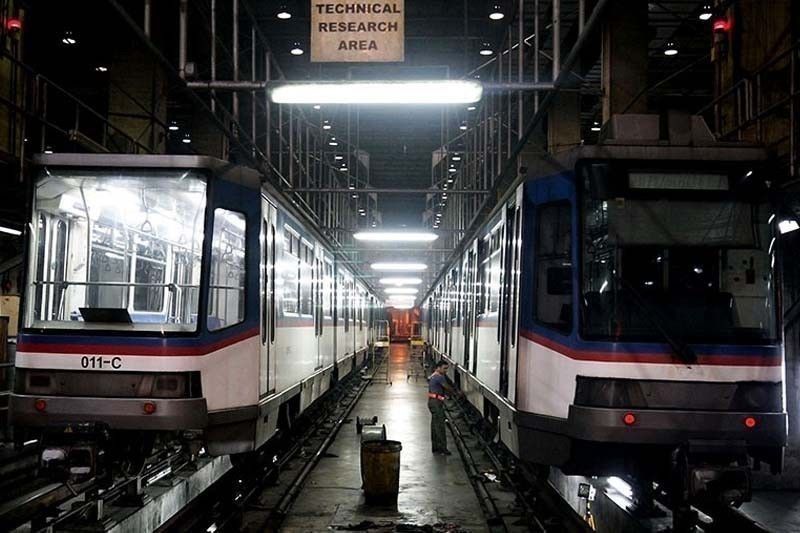 MPIC chairman Manuel V. Pangilinan said the OPS awarded to his group by the Department of Transportation (DOTr) to rehabilitate, operate and maintain the MRT-3 for over 30 years "technically still exists."
Miguel de Guzman/File
MPIC rehab bid for MRT-3 hangs
MANILA, Philippines — Conglomerate Metro Pacific Investments Corp. (MPIC) is willing to give up its original proponent status (OPS) for its unsolicited proposal to rehabilitate and operate the Metro Rail Transit Line 3 should the project become unviable for the group following a change in direction from the government.
MPIC chairman Manuel V. Pangilinan said the OPS awarded to his group by the Department of Transportation (DOTr) to rehabilitate, operate and maintain the MRT-3 for over 30 years "technically still exists."
"I think it's best we just await word from the government regarding what their plan is. It's up with them. What can we do?" Pangilinan said.
"It's best we wait for government decision and let's see, we take it from there. If it's not viable for us, we just have to tell them we're giving up our OPS," he said.
The OPS gives MPIC the right to match an offer given by another group via a Swiss Challenge.
Transportation Secretary Arthur Tugade in an interview in October last year said he intended to make the project a solicited proposal, wherein the contract will be auctioned amid an existing unsolicited proposal from MPIC.
In another interview last December, Tugade said his agency is again looking at MPIC's unsolicited offer, while also considering the solicited route.
"What is running through our minds right now is unsolicited, but what I want is for it to be as a whole. Operations, maintenance, equity, ownership – everything will be included, lock, stock and barrel," Tugade said.
The rehabilitation component of the MRT-3, which was supposed to be part of MPIC's unsolicited proposal, however, has now been taken out of the equation as the DOTr tapped the services of Japan's Sumitomo and Mitsubishi Heavy Industries to return as the rehabilitation and maintenance service provider of the train system.
DOTr and the Japanese firms signed last December the rehabilitation and maintenance contract which covers the entire 16.9-kilometer line, all its 13 stations, all remaining 72 light rail vehicles, and the MRT-3 Depot on North Avenue, Quezon City.
With the development, MPIC president Jose Ma. Lim said the group is considering to reconfigure its proposal.
"Our proposal is still live, but we understand they have gone ahead to contract the rehab of the Japanese firms so we would probably have to reconfigure our proposal as an O&M (operations and maintenance)," Lim said.
"But we have not received official word from them on how they want to do it. So far, we are not doing anything, we are just waiting," he said.
Lim said MPIC has not undertaken steps to speed up the process, as it leaves the decision completely in the hands of the government.
Nonetheless, the MPIC executive said the project continues to be of interest to the infrastructure conglomerate.
"The interest has always been its connection to LRT-1. It forms a loop. So if anyone can run that efficiently, it would be us," Lim said.
Light Rail Manila Corp., a joint venture company of MPIC's Metro Pacific Light Rail Corp., Ayala Corp.'s AC Infrastructure Holdings Corp., and Macquarie Infrastructure Holdings (Philippines) PTE Ltd., assumed operations and maintenance of LRT-1 in September 2015 through a P65-billion 32-year concession agreement with the DOTr and the Light Rail Transit Authority.
MPIC's proposed investment for its MRT-3 proposal is P20 billion and it includes a provision of no fare increase for at least two years.
The company has also offered to buy out the government's stake held by Land Bank of the Philippines and Development Bank of the Philippines as well as other shareholders in Metro Rail Transit Corp. or the private owner of the train system.