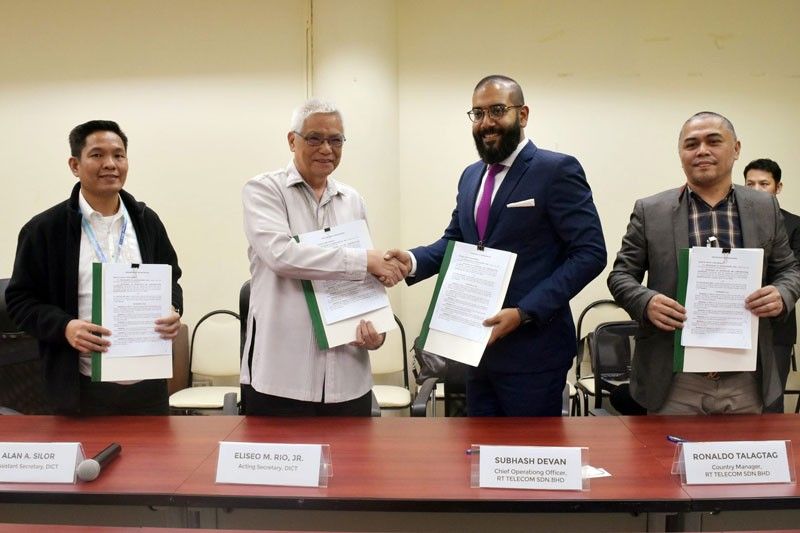 Information and Communication Technology Acting Secretary Eliseo Rio Jr. (2nd from left) shakes hands with Subhash Devan, RT Telecom Sdn Bhd COO, after signing the MOU on the Malaysian firm's entry as a common telco tower provider. Also in photo are Alan Silor, DICT assistant secretary (left) and Ronald Talagtag, RT Telecom country manager.
File
Malaysia firm joins fray in common tower buildup
MANILA, Philippines — RT Telecom Sdn Bhd of Malaysia is joining the roster of interested common tower providers in the country.
The company signed Wednesday a memorandum of understanding (MOU) with the Department of Information and Communications Technology (DICT) for cooperation under the company's planned rollout of common towers in the country.
Subhash Devan, chief operating officer of RT Telecom, said the company is eyeing to roll out 10,000 to 15,000 towers over a five-year period with a potential investment of between $800 million and $1 billion.
Devan, however, said the rollout plan would still depend on demand.
"What interests us in the Philippines is we see a lot of growth," he said.
The company cited the Philippines' low tower density, the expected deployment of 5G network, and the announcement of a third telecommunications player as the factors that led it to join the government's common tower program.
RT Telecom is under the umbrella of Rohas Tecnic Bhd, a global infrastructure company in power, telecommunication, water and steel fabrication industries.
In the Philippines, the company has implemented tower rollout since 2007 for clients such as Ericsson, Globe, Digital Mobile Philippines, and Smart, constructing over 1,000 telecom towers.
"Before, we just build and deliver the sites for these companies, funding was from them. Now, we will be the one funding the rollout," Devan said.
Aside from RT Telecom, four international tower providers and one local company have signed MOUs with the DICT for their plans to build common towers in the country.
These companies are ISOC Infrastructures Inc., a company chaired by Megawide Construction Corp. co-founder Michael Cosiquien, ISON ECP Tower Singapore Pte. Ltd., Malaysia-based Edotco Group Sdn Bhd, IHS Towers of Nigeria and China Energy Equipment Co. Ltd.
Publicly-listed Transpacific Broadband Group International Inc. has also expressed interest to join the list.