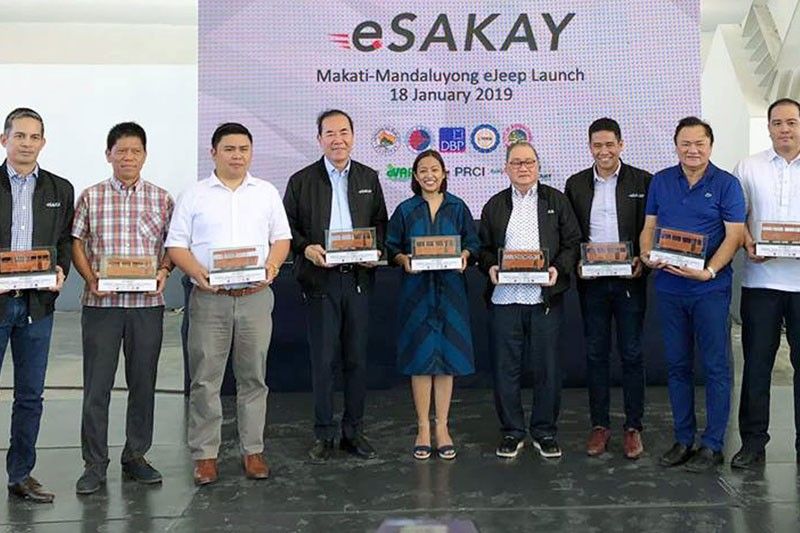 MERALCO LAUNCHES eSAKAY: eSakay Inc., Manila Electric Co.'s venture into transport service networks, launched yesterday its initial all-electric public utility vehicle fleet with 15 eJeeps plying the Buendtia MRT Station-Mandaluyong City Hall via Jupiter St. developmental route. In photo (from left) are Meralco SVP and eSakay chairman Alfrt tedo Panlilio, LTFRB chairman Martin Delgra III, DOTr Undersecretary Mark de Leon, Meralco Powergen president Rogelio Singson, Makati Mayor Abigail Binay, Meralco chairman Manuel V. Pangilinan, Meralco vice president and eSakay president Raymond Ravelo, EVAP president Ferdinand Raquelsantos and Energy assistant secretary Leonido Pulido.
File
Meralco rolls out eSakay eJeeps
MANILA, Philippines — Manila Electric Co.'s (Meralco) venture into transport service networks, eSakay Inc., has launched its initial service, plying one of Metro Manila's busiest commuting routes.
The company received provisional authority to operate 15 eJeeps for the Buendia MRT Station-Mandaluyong City Hall via Jupiter Street.
With the project, Meralco hopes to prove the viability of the use of electric vehicles (EVs) in the public utility vehicle (PUV) transport sector.
This is in line with the Philippine government's thrust to implement the PUV modernization program to shift towards a safer, more sustainable, and environment-friendly transportation system.
The eJeeps deployed on the route are 100 percent electric and compliant with the PUV modernization.
"Today, we celebrate an important milestone for eSakay as we launch an all-electric PUV fleet serving the country's business arteries here in Makati and Mandaluyong. For these cities, today is also a breakthrough as this is their first ePUV program compliant with the PUV modernization program. By stepping up and undertaking this project together, we hope to inspire others to follow suit," Pangilinan said.
PUVMP ensures that drivers and operators have stable, sufficient and dignified livelihood.
eSakay's thrust is to encourage and enable existing operators to modernize their fleet.
The eSakay team worked with the Makati and Mandaluyong local government units (LGUs) to conduct community-based hiring for the route and also had successful discussions with transport associations in the area.
"This project is just one of many steps in our efforts to spur EV adoption, as we work towards a common goal of nation-building, sustainable growth and inclusive development. With this route, we, at eSakay, hope to prove the viability of electric vehicles and inspire other operators to follow suit," eSakay president and chief executive officer and Meralco vice president Raymond Ravelo said.
The electric PUVs will be enabled with an automated fare collection system to reduce cash handling and to increase convenience for commuters.
"Our eJeeps will also have app-based GPS to facilitate vehicle tracking and speed monitoring. In addition, we will have onboard wireless Internet, USB ports and CCTV cameras. Finally, we will implement battery swapping in our charging stations to reduce downtime and to ensure that our vehicles are operating and on the road whenever they are needed," Ravelo said.
The project is also the beginning of Meralco's vision to be an end-to-end green energy services provider, eSakay chairman and Meralco senior vice president Alfredo Panlilio said.
"Today, we are in green power generation through utility-scale renewable energy projects including solar, wind, and mini-hydro, as well as in distributed generation through rooftop solar. By entering the electric vehicle space, we now also enable green energy consumption," he said.
This is not Meralco's first time to enter the electric or green mobility.
Pangilinan said the company began operating eShuttles for its employees within the Meralco campus.
In 2015, Meralco also launched an e-bike sharing program that allows its employees to travel point-to-point conveniently.