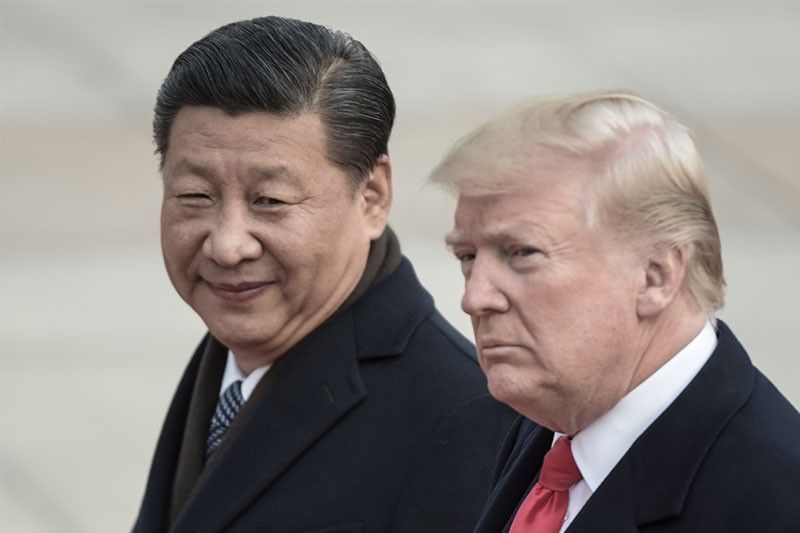 (FILES) In this file photo taken on November 9, 2017, China's President Xi Jinping (L) and US President Donald Trump attend a welcome ceremony at the Great Hall of the People in Beijing. US President Donald Trump on December 29, 2018 touted "big progress" after a phone call with his Chinese counterpart on trade, after the tariff war between the world's two biggest economies helped rattle markets.
AFP/Fred Dufour
US negotiators in Beijing for trade war talks
BEIJING, China — US negotiators on Monday headed into talks with Chinese counterparts as the two countries seek a deal to end a trade war that has raised fears of global economic turmoil.
The visiting delegation, led by Deputy US Trade Representative Jeffrey Gerrish, left its hotel in Beijing without speaking to reporters.
President Donald Trump raised hopes last week that an agreement could be found to end the months-long dispute, during which the world's top two economies have imposed import duties on more than $300 billion of each other's goods.
"I think we will make a deal with China," Trump said on Friday.
"We have a massive trade negotiation going on with China. President Xi (Jinping) is very much involved, so am I. We're dealing at the highest levels and we're doing very well."
Trump on Sunday headed to the US presidential retreat at Camp David, where he said he would discuss a trade deal with China with senior aides, among other issues.
The American delegation in Beijing includes officials from the Treasury, Commerce, Agriculture and Energy departments.
The talks come a month after Trump and Xi agreed to suspend a planned tariff hike for three months to give negotiators space to reach an agreement and end a dispute that has roiled world markets.
The ratcheting dispute has pummelled confidence in China, sending the stock markets tumbling while the yuan has fallen against the dollar.
In addition to the bruising trade war, China is also grappling with a slowing domestic economy, with growth slowing to 6.5 percent in the third quarter, as a battle against debt has ramped up.
The government has set a growth target of around 6.5 percent for 2018, down from 6.9 percent in 2017.
No 'white flag'
The manufacturing sectors in both countries have been hit by the trade dispute, with China's contracting last month for the first time in over two years, according to official data.
But in a sign of how interconnected the two economies are, Apple shares dropped last week after the tech giant reported steeper-than-expected "economic deceleration" in the last quarter in China -- one of its largest overseas markets.
The negotiators will discuss "implementing the important consensus" reached by Trump and Xi in December, China's commerce ministry said last week.
The Beijing talks follow small signs of progress -- and the absence of new threats from Trump -- while the two sides work to ease trade tensions by March 1.
Trump initiated the hostilities because of complaints over unfair Chinese trade practices -- concerns shared by the European Union, Japan and others.
The president has taken heart in China's faltering economy, repeating that it makes Beijing more likely to strike a deal.
An editorial in the nationalist state-owned tabloid the Global Times on Monday said China would not back down and cave to US demands.
"If Beijing had wanted to raise the white flag, it would have done so already," it said.
As It Happens
LATEST UPDATE: February 14, 2020 - 8:19am
US President Donald Trump says North American neighbors Canada and Mexico will get no relief from his new tariffs on steel and aluminum imports unless a "new and fair" free trade agreement is signed.
The Trump administration says the tariffs are necessary to preserve the American industries—and that doing so is a national security imperative. But Trump's latest tweets suggest he's also using the upcoming tariffs as leverage in ongoing talks to revise the North American Free Trade Agreement. The latest round of a nearly year-long renegotiation effort is concluding this week in Mexico City. — Associated Press
February 14, 2020 - 8:19am
The United States on Thursday granted Huawei another 45 days to sell to American companies while they search for alternatives to the Chinese telecommunications giant that Washington views as a security threat.
The extension will "allow existing telecommunication providers -- particularly those in rural US communities -- the ability to continue to temporarily and securely operate existing networks," the Commerce Department said in a statement.
The decision to provide yet another extension came hours after Washington hit the company with criminal charges alleging a "decades-long" effort to steal trade secrets from American companies. — AFP
January 16, 2020 - 12:59pm
The United States and China have signed a truce in their trade war after nearly two years of tensions, bringing relief to markets but largely leaving massive tariffs in place.
The 'phase one' deal is also a boon for Donald Trump as he faces an impeachment trial and a tough re-election fight this year, with the president hailing the agreement as "momentous".
However, with tariffs still in place on two-thirds of more than $500 billion in imports from China, US consumers and businesses will be left to foot the bill.
The agreement, part of a wider pact, includes pledges from China to beef up purchases of US agricultural goods and other exports for two years, provides some protections for US technology, and new enforcement mechanisms that allow Washington to quickly impose penalties that Beijing cannot respond to. — AFP
January 15, 2020 - 9:32pm
The United States can increase tariffs on Chinese goods if Beijing fails to live up to the partial trade deal the two countries are set to sign Wednesday, Treasury Secretary Steven Mnuchin says.
"The president has the ability to put on additional tariffs," Mnuchin says on CNBC when asked about how the agreement will be enforced.
The "phase one" agreement will call a truce after nearly two years of trade conflict. — AFP
January 9, 2020 - 5:27pm
China says Vice Premier Liu He will travel to Washington next week to sign the "phase one" deal with the United States that has lowered trade tensions between the world's two biggest economies.
The signing will cap a nearly two-year spat that threatened to throttle the global economy as the two countries exchanged tariffs on hundreds of billions of dollars worth of two-way trade.
Liu, China's top negotiator in the trade conflict, will be in the US capital from Monday to Wednesday to sign the deal, the commerce ministry says. — AFP
December 19, 2019 - 3:45pm
China announces Thursday a list of US chemicals that will be exempted from import tariffs, just under a week after Beijing and Washington agreed a trade agreement that a dialled down tensions between the two.
The world's biggest economies have exchanged blows for more than a year, on Friday announced a mini-agreement to reduce some levies in a bruising trade war that has dragged on global growth.
Beijing released a list Thursday of products that will no longer be subject to the tariffs, including certain types of industrial glue and adhesives, industrial polymers and types of paraffin, which can be found in cosmetics and food.
The exemptions will come into force from December 26 until December 25 next year, according to a statement from the Customs Tariff Commission of the State Council.
— Agence France-Presse