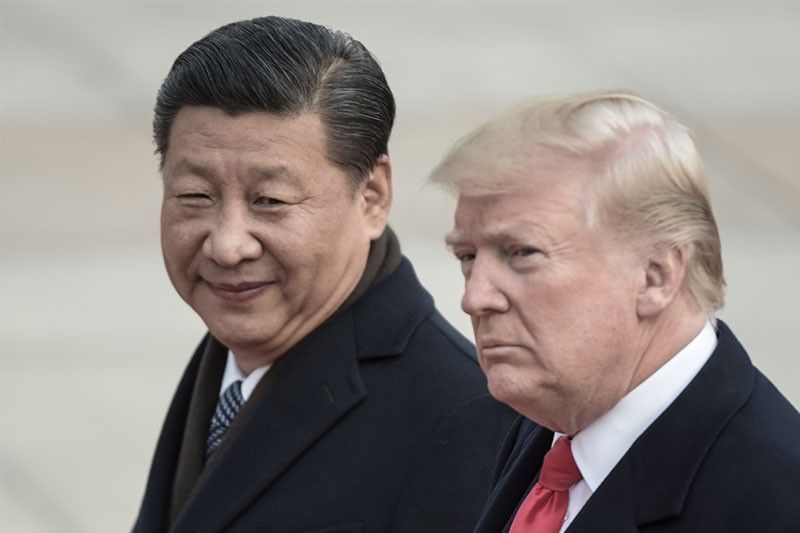 (FILES) In this file photo taken on November 9, 2017, China's President Xi Jinping (L) and US President Donald Trump attend a welcome ceremony at the Great Hall of the People in Beijing. US President Donald Trump on December 29, 2018 touted "big progress" after a phone call with his Chinese counterpart on trade, after the tariff war between the world's two biggest economies helped rattle markets.
AFP/Fred Dufour
US negotiators in Beijing for trade war talks
BEIJING, China — US negotiators on Monday headed into talks with Chinese counterparts as the two countries seek a deal to end a trade war that has raised fears of global economic turmoil.
The visiting delegation, led by Deputy US Trade Representative Jeffrey Gerrish, left its hotel in Beijing without speaking to reporters.
President Donald Trump raised hopes last week that an agreement could be found to end the months-long dispute, during which the world's top two economies have imposed import duties on more than $300 billion of each other's goods.
"I think we will make a deal with China," Trump said on Friday.
"We have a massive trade negotiation going on with China. President Xi (Jinping) is very much involved, so am I. We're dealing at the highest levels and we're doing very well."
Trump on Sunday headed to the US presidential retreat at Camp David, where he said he would discuss a trade deal with China with senior aides, among other issues.
The American delegation in Beijing includes officials from the Treasury, Commerce, Agriculture and Energy departments.
The talks come a month after Trump and Xi agreed to suspend a planned tariff hike for three months to give negotiators space to reach an agreement and end a dispute that has roiled world markets.
The ratcheting dispute has pummelled confidence in China, sending the stock markets tumbling while the yuan has fallen against the dollar.
In addition to the bruising trade war, China is also grappling with a slowing domestic economy, with growth slowing to 6.5 percent in the third quarter, as a battle against debt has ramped up.
The government has set a growth target of around 6.5 percent for 2018, down from 6.9 percent in 2017.
No 'white flag'
The manufacturing sectors in both countries have been hit by the trade dispute, with China's contracting last month for the first time in over two years, according to official data.
But in a sign of how interconnected the two economies are, Apple shares dropped last week after the tech giant reported steeper-than-expected "economic deceleration" in the last quarter in China -- one of its largest overseas markets.
The negotiators will discuss "implementing the important consensus" reached by Trump and Xi in December, China's commerce ministry said last week.
The Beijing talks follow small signs of progress -- and the absence of new threats from Trump -- while the two sides work to ease trade tensions by March 1.
Trump initiated the hostilities because of complaints over unfair Chinese trade practices -- concerns shared by the European Union, Japan and others.
The president has taken heart in China's faltering economy, repeating that it makes Beijing more likely to strike a deal.
An editorial in the nationalist state-owned tabloid the Global Times on Monday said China would not back down and cave to US demands.
"If Beijing had wanted to raise the white flag, it would have done so already," it said.
As It Happens
LATEST UPDATE: August 12, 2019 - 1:24pm
US President Donald Trump says North American neighbors Canada and Mexico will get no relief from his new tariffs on steel and aluminum imports unless a "new and fair" free trade agreement is signed.
The Trump administration says the tariffs are necessary to preserve the American industries—and that doing so is a national security imperative. But Trump's latest tweets suggest he's also using the upcoming tariffs as leverage in ongoing talks to revise the North American Free Trade Agreement. The latest round of a nearly year-long renegotiation effort is concluding this week in Mexico City. — Associated Press
August 12, 2019 - 1:24pm
Export-reliant Chinese companies are slashing prices, moving production abroad, creating new domestic markets and even rebranding goods as they try to survive the escalating trade war with the United States.
Factories along the eastern coast, fish processors in the south, apple juice exporters in central China and farmers in the northeast have all been forced to change their business models since US President Donald Trump launched the conflict more than a year ago, hitting everything from motorcycles to MRI machines.
But no matter what the survival tactic, times are tough and set get worse with newly threatened tit-for-tat tariffs meaning that virtually all trade between the world's two biggest economies would be covered.
"It's impacted all of us exporters... we include the tariffs in our quotes now," a sales manager at Shaanxi Hengtong Fruit Juice, who gave his surname as Liu, told AFP. ?— Agence France-Presse
August 6, 2019 - 8:51am
World stock markets plunge Monday as Beijing parried US President Donald Trump's latest tariff announcements by moving to let the China yuan currency devalue and halting purchases of US agricultural products.
The rebuttal sparked Wall Street's worst selloff of the year and also led to significant declines in leading bourses in Europe and Asia amid fears the escalation of the months-long conflict will further dim the global outlook.
After markets closed in New York, President Donald Trump fired back, formally designating China a currency manipulator.
"There is a feeling that China could inflict a lot more pain on the US in terms of the trade spat, and many traders are worried the economic conflict will rumble on for some time," said IG analyst David Madden. -- Agence France-Presse
July 30, 2019 - 5:50pm
US negotiators arrive in Shanghai to resurrect trade talks with Chinese officials, with both sides downplaying expectations of an imminent deal between the world's two biggest economies.
The negotiations in the financial hub will be the first face-to-face discussions since US President Donald Trump agreed to a truce with Chinese President Xi Jinping at June's G20 summit after previous talks broke down over US accusations that China reneged on its commitments.
Washington and Beijing have so far hit each other with punitive tariffs covering more than $360 billion in two-way trade, in a tense stand-off centered on demands for China to curb the alleged theft of American technology and provide a level playing field to US companies. — AFP
July 29, 2019 - 8:59am
A US threat to pull recognition of China's "developing nation" status at the World Trade Organisation is a pressure tactic ahead of this week's trade talks and is bound to fail, a commentary in state media said Monday.
The reaction followed a memo issued on Friday by President Donald Trump to US Trade Representative Robert Lighthizer.
It said the WTO, which operates a global system of trade rules and settles disputes, uses "an outdated dichotomy between developed and developing countries that has allowed some WTO members to gain unfair advantages."
Without "substantial progress" to reform WTO rules within 90 days, Washington will no longer treat as a developing country any WTO member "improperly declaring itself a developing country and inappropriately seeking the benefit of flexibilities in WTO rules and negotiations," said the statement, which focused mostly on China. -- Agence France-Presse
July 22, 2019 - 7:45am
Big US companies are accelerating efforts to move more of their supply chains from China to neighboring countries in light of Trump administration tariffs.
Companies in sectors such as technology, clothing and footwear are exporting more goods from emerging giants including Vietnam and Malaysia, data show.
At the same time, the shift has exposed the murkiness of trade export rules, putting a premium on lawyers expert in the minutiae of US customs rules. — AFP