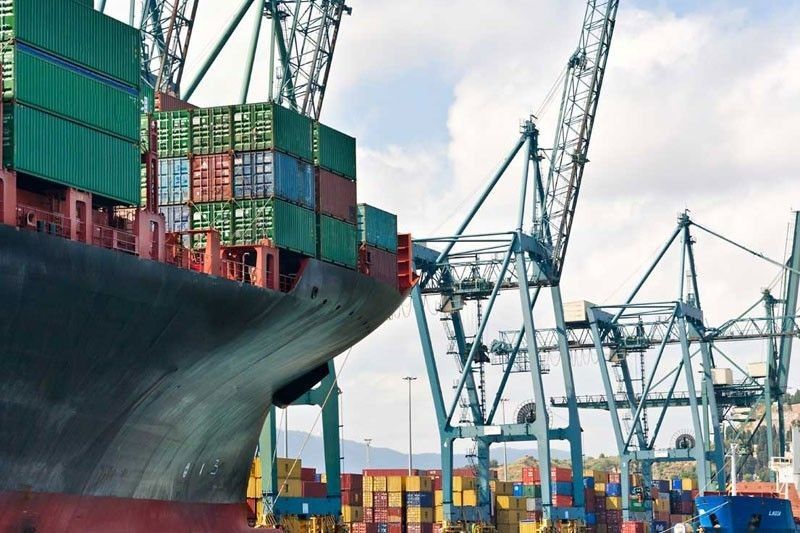 Philippine President Rodrigo Duterte's plan to keep his country's growth engine humming by spending more than P8 trillion on infrastructure has been fueling demand for imports of construction-related goods.
File photo
Trade gap balloons to record $4.21 billion in October
(Philstar.com) - December 11, 2018 - 12:30pm
MANILA, Philippines — The Philippines' trade gap ballooned to a record high in October, after a double-digit rise in imports outpaced improved exports growth during the month, the country's statistics agency reported Tuesday.
Trade deficit in October swelled to $4.21 billion, the widest on record, compared with $3.72 billion gap posted in September and $2.59 billion shortfall a year ago, data released by the Philippine Statistics Authority showed. The gap is expected to put more pressure on the peso.
Year-to-date, the country's trade gap stood at $33.9 billion, wider than $20.13 billion deficit in the comparable period in 2017.
Broken down, exports reversed a previous month's slide and grew 3.3 percent to $6.11 billion in October, failing to match a 21.4 percent spike in imports $10.32 billion.
"Overall, this remains consistent with our view that still strong domestic demand which reflects more infrastructure spending will sustain a large goods trade deficit," said Euben Paracuelles, a Nomura economist.
"Subdued export growth due to an ongoing tech downcycle will also contribute, albeit to a lesser extent, as electronics exports make up around 60 percent of total goods exports, but import content is relatively high, i.e. value-added is low," Paracuelles added.
Trade gap in the Philippines has been widening since last year amid sustained rise in imports to feed the Duterte government's ambitious infrastructure program, reversing the nation's current account surplus to a deficit and weakening the peso.
The country's economic managers have repeatedly said high imports will "support domestic economic expansion."
According to Paracuelles, the Philippines' current account gap will likely widen to 2 percent of gross domestic product this year from 0.7 percent in 2017. For 2019, he expects a "more modest" current account deficit equivalent to 2.2 percent of GDP.
"Slower electronics export growth and strong infrastructure-led domestic demand is a potent combination that could push the goods trade deficit wider, but there will be significant offsets next year, in our view," the Nomura analyst said.
"These include the drop in oil prices (which fell more sharply in November and not yet reflected in the trade data), higher overseas worker remittances, which tend to rise in an election year, and an improvement in tourist arrivals," he added.
The Philippine peso opened at P52.83 against the greenback on Tuesday, slightly weaker than its P52.80-per-dollar finish last Monday.
Separately, ING Bank Manila senior economist Nicholas Mapa said persistent current account deficits will likely "keep pressure" on the local currency in 2019.
"Robust import growth is yet another sign that the Philippines has moved into a new chapter in its growth story, requiring a shift in the country's import requirement," Mapa said. "In the past, import growth was driven largely by fuel and consumer goods with only sporadic flows of capital goods and raw materials outside those used for electronic exports."
"Going forward, the current account will likely remain deep in the red with the Philippine peso looking to structural flows such as remittances ahead of the holiday season and the capital and financial account for support," he added. — Ian Nicolas Cigaral