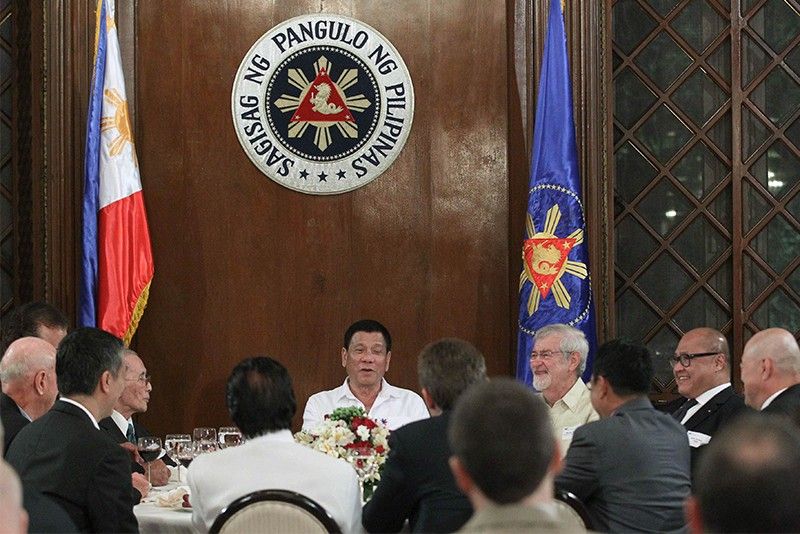 President Rodrigo Duterte hosts a dinner with the members of Wallace Business Forum in the Malacañan Palace on December 12, 2016. Also in the photo is Wallace Business Forum Founder Peter Wallace. Duterte on October 29 signed Executive Order 65 promulgating the much-awaited eleventh foreign investment negative list, or FINL.
Presidential photo/Ace Morandante
Duterte's first foreign investment negative list out
MANILA, Philippines — Malacañang on Wednesday released the updated list of investment areas and activities that are closed or limited to foreign investors—the first under the Duterte administration and is touted as the "most liberal" thus far.
President Rodrigo Duterte on October 29 signed Executive Order 65 promulgating the much-awaited eleventh foreign investment negative list, or FINL.
In the Philippines, the Constitution bars foreigners from owning mass media companies and limits foreign ownership of public utilities to 40 percent. Restrictions on foreign ownership cannot be all lifted administratively as several prohibitions need legislative action.
Under Duterte's version of the FINL, foreign investors are still prohibited from participating in mass media, except recording and "internet business." The updated foreign negative list defines "internet business" as internet access providers that merely serve as carriers for transmitting messages and are not engaged in creation of information.
In terms of practice of professions, foreigners may now teach at higher education levels "provided the subject being taught is not a professional subject" like those included in a government board or bar examination.
The 40 percent foreign ownership cap for public utilities remains, but not including "power generation and the supply of electricity to the contestable market."
Meanwhile, contracts for construction and repair of locally-funded public works are now open to up to 40 percent foreign equity from 25 percent previously. Forty percent foreign ownership has also been allowed for private radio communications network sector from 20 percent before.
Despite being one of the region's fastest growing economies, the Philippines has lagged most of its neighbors in Southeast Asia in terms of capturing foreign direct investments partly due to the country's foreign ownership restrictions, as protected by its Constitution.
In the region, Singapore has attracted and received much of the FDIs since the 2008 global financial crisis, while the Philippines and Indonesia still get a relatively small chunk of inflows.
Data from the Bangko Sentral ng Pilipinas show net FDI inflows spiked to $914 million in July, up nearly triple the $344 million posted in the same month in 2017.
For the first seven months of the year, FDI inflows jumped 52.1 percent to $6.7 billion, still below the BSP's $9.2 billion full-year forecast for 2018.