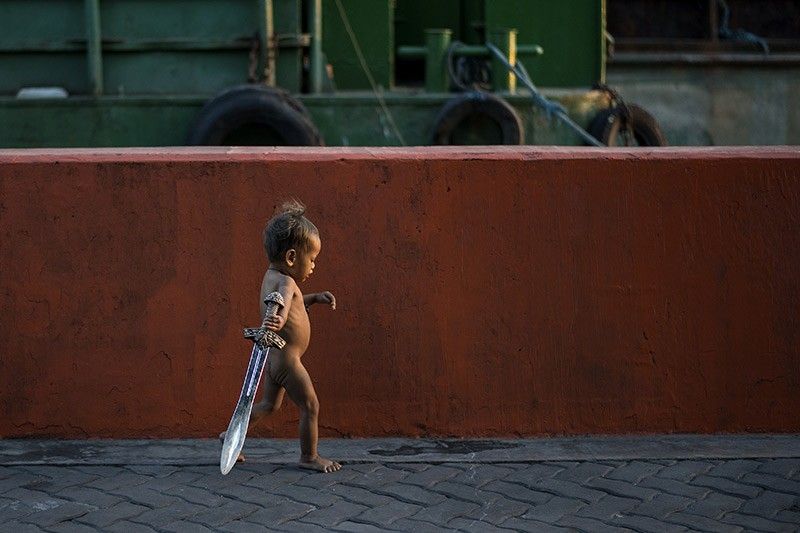 A child holding a toy sword runs along a street in Manila on March 26, 2018.
Noel Celis/AFP
Philippines performs below regional average in World Bank's Human Capital Index
(Philstar.com) - October 11, 2018 - 4:57pm
MANILA, Philippines — The Philippines performed below the average for the East Asia and Pacific region in the World Bank Human Capital Index, which measures the amount of human capital that a child born today can expect to attain by age 18.
Human capital—the knowledge, skills, and health that people accumulate over their lives—has been a key factor behind the sustained economic growth and poverty reduction rates of many countries in the 20th century, the World Bank said.
According to the Washington-based lender's 2017 report released Thursday, children born in the Philippines will only fulfill 55 percent of their potential when they grow up if they enjoy complete education and full health. This ranks the country 84th out of 157 economies covered.
The report noted that the Philippines' latest HCI percentage, which was better than 2012's 49 percent, was below the 61 percent of potential average for East Asia and Pacific and 57 percent of potential worldwide average.
But the World Bank said the Philippines' HCI value was better than the average for countries that are also in the lower middle income group.
Philippines addressing nutrition, education gaps
Malnutrition is a major challenge in the Philippines, the World Bank highlighted, adding that children who are malnourished at a young age will face difficulties in learning and are more likely to drop out of school early.
"The Government of the Philippines recognizes these challenges and has initiated critical reforms to improve human capital in the country," said Mara Warwick, World Bank country director for Brunei Darussalam, Malaysia, Philippines and Thailand.
"Going forward, key policy priorities in the Philippines are reducing stunting and improving the effectiveness of teachers to boost learning," Warwick added.
Overall, the World Bank found that 56 percent of children born today across the world will lose more than half their potential lifetime earnings because governments are not making effective investments in their people.
Singapore is best country for developing human capital
The multilateral lender also said out of 157 economies covered by its new report, Singapore is the best country for developing human capital, followed by South Korea, Japan and Hong Kong in the second, third and fourth positions, respectively.
"For the poorest people, human capital is often the only capital they have," World Bank Group President Jim Yong Kim said.
"This index creates a direct line between improving outcomes in health and education, productivity, and economic growth. I hope that it drives countries to take urgent action and invest more – and more effectively – in their people," Kim added. — Ian Nicolas Cigaral