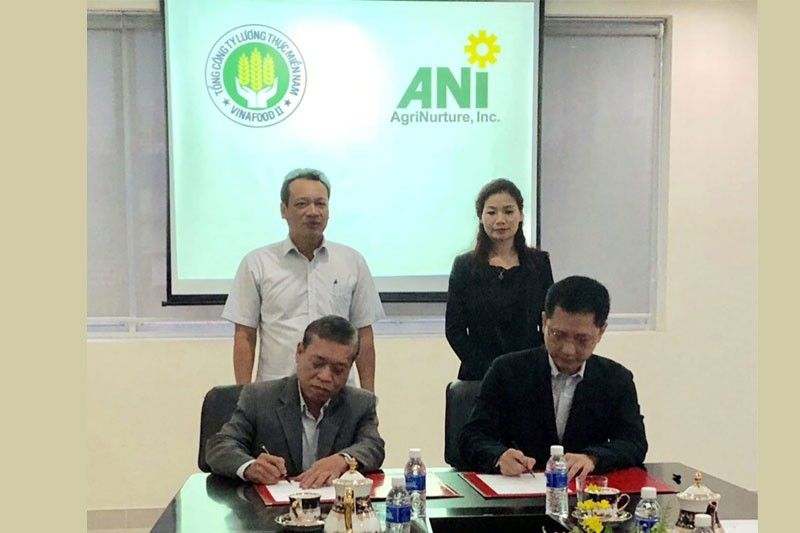 AgriNurture president and CEO Antonio Tiu (right) signs the memorandum of agreement with Vinafood general director Nguyen Ngoc Nam (left) while Vinafood chairman Tran Manh Hoai (standing, left) and vice chairman Nguyen Thi Hoai look on.
AgriNurture secures $1-billion rice import deal
MANILA, Philippines — Listed agricultural trading firm AgriNurture Inc. (ANI) has sealed a $1 billion rice import contract from Vietnam Southern Food Corp. in a bid to address supply issues in the country.
In a regulatory filing, ANI said the deal, signed by its president Antonio Tiu and Vinafood general director Nguyen Ngoc Nam, involves the importation of two million metric tons of long grain rice.
Vinafood, Vietnam's largest grain exporter, is a state-owned corporation established to export rice and help achieve food security in Southeast Asia.
The Ho Chi Minh-based rice exporter also exports various agricultural and aquatic products, fertilizers and farming machineries. It is also engaged in the processing of consumer food products.
ANI said the terms and conditions of the exclusive supply agreement shall be finalized in accordance with the applicable Philippine laws including, but not limited to, the proposed rice tariffication bill.
Just last month, ANI received the original proponent status from state-run National Food Authority (NFA) for its unsolicited proposal for a public-private partnership rice project.
Based on the proposal, ANI will finance the procurement of rice with the grain agency identifying the specifications and exact volume as needed.
Both parties, meanwhile, will determine the origin, suppliers, delivery and arrival periods, pacing and loading, and discharging ports of the imported rice.
AgriNurture said NFA would have no risk or exposure to losses as it shall take all the risks from the time of purchase up to the point of dealing with undisposed stocks.
The additional supply, equivalent to about two weeks, aims to boost NFA's buffer stock which has declined since late last year.
For the first semester, ANI saw its net income surge to nearly P50 million as consolidated sales jumped 42 percent to P846 million. Gross profit soared 85 percent to P256 million despite the sharp drop in local distribution sales.
The company is involved in various agro-commercial businesses, focusing on trading of grains and fresh produce in the Philippines and export markets.
ANI supplies other homegrown fruits such as banana, pineapple, mango, processed fruits and coconut water to Hong Kong, China, Australia and Europe, among others.