Project dev't deal to set up irradiation facility in Philippines inked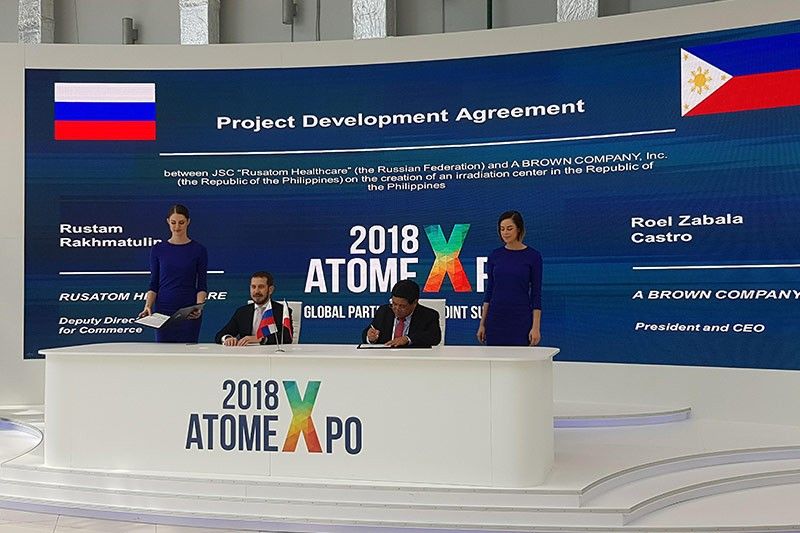 SOCHI, Russia — The Philippines took the first steps on Tuesday towards creating an irradiation center for food products as a deal between A Brown Co. Inc. and the Russian State Atomic Energy Corp. was signed here on the issue.
The project development agreement was signed between publicly listed A Brown and Russia's Rusatom Healthcare—the non-nuclear division of Rosatom on the sidelines of the 10th International ATOMEXPO forum at the Main Media Center in Sochi, Russia.
Rusatom Healthcare, represented by its deputy director general, Rustam Rakhmatukin, will be the technology partner that will help set up the irradiation center in the Philippines, particularly in Davao City.
"The pilot project that we plan will be the first commercial facility in the Philippines and a major breakthrough which will add value to existing tropical fruit producers looking for export markets, as well as enhancing the quality of high-value medical products," said A Brown President Roel Castro in a press statement.
"We are very privileged to be working closely with Rusatom Healthcare from Russia and with Philippine Nuclear Research Institute (PNRI) in this endeavor," he added.
The exact cost will be determined after assessing the feasibility study, which will take three to four months to complete.
"It's still futile to say what the investment cost will be because we are still looking at the size of the project," said Castro.
In irradiation, food products are exposed to ionizing energy for a specific length of time to treat them for germs and insects, increasing its longevity and shelf life.
According to Rusatom Healthcare's estimates, around 20 to 40 percent of food raw material is lost yearly because of insect infestation, microbiological contamination, physiological changes due to sprouting and ripening, including poor shelf life.
A Brown chief said the Philippines would benefit from the project more than his company since fresh fruit exports are expected to increase following the establishment of irradiation center in the country.
"We are big exporters of bananas, mango and pineapple but it seems we are not able to catch up technology-wise," he said.
The Philippines, according to Castro, is the only country in Southeast Asia without a food irradiation facility.
Meanwhile, Rusatom Healthcare's Rakhmatukin said they are prepared to work with A Brown as there had been a "progress friendship and cooperation between Russia and the Philippines."
PNRI Director Carlo Arcilla said that the project is a welcome development for the country's move towards possible use of nuclear energy for power.
"We welcome with enthusiasm the efforts by private companies like A Brown to put up irradiation facilities that will prolong agricultural produce shelf life," Arcilla said.
Food irradiation has been approved by more than 30 countries worldwide and is recommended by the World Health Organization.
The WHO, the United Nation's Food and Agricultural Organization and the International Atomic Energy Agency have reviewed about 50 years of research and conclude that the final product is safe.
___
Editor's note: The trip to Sochi, Russia was hosted by Rosatom. At no stage does the host organization have a say in the stories generated from the coverage, interviews conducted, publication date and story treatment. Content is produced solely by Philstar.com following editorial guidelines.