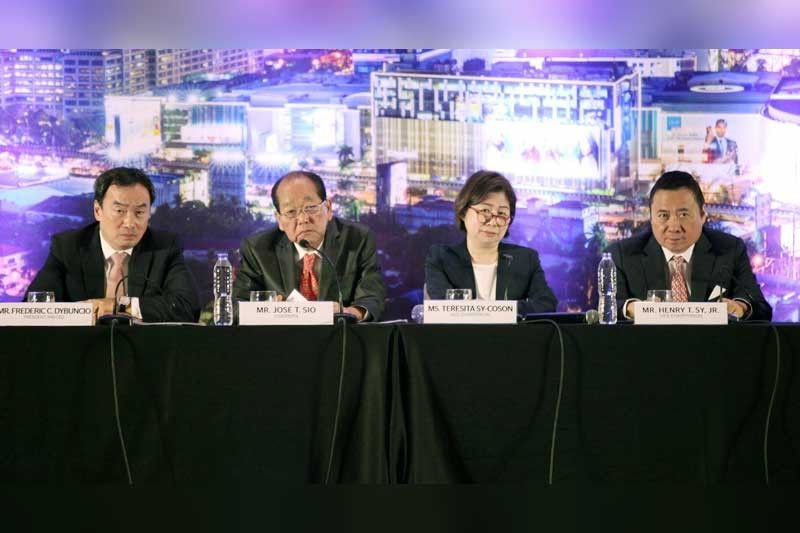 SMIC ANNUAL STOCKHOLDERS' MEETING: Top officials of SM Investments Corp. led by (from left) president and chief executive officer Frederic Dybuncio, chairman Jose Sio, and vice chairpersons Teresita Sy-Coson and Henry Sy, Jr. entertain queries from stockholders.
Joey Viduya
SM positions Pasay-Parañaque reclamation project as next Hong Kong
MANILA, Philippines — The SM Group plans to transform its reclamation project along the Pasay-Parañaque border into the next Hong Kong, a goal that will be further bolstered by the proposed lowering of corporate income tax rates under the second tax reform package.
SM Prime Holdings Inc. chairman Henry Sy Jr. said the move to lower corporate taxes bodes well not only for the company, but "is good for the country" in general.
"We believe there will be more and more foreign investments coming in, thereby its good not only for the mall, but also probably the reclamation area which will benefit from a lot of foreign investments," Sy said.
"It could probably be as good as, or be the next Hong Kong in Asia, considering the size of it, and the lowering of the corporate tax," he said.
The Department of Finance seeks to cut corporate income tax to 25 percent from the current 30 percent rate.
The country's corporate income tax rate is currently among the highest in the region, affecting its attractiveness as an investment destination compared to other Asian countries with much lower corporate tax rates.
The SM Group hopes to proceed later this year with its P100-billion reclamation project for a 600-hectare property spanning the cities of Pasay and Parañaque.
Sy said the reclamation project would start on the Pasay side, which is around 300 hectares.
"We have gotten the ECC (environmental compliance certificate) already. We have gotten the approval from the local government, and we are just finalizing all the approved designs for submission to the PRA (Philippine Reclamation Authority). Once we get the design approval, we believe we can get the notice to proceed probably as early as June to August," he said.
The Parañaque side will commence a year later, Sy said.
In the early 1990s, the SM Group started the development and reclamation of the 100-hectare Mall of Asia Complex in Pasay, with the mall opening in 2006.