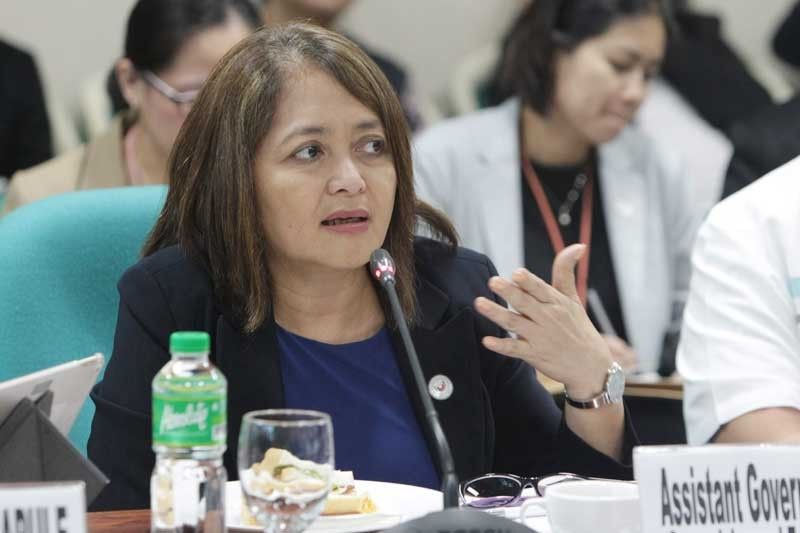 BSP Deputy Governor Chuchi Fonacier said the central bank is evaluating the applications of 29 companies planning to set up virtual currency exchanges in the country.
Geremy Pintolo
BSP evaluating applications of virtual currency exchanges
MANILA, Philippines — More companies are trooping to the Bangko Sentral ng Pilipinas (BSP) to take a shot at the cryptocurrency market in the country through the establishment of virtual currency exchanges.
BSP Deputy Governor Chuchi Fonacier said the central bank is evaluating the applications of 29 companies planning to set up virtual currency exchanges in the country.
"There are 29 pending applications under different stages of processing, i.e., ongoing evaluation, awaiting submission of documentary requirements, and for presentation of business model," Fonacier said.
Cryptocurrency is a type of virtual currency that uses cryptography – a method of storing and transmitting data in unreadable form so that only the intended receivers can read and process it. Bitcoin is the first and most popular cryptocurrency to date introduced in 2009.
Latest data from the central bank showed the volume of bitcoin transactions in the Philippines averaged $8.8 million per month in the first half of last year, more than four times the $2 million per month average in 2015.
Following the rise in the use of virtual currencies for payments and remittances in the Philippines, the BSP established a formal regulatory framework for virtual currency exchanges through Circular 944 dated Feb. 6, 2017.
Virtual currency exchanges are companies or businesses engaged in changing virtual currencies into fiat currency (and vice versa). The act of converting virtual currencies into Philippine money can facilitate payments and remittances.
The circular requires virtual currency exchanges to register with the BSP as remittance and transfer companies. These exchanges are also required to put in place adequate safeguards to address the risks associated with virtual currencies, including control measures to counter money laundering/ terrorist financing, technology risk management systems, and consumer protection mechanisms.
Fonacier said the BSP has approved the registration of Betur Inc. and Rebittance Inc. in September and October 2017, respectively.
"There have been no newly registered virtual currency exchanges as applicants are still completing the documentary requirements," she said.
The central bank issued Circular 942 in January last year, laying down the rules and regulations governing the operations and reporting obligations of non-bank entities engaged in remittance, money changing, and foreign exchange dealing, pursuant to Republic Act 9160 or the Anti-Money Laundering Act (AMLA) of 2001 and RA 7653 or The New Central Bank Act.
As early as 2014 when virtual currencies were starting to grow in the Philippine market, the BSP issued an advisory to inform the public of the features, benefits and attendant risks when dealing with virtual currencies.
Last December, the BSP issued another public advisory last Dec. 29 in response to certain unscrupulous fraudsters who try to entice consumers to invest in cryptocurrencies packaged as an Initial Coin Offering (ICO).
The advisory urged consumers to be cautious in dealing with virtual currencies, only maintain virtual currencies sufficient to meet their transactional requirements, and adopt sound security measures to protect their virtual currency accounts.
The advisory also reiterated the BSP does not endorse virtual currencies as a currency or an investment instrument due to its highly-speculative and risky nature.
"Because of price volatility, virtual currency holders may incur significant losses when trading or investing in virtual currencies. While virtual currencies were not initially designed to be used as an investment product, some traders speculate on virtual currencies which adds to the price volatility," the BSP said.
As in any other type of investment, the regulator said prospective virtual currency investors should know and fully understand virtual currencies and cryptocurrencies before speculating or investing in such a product.
"The public is advised not to blindly follow the crowd, adopt herd mentality, or engage in speculative transactions," it said.