BSP to issue P5 coin featuring Bonifacio in December
November 29, 2017 | 8:48am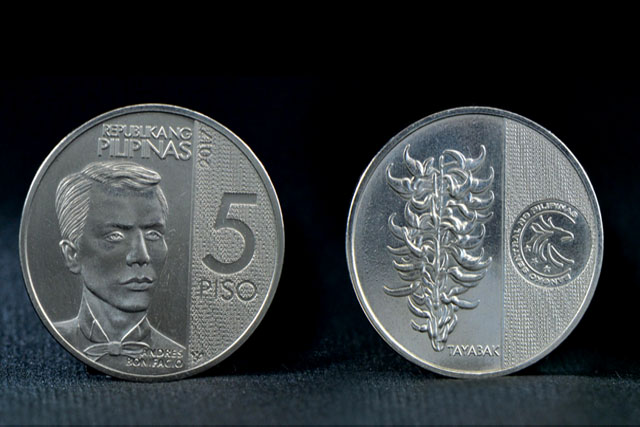 MANILA, Philippines — Bangko Sentral ng Pilipinas on Wednesday revealed the new design for P5 coin which would be released in December.
The P5 New Generation Currency Coin Series features Gat Andres Bonifacio on the obverse. It would be released in silver.
Bonifacio's portrait is etched on the obverse of the coin, and bore the markings: "Andres Bonifacio," "5-Piso" and "Republika ng Pilipinas" in bold font and in microprints and the mint mark.
On the other hand, the reverse side of the coin would feature Tayabak, a Philippine endemic plant that climbs tall forest trees. The BSP logo and "Bangko Sentral ng Pilipinas" was also placed in microprint.
LOOK: @BangkoSentral unveils new design for P5 coins ahead of Bonifacio Day. The new P5 coins will be silver, not gold, and will be released by December. @bworldph pic.twitter.com/y1vZX0PJbs

— Melissa Luz Lopez (@meltlopez) November 29, 2017
The P5 NGC coin is 25-millimeters in diameter and weighs approximately 7.4 grams.
The central bank unveiled the design of the P5 coin a day before the country commemorates the father of the revolution's 154th birth anniversary on November 30.
The BSP's advance release also highlights Bonifacio's 120th death anniversary.
Bonifacio is regarded as the leader who founded the secret society Katipunan that sparked the revolution and led to the declaration of the Philippine Independence in 1898.
The current P5 coin bears the portrait of former President Emilio Aguinaldo and comes in gold color.
BSP said the rest of the NGC Coin Series would be release for circulation in January 2018. They would feature the BSP logo, national heroes and endemic flora, consistent with the design of the NGC Banknote Series, launched in 2010.
The coin series would adopt the latest technology in minting coins.
BSP assured the public that it carries security features to prevent counterfeiting, improve wear and corrosion resistance capabilities. It is also expected to "save the BSP minting costs, avoids risks arising from unexpected volatile swings in metal prices, and also deters the illegal hoarding of coins for melting and shipment to other countries."
Last Friday, the central bank also issued limited edition P10 Gen. Antonio Luna coins, commemorating the Philippine hero's 150th birth anniversary. They would only release 10 million pieces of this commemorative coin. —Rosette Adel