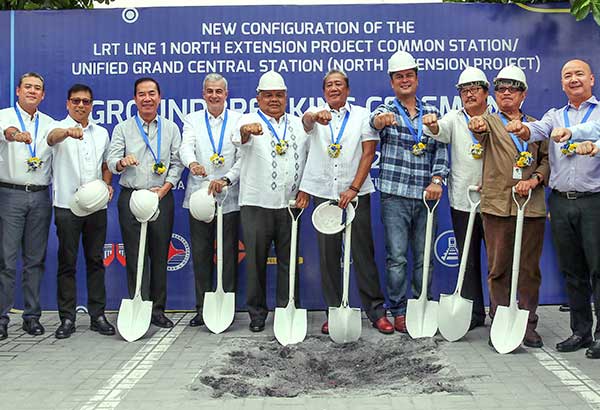 Unified Grand Central Station: Government officials led by Transport Secretary Arthur Tugade (center) and Quezon City Mayor Herbert Bautista (right) together with top-level executives of the Ayala Group of Companies, San Miguel Corp., SM Holdings Corp., Light Rail Manila Corp., LRTA, MRT3, PNR and Metro Pacific Investments Corp. show their unity at the groundbreaking ceremony of the Unified Grand Central Station.
LRT-MRT common station breaks ground
MANILA, Philippines - The government broke ground yesterday on a common station which will interconnect lines 1 and 2 of the Light Rail Transit, Metro Rail Transit line 3 and the soon to be built MRT line 7 and the Mega Manila Subway.
Speaking at the groundbreaking ceremony held yesterday, Transportation Secretary Arthur Tugade said the event was made possible following the cooperation of private sector stakeholders such as Metro Pacific Investments Corp. (MPIC), SM Group, Ayala Group and San Miguel Corp. (SMC).
"Without them, this would not be possible. They set aside their own interests for the interests of the public," he said.
The P2.8-billion structure, which will be built between the SM North Edsa and Trinoma shopping malls will be completed in 2019, the transportation department said.
"The common station will provide safety and convenience to hundreds of thousands of passengers. We are glad to be a step closer to completion and we promise to go full blast with construction," Ayala Land Inc. president and chief executive officer Bobby Dy said.
The Ayala group has committed to start construction by next month.
"We have been waiting for this for so long. We will make sure we will follow timelines," Manuel Bonoan of San Miguel Holdings Inc. said.
LRMC president and chief executive officer Rogelio Singson said the common station would be beneficial as it would serve up to 500,000 passengers daily, once the Cavite extension of the LRT-1 is completed.
"This is going to be a game-changer as far as mass transport is concerned," he said.
Apart from allowing seamless transfer from one railway to the next, the common station will also deliver dual tracks for LRT-1, MRT-3, and MRT-7 for increased operational efficiency.
Its ground level, meanwhile, will serve public utility vehicles, making it easier for passengers to transfer from the railways to buses or jeepneys.
Construction of the common station was put on hold earlier amid legal issues.
In 2014, SM Prime Holdings Inc. (SMPHI) obtained a temporary restraining order from the Supreme Court to prevent the then Department of Transportation and Communications from moving the location of the common station near Trinoma.