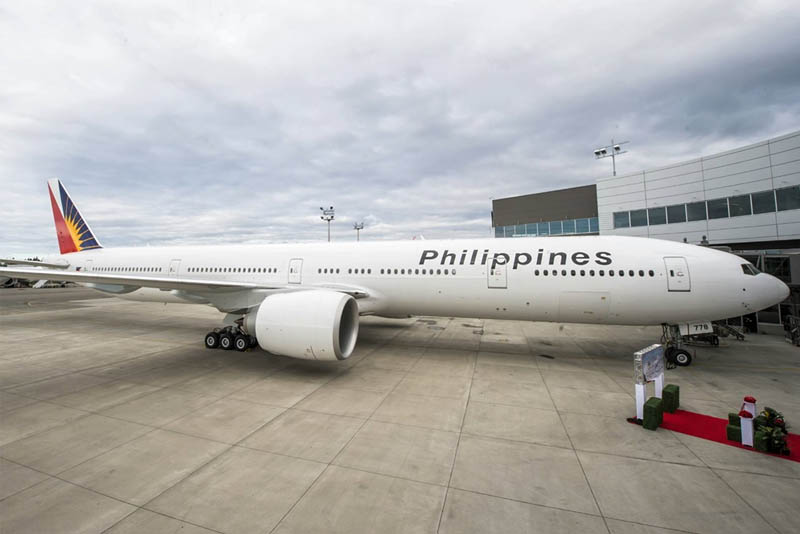 The Philippine Airlines said it is ready to present a "compromise agreement" regarding its unpaid charges, which the Department of Transportation said could go up to more than P7 billion. Photo shows a Boeing 777-300ER unit of the flag carrier. PAL/Released
PAL offers 'compromise' deal on P6-B debt issue
(philstar.com) - September 28, 2017 - 10:11am
MANILA, Philippines — The Philippine Airlines on Thursday said it is ready to present a "compromise agreement" regarding its unpaid charges, which the Department of Transportation said could go up to more than P7 billion.
President Rodrigo Duterte on Tuesday threatened to shut down Terminal 2 of the Ninoy Aquino International Airport, which the country's flag carrier has been exclusively using since 1999, if the airline's owner, business tycoon Lucio Tan, fails to settle his company's arrears.
In a statement, PAL said it is looking forward to a negotiation, adding that the company is prepared to submit a compromise agreement "to settle this issue once and for all."
According to the DOTr, the Tan-led flag carrier's unpaid navigational fees and other liabilities to the government have so far reached P7.287 billion as of Sept. 26, 2017, payable to the Civil Aviation Authority of the Philippines and the Manila International Airport Authority.
It added that letters were sent to PAL upon the instructions of Transportation Secretary Arthur Tugade as early as August 2016 "demanding full payment of all unpaid charges."
"As a result, discussions were undertaken with PAL to reconcile invoices and documents, which led to PAL's payment to CAAP of P370 million," the DOTr said.
"PAL also requested to discuss the possibility of paying its arrears in 7 years. All such requests have been denied. Thus, final demand for full payment of all unpaid charges has been sent to PAL, preparatory to the filing of appropriate legal action in order to protect the interest of government," it added.
Responding to DOTr's statement, PAL acknowledged that CAAP indeed sent letters to the airline demanding payment of unpaid navigational charges in the amount of P6.63 billion.
PAL also said the issue on its supposed unpaid liabilities involves "complex" legal issues, adding that the company has been trying to thresh out the matter with the authority for years and that communications have been open among parties involved.
"In fact, the same legal issues were the subject of a court case between PAL and the MIAA years back where the court ruled in favor of PAL. Despite the favorable ruling, PAL then opted to settle amicably with the MIAA as a manifestation of its full support of the government," PAL recalled.
"For the past months, both CAAP and PAL have been working together to validate these claims in their mutual and collaborative effort to settle this obligation. PAL has fully cooperated and will continue to cooperate with any and all agencies to resolve this concern," it added.
"In fact, PAL stressed that CAAP created an inter-agency panel of negotiators for the proposed settlement via CAAP Authority Order 149-17. PAL formally submitted its offer to CAAP which offer is more than the amount covered by the CAAP supporting invoices received by PAL. To date however, PAL has not received any official response from CAAP on its offer."