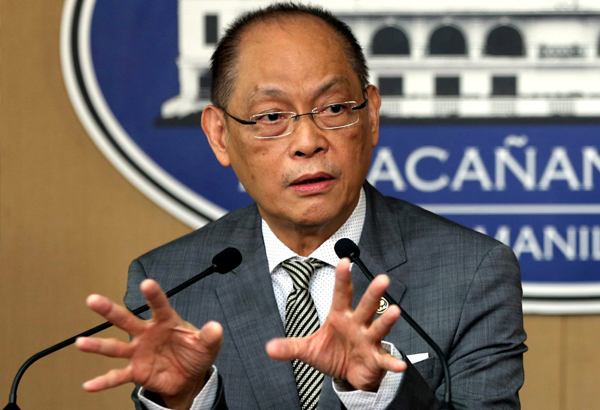 Budget Secretary Benjamin Diokno said the reforms are part of the plan to transform the Philippines into a wealth-generating and wealth distributing economy by reducing poverty to 14 percent by 2022. Krizjohn Rosales/File
Government cuts underspending rate below 1%
MANILA, Philippines - The Department of Budget and Management (DBM) has lowered the underspending rate to below one percent in the first half of the year amid the reforms undertaken by the Duterte administration.
Budget Secretary Benjamin Diokno said the reforms are part of the plan to transform the Philippines into a wealth-generating and wealth distributing economy by reducing poverty to 14 percent by 2022.
Diokno said the government has managed to reduce underspending to P6 billion or 0.4 percent share of cash budget in the first half.
"Our first semester performance for 2017 revealed greater potential in achieving our spending targets," Diokno said, adding that government spending was up by a robust 22.6 percent in June, the highest posted so far this year.
For the first half, Diokno said disbursement went up nine percent.
This, he said, was way lower than the underspending of P302 billion or 13.3 percent of cash budget in 2014 and P328 billion or 12.8 percent of cash budget in 2015.
Diokno explained the government's spending pattern showed significant improvement with the underspending narrowing to P96.3 billion or 3.6 percent of cash budget in 2016.
According to Diokno, the administration has undertaken major budget reforms including revising the implementing rules and regulation of Republic Act 9184 or the Government Procurement Act that took effect in the fourth quarter.
"The revisions quickened the procurement process, made it more less vulnerable to arbitrary delays and streamline the documentary requirements without sacrificing the integrity of the process," he said.
Diokno added the DBM is also using technology to better fulfill its mandate through the Budget Treasury Management System (BTMS). An integrated financial management system for the national government is on track for implementation this year.
"It is also being piloted by the DBM and the Bureau of Treasury and we will gradually introduce it to the line agencies," he said.
Diokno said the hybrid public private partnership (PPP) scheme has been adopted to speed up the roll-out of major infrastructure projects.
The budget chief said the Duterte administration's Build Build Build program has committed to spend between P8- and P9-trillion to raise infrastructure spending to 7.3 percent of gross domestic product (GDP) by 2022 from 4.5 percent of GDP in 2016.