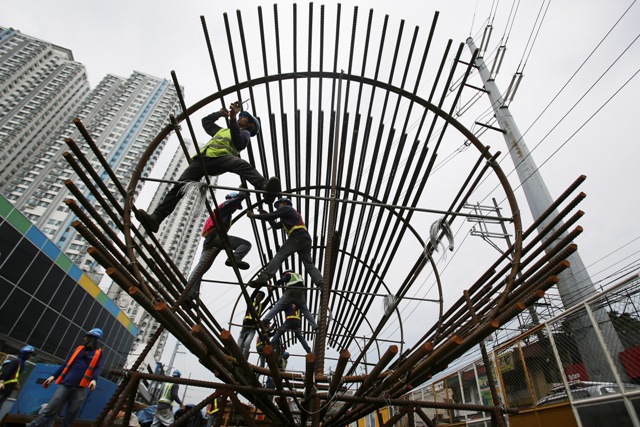 The Duterte administration already spent P197.2 billion for infrastructure from January to May. Philstar.com/File photo
Infra spending grows fastest in 6 months in May
MANILA, Philippines
—
Road projects and military modernization pushed up infrastructure spending in May to their fastest growth rate in six months, data from the Department of Budget and Management showed.
A total of P46.2 billion was spent for infrastructure that month, up 31.4 percent year-on-year and reversing a contraction the previous month.
The growth rate was the fastest since November last year's 49.3 percent.
Including those spent by local governments and state companies, capital outlays went up 29.1 percent to P60.1 billion.
"This...was due to the completed road construction, repair and rehabilitation, and flood control infrastructures implemented of the DPWH,as well as the requirements for the purchase of anti-submarine helicopters under the AFP modernization program...," the DBM said in a statement on Thursday.
Figures released did not include specific amounts utilized by the Department of Public Works and Highways and the Armed Forces of the Philippines.
From January to May, the government already spent P197.2 billion for infrastructure, up 8.1 percent from the previous year.
The broader gauge of capital outlays inched up a slower 1.7 percent to P253.7 billion, figures showed.
DBM said this was still largely due to DPWH road repairs and AFP funding its modernization thrust.
The Duterte administration promised to accelerate government spending after faulting the previous government for falling below disbursement targets.
A key part of its economic agenda is to fast track spending for infrastructure, allotting between P8 and P9 trillion for it over the next five years.
So far however, spending growth had fluctuated during the first year of the government, although there is more space to accelerate it later in the year, albeit during the rainy season.
DBM, in its statement, recognized this. "Disbursements are expected to gradually gather speed in the succeeding months," it said.
In particular, it was optimistic that agencies spent more in June as they try to use more of their notices of cash allocation (NCA) ahead of their expiration at the end of each quarter.
NCA is the last document obtained by agencies to secure checks from the Bureau of the Treasury. Checks are encashed and used to pay for contracted services.
Seasonally, spending usually picks up during the third month of the quarter as line agencies speed up the utilization of their NCAs (notices of cash allocation before they lapse at the last working day of the quarter," DBM said.
"Moreover, agencies are expected to implement catch up plans or measures to recover from the delays encountered in the earlier months and these could further
improve their disbursement levels," it added.