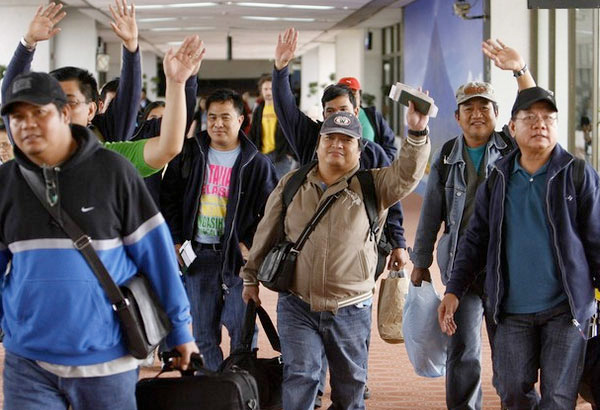 The remittances also took a hit from an amnesty program by Saudi Arabia for overstaying overseas Filipino workers. Philstar.com/File photo
Remittances slump to worst performance in 17 months, says BSP
MANILA, Philippines
—
Money sent home by Filipinos abroad contracted for the first time this year on April, its worst performance in 17 months, the Bangko Sentral ng Pilipinas reported on Thursday.
Cash remittances coursed through banks dropped 5.9 percent to $2.083 billion, the worst since the 6.2-percent contraction in November 2015.
It also followed three straight months of expansion and brought the four-month tally to $9.036 billion, up 4.2 percent.
The BSP forecast remittance growth to hit four percent this year.
"This was attributed to the 7.6-percent drop in cash remittances from land-based workers which offset the marginal increase (0.3 percent) in transfers from sea-based workers," BSP said in a statement.
According to the central bank, part of the reason for low remittances was the lesser working days in April than other months due to the observance of Holy Week.
Third-country currencies
—
or those aside from the US dollar-
—
also weakened against the greenback, resulting in less value of earnings when exchanged.
However, BSP also noted that remittances also took a hit from an amnesty program by Saudi Arabia for overstaying overseas Filipino workers.
Last month, the government announced that around 4,000 OFWs will avail of the amnesty to be granted exit visa from the Middle East kingdom.
Aside from Saudi Arabia, the US, United Arab Emirates, Japan, Qatar, United Kingdom, Kuwait, Hong Kong and Canada accounted for 80 percent of total cash remittances during the period.
Including hand-carry transfers and those in kind however, another gauge called personal remittances rose 4.7 percent to $2.317 billion in April.
They are up 4.7 percent at $10.026 billion for the first four months, figures showed.