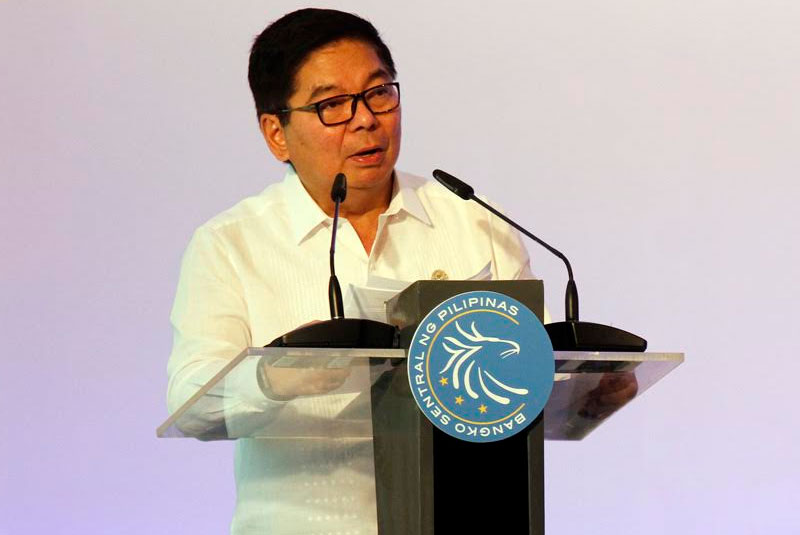 Bangko Sentral ng Pilipinas Governor Amando Tetangco Jr. said the country's gross international reserves (GIR) last month was slightly higher than the revised $82.01 billion booked in April. Jay Rommel Labra/File
GIR hits 7-month high in May
MANILA, Philippines - The Philippines continued to build up its foreign exchange buffer, hitting a seven-month high of $82.07 billion in May due mainly to strong inflows as well as higher price of gold in the international market.
Bangko Sentral ng Pilipinas Governor Amando Tetangco Jr. said the country's gross international reserves (GIR) last month was slightly higher than the revised $82.01 billion booked in April.
This was the highest since the foreign exchange reserves amounted to $85.1 billion in October last year.
He attributed the steady increase in the country's foreign exchange buffer to inflows arising from the net foreign currency deposits by the national government, income from the BSP's investments abroad, and revaluation adjustments on its gold holdings resulting from the increase in the price of gold in the international market.
BSP data showed the value of its gold holdings increased slightly to $8 billion in April from $7.93 billion.
The outgoing BSP chief pointed out the increase in the GIR level was partially offset by the BSP's foreign exchange operations and payments made by the national government for its maturing foreign obligations.
The GIR is the sum of all foreign exchange flowing into the country. The reserves serve as buffer to ensure that the Philippines would not run out of foreign exchange that it could use to pay for imported goods and services, or maturing obligations in case of external shocks.
If it deems necessary, the BSP buys dollars from the foreign exchange market to prevent sharp depreciation of the peso against the dollar. It can also sell to avoid sharp appreciation of the local currency.
Tetangco said the end-May GIR level could cover 9.1 months' worth of imports of goods and payments of services and income.
According to him, the GIR is also equivalent to 5.3 times the country's short-term external debt based on original maturity and 3.7 times based on residual maturity.
For this year, the BSP sees the GIR hitting $84.7 billion equivalent to 8.8 months import cover.