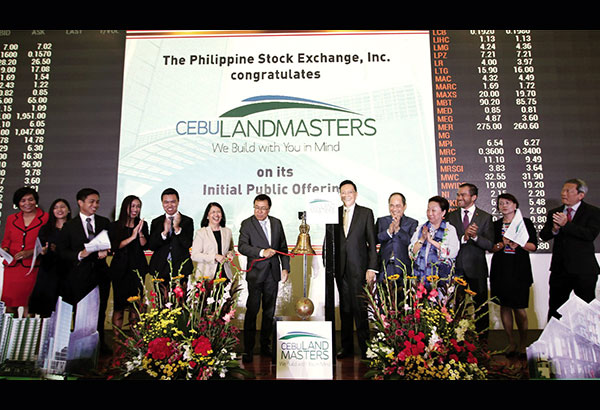 CEBU LANDMASTERS MAIDEN LISTING: Cebu-based real estate developer Cebu Landmasters Inc. conducted its maiden listing at the Philippine Stock Exchange after raising P2.9 billion in total proceeds during its initial public offering. The company, which has the stock symbol CLI, priced its offering at P5 per share. Shown in photo are (from left ) Cebu Landmasters Inc. officials led by director Aurora Geotina-Garcia, marketing manager Janelle Mae Soberano, Jose Gabrielle Soberano, vice president and marketing director Joanna Marie Soberano-Bergundthal, senior vice president and chief operating officer Jose Franco Soberano, executive vice president and treasurer Ma. Rosario Soberano, chairman and president and CEO Jose Soberano III; and PSE officials led by chairman Jose Pardo, president and CEO Ramon Monzon, director Ma. Vivian Yuchengco, chief operating officer Roel Refran, treasurer Omelita Tiangco and director Alejandro Yu.
Cebu Landmasters lists shares
MANILA, Philippines - Cebu Landmasters Inc. (CLI), the Cebu-based property developer founded by industry veteran Jose Soberano III in 2003, successfully made its debut at the Philippine Stock Exchange (PSE) yesterday.
Priced at P5 per share, CLI successfully raised P2.9 billion after selling up to 575 million shares, proceeds of which will be used to fund its Visayas and Mindanao expansion.
Soberano said the company will focus on the two regions for now on the back of the Duterte administration's thrust to further develop the islands.
Investment bankers involved in the offering said investors gobbled up the shares.
Ed Francisco, president of BDO Capital and Investment Corp., the joint lead underwriter and bookrunner along with BPI Capital Corp. said the deal was two times oversubscribed.
Reggie Cariaso, BPI Capital Corp. managing director and COO, said the deal was very well covered.
"I can tell that you that the deal is very well covered with good participation from institutional and especially retail investors…I am very comfortable with the coverage of this deal," Cariaso said.
The company is a Cebu-based developer that is aggressively expanding to the Visayas and Mindanao, aiming to become the region's most preferred developer in three years.
The developer has a track record in horizontal and vertical residential projects, mixed-use, hospitality and office developments, covering a wide segment of the property market.
At present, it has 28 projects completed or in various stages of construction, with a total of 11,141 units in Cebu, Cagayan de Oro and Davao. It is now the number one local housing developer in Metro Cebu with 11 percent market share, next to Ayala Land at 17 percent, according to CBRE Philippines (now Frank Santos Knight).
According to its latest financial statement, net income reached P702.32 million in 2016, representing an annual compounded growth rate of 150.49 percent since 2012, with sales at P2.17 billion and operating profit of P849 million, for a CAGR of 61.47 percent and 116.82 percent respectively.
CLI joins Wilcon and Eagle Cement in the roster of companies that made their debut in the stock market this year.
Wilcon Depot went public last March while Eagle Cement did its IPO just last week.