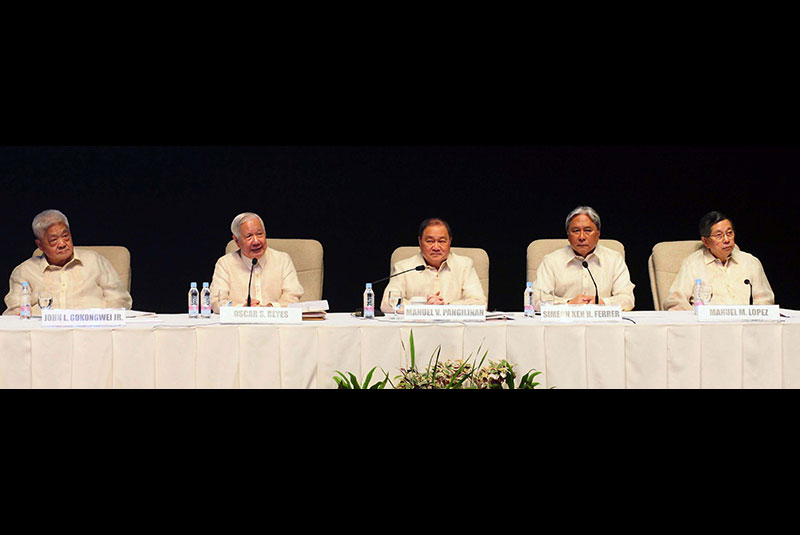 MERALCO STOCKHOLDERS MEETING: Manila Electric Co. president and CEO Oscar Reyes (2nd from left) answers queries from stockholders during the company's annual meeting held at the Meralco auditorium in Ortigas yesterday. Also in photo are (from left) John Gokongwei Jr., director; Manuel Pangilinan, chairman; Simeon Ferrer, corporate secretary and Manuel Lopez, director. MIKE AMOROSO
MANILA, Philippines - Manila Electric Co. (Meralco) is expanding its foothold overseas through a partnership with another distribution utility in Nigeria and possibly bringing its payment solutions platform to Indonesia.
Meralco president Oscar Reyes said the company's technical partnership with Ibadan Electricity Distribution Co. Plc has led to a possible team-up with another Nigerian distribution utility.
"Following our performance and the feedback from other utilities we have gotten, we had been invited by Port Harcourt Electricity Distribution Co. to provide the same type of technical partnership and service, basically advisory and support services to Port Harcourt. In fact, they wanted a more extensive arrangement," he said.
Port Harcourt is a former state-owned distribution utility which provides power to 14 million customers in four Nigerian states.
Under the team-up, Meralco has limited its partnership with Port Harcourt to providing technical support to see the regulatory environment in the country first, Reyes said.
"In the same way, similar with Ibadan Electric, they have given us the option for equity. But what we have done so far is limit ourselves to technical partnership because we want to see performance in certain commitments by the regulators such as tariff reform, power supply and security," he said.
The partnership is, however, subject to regulatory approvals in Nigeria. "This requires that they get necessary approvals from regulatory authorities," Reyes said.
In November 2013, Meralco's partner, Lagos-based Integrated Energy Distribution and Marketing Ltd. (IEDM), took over Ibadan Electricity and the Philippine distribution utility was tapped as technical partner.
Meanwhile, Meralco is looking at opportunities to bring a payment solutions platform around the region with its new partner, Japan-based Densan System Co. Ltd., in CIS Bayad Center Inc., the former's over-the-counter bills collection-payment center.
Densan is a Japan-based company engaged in the provision of information services and payment-collection agent services.
Reyes said Densan has "fairly solid links with Japanese convenience stores who are not only present in the Philippines but also in the region."
"So we are looking forward for the opportunity of this entry into Bayad Center, being a vehicle for us to jointly look at opportunities in other countries in the region, Indonesia and other countries. Under this principle, [this is a] growth potential for Bayad Center," the Meralco official said.
The duo have looked at Southeast Asian countries like Vietnam, Malaysia and Thailand but Indonesia presents a more favorable opportunity given its huge market potential, Reyes said.
"We have to start working. We have to study the market. We haven't set a timeline but the sooner, the better," he said.
Bayad Center offers over-the-counter payment collection service for organizations in the following sectors: utilities, government service, telecommunications, cable TV, internet, insurance and pre-need, healthcare, transportation, electronic wallet, credit card, real estate, financial services, arts and entertainment, columbary, memorial park and charities.