(The Philippine Star) - September 20, 2016 - 12:00am
As if to prove just how pervasive the traffic problem has become, Senator Migz Zubiri spoke about it in last Thursday's Rotary Club of Manila meeting — even joking the traffic situation in Metro Manila is "always at a standstill." As he correctly noted, the traffic mess is something people have to deal with every single day, with stress levels going up as people wait in helpless agony as cars move slower than a snail's pace.
The statistics disclosed by Senator Zubiri is "enlightening": There are 2,317,204 registered vehicles in Metro Manila; vehicle density is 3,643 per square kilometer, much higher than Singapore or Tokyo; and the volume of vehicles plying EDSA is estimated at 520,000 per day in both directions — over and above the capacity which should only be 288,000 per day in both directions. The three rail lines (LRT-1, LRT- 2 and MRT-3) combined also serve more than 1.3 million commuters daily — who have to put up with anxiety at the thought their ride could get derailed due to some glitch or system error.
Traffic has not only become dangerous to one's health, it also puts one's life at risk as seen in a road rage incident involving a biker who was shot to death by a Hyundai Eon driver. An underlying issue is discipline and the need for people to respect each other's right to use the road, Migz noted, sharing his proposal for an inclusive mobility scheme through elevated walkways and bike lanes that would make it safer for pedestrians and non-motorized transport road users. While some groups are advocating for the designation of a lane for bikers and pedestrians in major roads, this seems to be "wishful thinking" given the current situation.
Under Zubiri's proposal, covered elevated walkways and bike lanes (with matching CCTVs and roving security to ensure the safety of users) can be interconnected with the existing footbridges in commercial and business districts like Ayala and Ortigas for a seamless, well-connected and accessible transport system. This will provide people with the option to use bikes, or walk if their destination is within walking distance, he said.
Given the enormity of the traffic problem in Metro Manila that is costing the economy over P3 billion daily, this suggestion of Migz is probably worth looking into. After all, even Transportation Secretary Art Tugade has admitted the traffic situation in Metro Manila is now under a "state of chaos" – escalating to "a crisis that treats commuters like pigs."
The fact is — traffic is even worse than before. Imagine, one vehicular accident in Market! Market! in Bonifacio Global City is enough to cause vehicles all the way from Quezon City and Marikina to be stalled in traffic for more than three hours. For sure, the public is still waiting for the solutions that could ease their daily suffering, one of which is the grant of emergency powers the Transportation department is waiting for.
It's quite opportune that Secretary Tugade is the guest speaker at today's Manila Overseas Press Club forum (with MVP Media Bureau chief Mike Toledo as emcee and MOPC chairman Tony Lopez as moderator) where he is expected to outline the immediate solutions to "low hanging fruit" as well as the DOTr's long-term plans with regard to congestion not only on the roads, but also NAIA.
As I pointed out to Secretary Tugade when I last spoke with him, people have to see and feel incremental improvements are being done. Promises have been made and so the people are relying on the DOTr team to deliver since the impact of transportation – land, air and water — on the lives of people in all sectors of society is far-reaching.
Responding to emergencies with Pure Force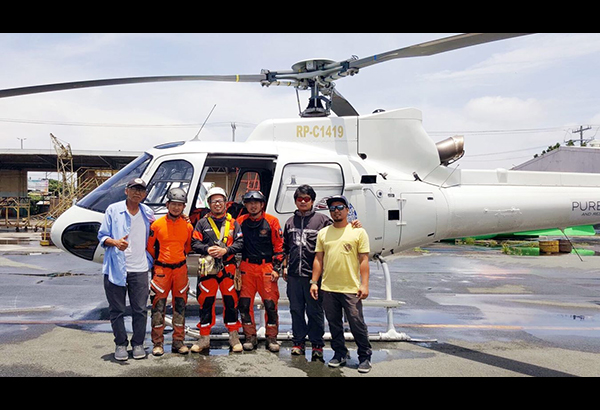 The Philippines is one of the most disaster-prone countries in the world, with earthquakes and super typhoons causing the displacement of millions of Filipinos in recent years. In fact, many victims of Super Typhoon Yolanda have yet to fully recover from the trauma (with many admitting they become nervous when heavy rains start to fall) and get their lives back into shape. During times of emergencies, the help of private groups have proven to be critical in rescue and retrieval efforts — among them Pure Force and Rescue Corporation founded by Jomerito Soliman.
Not many know Pure Force was called upon to help in the search for the missing Macro Asia-owned helicopter piloted by retired Air Force colonel Miguel Logronio and co-pilot Jay Gregorio. The team (composed of Capt. Jojo Consunji, CJ Custodio, Jeremy Bautista, Michael Odiongan and Condrad Tomeldan) coordinated with elements of the 505th Search and Rescue Group and 48th Infantry Battalion for search and retrieval operations. The Pure Force team discovered the wreckage of the chopper that crashed in Bulacan and the remains of the two pilots, who were then flown to Villamor Air Base by the PAF.
***
Email: spybits08@gmail.com