(The Philippine Star) - March 14, 2016 - 10:00am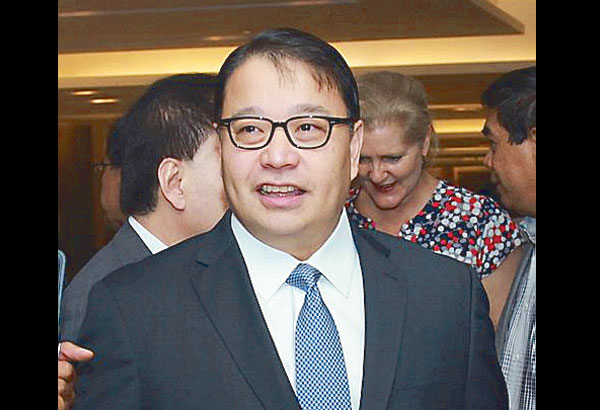 The Senate is set to conduct a hearing on the $81 million that hackers reportedly stole from the Bangladesh central bank's account at the Federal Reserve Bank of New York, then allegedly deposited in some accounts in local banks that include the Rizal Commercial Banking Corp. Being implicated in the money laundering scheme is RCBC's Jupiter branch manager who tried to leave the country with her family but was prevented by authorities following a lookout order issued by the Department of Justice.
From the information we received, remittances of such nature can happen without the express knowledge of the top management or even the major stockholders for that matter. As usual, speculations and innuendos even without proof, are starting to circulate. It is certainly not fair because it can seriously damage reputations that have been painstakingly built over the years, among them the reputation of RCBC president and CEO Lorenzo Tan.
The bank executive had offered to go on leave while the investigation is ongoing to remove any hint of whitewash and give the bank a free hand in the investigation, but the RCBC board as well as the principal stockholders, the Yuchengco family, absolutely refused his offer, saying that their trust in him is "intact and unshaken."
Friends and associates of Lorenzo are aghast at those badmouthing him because they vouch for him as a totally trustworthy person who is professional in all his dealings – a reputation he has developed over the decades. Many of his friends told me the bank manager's statements during an interview, saying that she "assumed" Tan knew about the $81 million transaction, is already proof the bank president did not have any knowledge about the shady activities involving the bank manager.
Lorenzo is a self-made man and known in the banking industry as a "turnaround specialist" for his Midas-like quality of turning troubled financial institutions into profitable businesses. For Lorenzo, money has never been a personal obsession – after all, he is more than comfortably settled many times over, what with his successful career in the corporate world, to the point that he actually gets "harassed" by job offers even outside of the country. If one can also recall, Sarangani Rep. Manny Pacquiao bought Lorenzo's Cambridge Circle mansion in Forbes for P388 million in 2012 only because Pacquiao was very insistent.
Lorenzo and his brothers Nestor (president of BDO) and Raul (a top executive in Silicon Valley) grew up in Nueva Ecija and were raised by their parents, lawyer Rufino and Erlinda Tan, not to be spoiled brats. Even as kids, they were taught by their mother to handle money in a responsible manner, inculcating in them the value of saving by gifting them with piggy banks – which perhaps partly explains why Lorenzo and Nestor are now successful bankers. Rufino, on the other hand made sure the boys learned to speak Filipino fluently, only hiring maids who were fluent in Tagalog because "it is our national language."
For Lorenzo, "a good reputation is more important than money" – and he is not the type who would squander the good name he has built over the decades for a few million pesos that he could easily earn as a professional fund manager.
Al Gore warns of warming ocean waters around Phl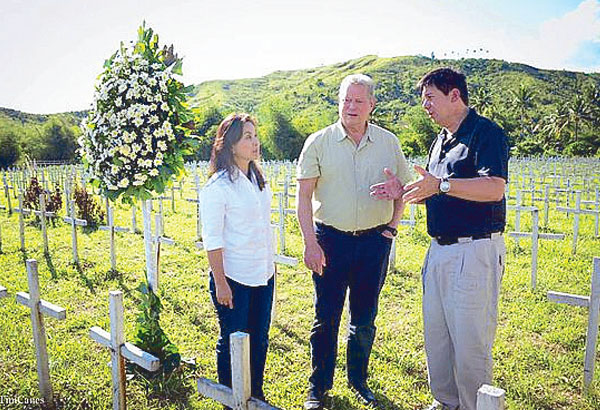 Former US vice president and Nobel Peace Prize winner Al Gore reportedly became emotional during his visit to Tacloban, which bore the brunt of the devastation brought by Typhoon Yolanda in November 2013. Accompanied by Senator Loren Legarda – who is the UN champion for disaster risk reduction and climate change adaptation – Gore met with Tacloban Mayor Alfred Romualdez and went to one of the barangays that was almost wiped out by the super typhoon. Gore said his heart went out to the people of Tacloban which has been dubbed as "ground zero." The former US vice president was visibly affected when he saw the mass cemetery where the typhoon victims were buried, according to our Spy Bits source.
Gore warned the Philippines is particularly vulnerable to climate change, especially with the ocean waters around the country warming at a faster rate compared to others, leading to a rise in sea levels and stronger typhoons with devastating effects. While Gore's warning is an inconvenient truth, it is something that we must all pay close attention to, lest the wrath of nature hits us with fatal consequences once again.
Boeing wins bigger deal in China
Philippine Airlines was choosing between Boeing and Airbus for additional planes that would serve nonstop flights from Manila to the US – and ended up placing a purchase order for six A350-900s worth $1.7 billion with an option to buy six more in the future.
Boeing, however, more than made up for its loss with the PAL deal because it sold a record number of 200 aircraft to China last year, with 28 of them wide-bodied 787 Dreamliners, according to reports. Not surprisingly, the soaring response from the Chinese market has encouraged Boeing to open a finishing facility in a still undisclosed location in China for single-aisle jets.
***
Email: spybits08@gmail.com