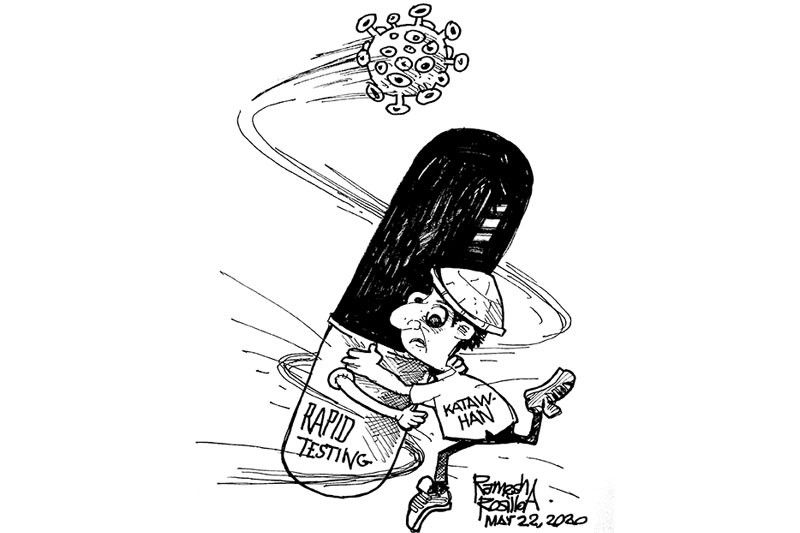 EDITORYAL - Pagsanong sa rapid testing
Midaghan na ang misanong sa panawagan sa tulo ka siyudad sa Sugbo alang sa targeted mass testing nga miabot na og dul-an 20 mil kinatibuk-an kun itandi sa nangaging mga semana sa pagsugod niini.
Ang mass testing maoy gamitong isip siyentipikong pamaagi sa pagbasa sa gilapdon sa mga dapit nga natakboyan sa COVID-19 aron sila maoy matutokan sa pag-atiman. Gamiton usab kining basehanan sa pagpaubos o pagpadayon pa sa kasamtangang gipatumang enhanced community quarantine sa lugar.
Ang Project Balik Buhay gipasiugdahan sa Office of the Presidential Assistant for the Visayas (OPAV) nga gisuportahan nilang Cebu City Mayor Edgardo Labella, Mandaue City Mayor Jonas Cortes ug Lapu-Lapu City Mayor Junard "Ahong"Chan.
Ang tulo ka siyudad maoy nahimutangan sa mga dagkong industriya sa mga negosyo maong sentro kini sa ekonomikanhong kalihokan sa tibuok isla sa Sugbo.
Kun ang tulo ka lugar dili pa gihapon makabalik sa normal, makaapektar kini og dako sa ekonomiya sa tibuok isla sa Sugbo. Samtang dunay mga nagtangag nga mga pasangil, alegasyon, iregularidad kalabot sa gipatumang mass testing, dili kini rason sa katawhan nga dili mopaubos niini.
Gani, makapabenepisyo og dako ang katawhan gikan niini tungod kay gawas nga libre, makahibalo ang tawong nagpa-test kun wala gyud kini matapti sa maong sakit.
Mahal ang pagpa-test, ug kining gidalit sa gobiyerno nga rapid testing libre.
Gawas pa niana, kadtong mga magpa-test unya mogawas nga negatibo mahimong makapangayo og sertipikasyon nga ilang ikapakita sa ilang trabahoan nga sila negatibo sa maong sakit kun pananglitan pangitaan sila niini ayha pa sila makabalik sa trabaho.
Samtang wala gyud girekomendar nga himuong mandatory ang test ini'g balik sa trabaho, mas maayong managana nalang daan kadtong mga trabahanteng basin magkinahanglan niini.Mas maayong duna kay sertipikasyon nga wala kinahanglana sa kompanya, nungka nga wala apan maoy pangitaon ini og balik sa trabaho.
Makatabang kini sa gobiyerno sa kampanya niini batok COVID-19 ug sa samang paagi makatabang sab sa mga mamumuo.