Groups to launch 'zero remittance day' on August 28
MANILA, Philippines — Overseas Filipino worker (OFW) groups around the globe will launch on August 28 a "zero remittance day" to protest the plan to increase the tax on balikbayan boxes.
John Monterona, Migrante-Middle East regional coordinator, said the groups of OFWs in Saudi Arabia, United Arab Emirates, Asia-Pacific, Canada and Australia are expected to stop the Bureau of Customs' (BoC) to jacking up the taxes of balikbayan shipments.
He said Migrante expects around 1.6 million OFWs in the various countries to join the "zero remittance" campaign.

Monterona said OFWs will participate in the drive despite the recent order of President Benigno Aquino III to stop the physical inspection on balikbayan boxes.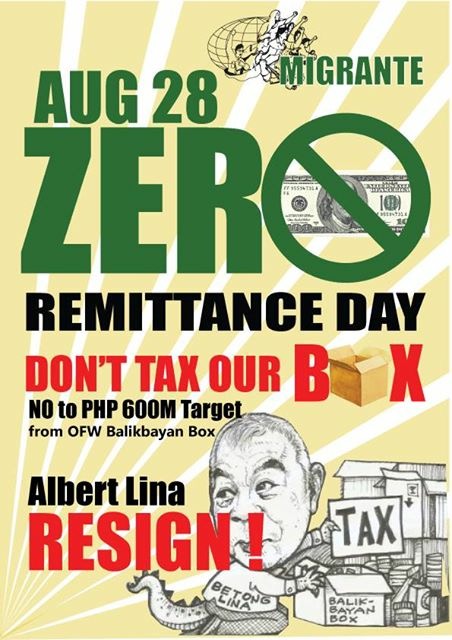 Migrante's poster on the "zero remittance day" drive.
"Andyan pa rin ang pagpataw ng karagdagang clearing fees sa mga container van ng mga cargo forwarders base sa inilabas na utos ng Bureau of Customs, ipapataw ang P100,000 to P120,000 per container van," Monterona said.
The increase in the cost of clearing fees will surely be passed by cargo forwarders to OFWs by hiking the payment per kilo of the balikbayan boxes, he said.
"Target talaga ng BoC ang P600 million revenue sa taong ito, kukunin nila ito sa pagpataw ng karagdagang duty o buwis sa mga cargo forwarders container vans," Monterona added.
He said that the campaign is a conscious political action proposed by the OFWs themselves.
Monterona said the Philippine government has previously jack up the premiums for Philhealth and terminal fees.
He said that the "zero remittance" drive could not be construed as a form of economic sabotage but a protest action against unjust and unfair OFW policies.