Zelensky launches crowdfunding platform to help win war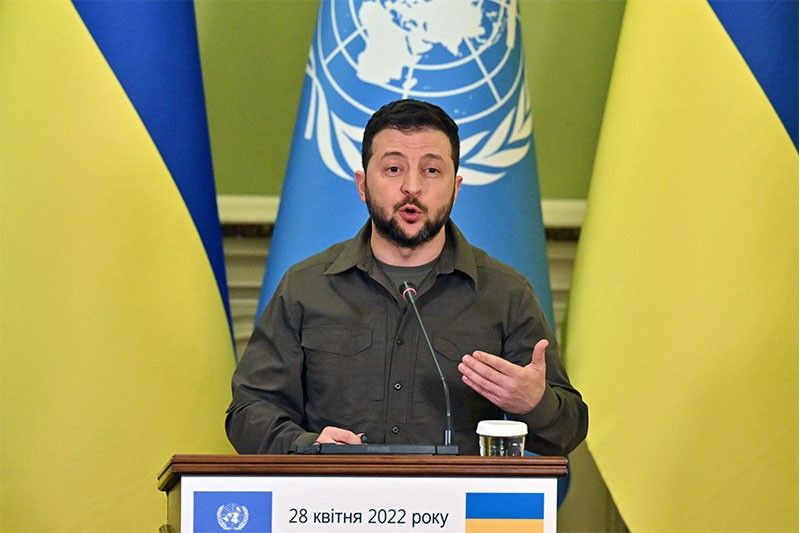 KYIV, Ukraine — Ukrainian President Volodymyr Zelensky on Thursday launched a global crowdfunding platform to help Kyiv win the war with Russia and rebuild the country's infrastructure.
"In one click, you can donate funds to protect our defenders, to save our civilians and to rebuild Ukraine," Zelensky said in English in a video on his Twitter page, launching the United24 platform.
"Every donation matters for victory."
We launched United24 @U24_gov_ua global initiative.

Its 1st component is an online platform to raise funds in support of ????????. Other projects & programs will be added soon.

You can make a donation in 1 click from any country.

Together we will win!#united24 #thepoweroffreedom pic.twitter.com/notUt1P3ZF

— ????????? ?????????? (@ZelenskyyUa) May 5, 2022
Nine weeks into Russia's invasion, Ukrainian cities have suffered vast destruction.
"All funds will be transferred to the national bank of Ukraine and allocated to the relevant ministries," Zelensky said, indicating that his government would give an update "every 24 hours" about how the money was being used.
The Ukrainian leader called on ordinary people around the world to help Kyiv defeat Moscow.
"Only together we have the potential to stop the war and to rebuild what Russia has destroyed."
He said Ukraine will always remember the contributions.
War bill hits '$600 billion'
Ukraine's Prime Minister Denys Shmygal told a news conference that preliminary economic losses from the war are estimated to be about $600 billion, adding that most of the losses should be covered with "money from the aggressor".
Ukraine also needed between $4 to $5 billion a month just to cover the budget deficit, he said, flagging the crisis in its all-important grain exports with six of its largest storage facilities hit by missiles.
"Russia is provoking a food security crisis. Now millions of tonnes of our grain are blocked in our ports," he said, urging the international community to pressure Russia "to organise corridors to transport grain to countries which badly need it".
Ukraine is a key global supplier of grain.
Since the start of the war, Ukraine has reached out with various fundraising efforts, initially saying it was accepting cryptocurrency donations and publishing its official donations address on Twitter.
Then in mid-March it launched an "Aid for Ukraine" website in partnership with crypto-firms FTX and Everstake with all donations funnelled to Ukraine's central bank.
Offering donors the chance to give in 10 cryptocurrencies, including Bitcoin, ether, tether and dogecoin, the campaign was an immediate hit with its official website tweeting on March 19: "Over $60M contributed, with $10M donated in a few days!"
Kyiv has received Western military aid, but its army remains far smaller than Russia's.
Zelensky, 44, has addressed parliaments around the world on an almost daily basis, appealing for support amid Moscow's attack.
As It Happens
LATEST UPDATE: May 27, 2022 - 6:49pm
President Vladimir Putin says he hopes that Moscow and the West could find a solution to the raging security crisis over Ukraine, but also accused Washington of using Kyiv as a "tool" against Russia.
"I hope that in the end we will find a solution, although it will not be simple," Putin says, indicating he was ready for more talks with the West, which has accused Moscow of massing more than 100,000 troops on the border and plotting to invade Ukraine.
"It seems to me that the United States is not so much concerned about the security of Ukraine... but its main task is to contain Russia's development," Putin says. — AFP
May 27, 2022 - 6:49pm
Russian strikes on a military facility in the central Ukrainian city of Dnipro early Friday left nearly a dozen people dead and injured more than 30 others, a local defense official says.
"A national guard training centre was hit this morning by Iskander missiles. People were killed. Unfortunately, about 10 people died and between 30 and 35 people have been injured," Gennady Korban, the regional head of the national guard, tells local Ukrainian media. — AFP
May 27, 2022 - 11:19am
Ukraine's President Volodymyr Zelensky accuses Moscow of carrying out a "genocide" in the eastern region of Donbas, where the city of Severodonetsk is suffering an onslaught of Russian shelling.
In his daily televised address, Zelensky condemns Moscow's brutal assault on the Donbas -- where it has redirected its forces after having failed to capture Kyiv -- adding that its bombardment could leave the entire region "uninhabited".
"All this, including the deportation of our people and the mass killings of civilians, is an obvious policy of genocide pursued by Russia," he says. — AFP
May 27, 2022 - 8:04am
A Russian resolution on the health crisis in war-torn Ukraine — which made no reference to Russia's invasion — was solidly rejected by World Health Organization member states on Thursday.
Fifteen countries voted in favour of the resolution co-sponsored by Syria, while 66 voted against at the World Health Assembly, the annual gathering of 194 states which serves as the UN health agency's decision-making body.
A prior Ukrainian resolution which condemned Russia's "military aggression" in Ukraine "in the strongest terms", and called on Moscow to "cease any attacks on hospitals", was passed by 88 votes to 12. — AFP
May 26, 2022 - 8:16am
Ukraine's top diplomat Dmytro Kuleba on Wednesday accuses NATO of "doing literally nothing" in the face of Russia's invasion, while praising the EU for its "revolutionary" decisions to back Kyiv.
"NATO as an alliance, as an institution, is completely sidelined and doing literally nothing. I'm sorry to say it," Kuleba tells the World Economic Forum in Davos.
But he praises Brussels for its "revolutionary, groundbreaking decisions, which even they themselves did not expect to make". — AFP
May 25, 2022 - 8:02am
The self-proclaimed leader of the Moscow-backed separatist region of Donetsk said Tuesday Russian and separatist forces were fighting to take full control of the town of Lyman and have already captured half of it.
"The active phase of the liberation of Krasny Liman is underway," separatist leader Denis Pushilin said on the pro-Kremlin Solovyov Live YouTube programme.
Located in the north of the eastern Donetsk region, Krasny Liman is the old name of the Ukrainian town of Lyman. — AFP