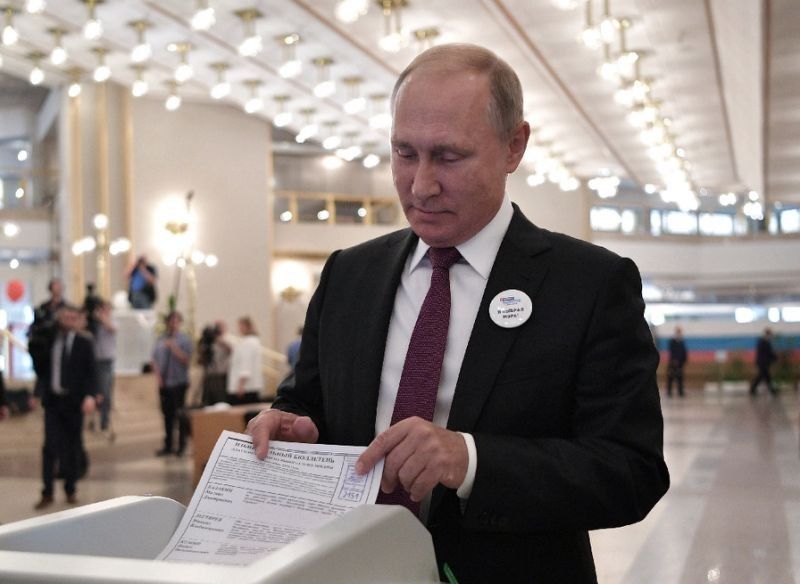 Putin had endorsed the ruling party's representative in the regional poll.
AFP Photo/Alexey NIKOLSKY
Russia election chief recommends invalidating 'rigged' vote
Moscow - Russia's election commission on yesterday recommended re-running a key regional poll, an unprecedented move triggered by claims of vote-rigging in favour of a candidate backed by Vladimir Putin.
If the results of a runoff governorship vote in Russia's Far East are declared invalid because of multiple irregularities, it would likely be the first such case in the history of modern Russia.
The crisis erupted in the Far Eastern region of Primorsky Krai where an opposition candidate accused a ruling party representative endorsed by Putin of "stealing" his victory in the vote last Sunday.
Communist Party candidate Andrei Ishchenko, 37, seemed poised to become the next governor of Primorsky Krai until the results suddenly changed overnight allowing his Kremlin-backed rival to claim victory.
Sunday's vote was a second-round runoff after the Moscow-backed candidate, Andrei Tarasenko, failed to win at least 50 percent of the vote in a first stage.
Voters are angry over rising poverty under Western sanctions and a controversial pension reform.
While nearly every election in Russia is marred by claims of vote-rigging, the opposition and ordinary Russians said ballot-stuffing and other irregularities during the far eastern vote were especially brazen.
In a rare move, the head of the Central Election Commission said on yesterday that the Primorsky Krai vote was marred by irregularities and recommended that regional officials invalidate it.
- 'Serious violations' -
"In a number of cases, mostly at the final stage, there were serious violations of the legislation," Ella Pamfilova said at an emotional meeting with members of the commission, referring to instances of ballot-stuffing and bribes.
She denied however that the vote was rigged in favour of the Kremlin-backed candidate, saying both candidates complained of irregularities.
Putin's spokesman Dmitry Peskov said the Kremlin supported the election commission's stance but added that acting governor Tarasenko would for now remain in the post.
If regional election officials declare the results invalid, new polls are supposed to take place in three months.
Earlier this month Putin appeared to throw his support behind Tarasenko.
"I know you face a second-round runoff," Putin told him during a meeting. "I think everything will be alright."
Peskov sought to play down that gesture of support yesterday, saying that the "transparency and fairness" of the polls were more important.
According to the official results, Tarasenko won 49.55 percent of the vote after a sudden surge, while Ishchenko received 48.06 percent.
That result came despite the Communist Party candidate enjoying a five-point lead when more than 95 percent of votes were counted.
- 'Harmful precedent' -
The Communist Party rejected the invalidation of the poll, urging the authorities to instead call the race for its candidate.
Political analyst Kirill Rogov said the authorities should simply cancel vote results at several polling stations as opposed to declaring the entire election invalid.
"Ishchenko has won the election," he wrote in a blog post. He said authorities wanted to render void "the victory of an opposition candidate. And this is a very harmful precedent."
Governorship elections were scrapped in 2005 but reinstated in 2012 as claims of mass fraud in the 2011 parliamentary elections prompted tens of thousands of Russians to rally against Putin.
The Kremlin this month suffered election blows in the regions of Khabarovsk, Khakasia and Vladimir, where ruling party candidates failed to win in the first round.
Second-round runoffs are scheduled in those regions on Sunday.