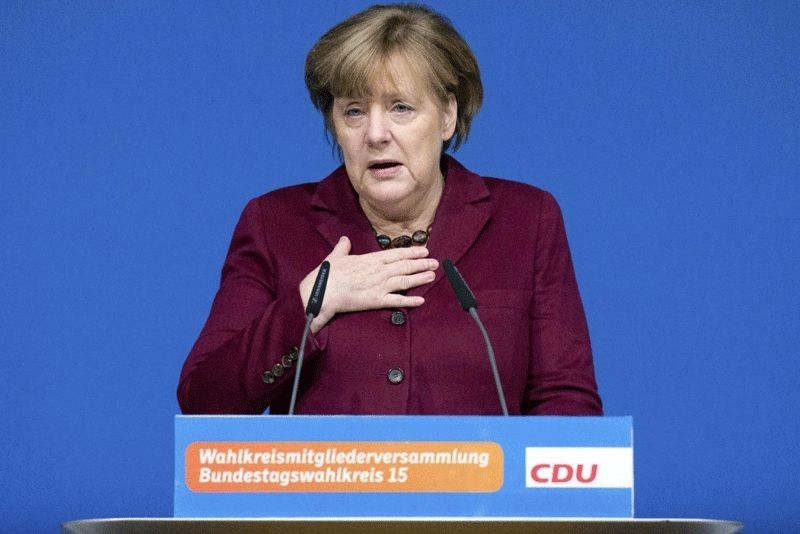 German Chancellor Angela Merkel delivers a speech at a local meeting of her Christian Democrats, CDU, in Grimmen, northern Germany, Saturday, Jan. 28, 2017. Merkel said there's no solution yet to the problem of how to fairly share the burden of migration among European Union member states.
Stefan Sauer/dpa via AP
EU impasse on sharing burden of migrants weighs on Merkel
BERLIN — German Chancellor Angela Merkel said yesterday that there's no solution yet to the problem of how to fairly share the burden of migration in the European Union, an issue that has weighed on Berlin's relations with other members of the 28-nation bloc ever since the migrant influx of 2015.
The impasse has given ammunition to Merkel's domestic critics, who have railed against Germany's decision to take in hundreds of thousands of asylum-seekers over the past two years even as other European countries closed their borders to migrants.
Merkel, who is running for a fourth term in September's general election, said the issue would be raised at an EU summit in Malta on Friday, but downplayed hopes for a breakthrough.
"I wouldn't spread too much optimism," she said in a weekly podcast published yesterday.
"We have to insist that everybody shows a bit of solidarity when it comes to distribution (of migrants)," Merkel said, adding this could include contributing to border security and development aid.
"How this will look exactly is something I can't say at this point," she said. "The issue isn't resolved yet."
Members of Merkel's Christian Democratic Union overwhelmingly voted yesterday to nominate her as the party's candidate in the far northeast of Germany, though support dropped from 100 percent in 2013 to just under 96 percent this year. Merkel has won the seat at every election since 1990.
This year she faces a challenge in her constituency from the local leader of the anti-immigration Alternative for Germany party, which is expected to enter federal parliament for the first time in the Sept. 24 vote. Even if Merkel failed to win the constituency directly she would likely enter parliament under Germany's electoral system , which allocates about half of all seats based on the votes each party receives.