EDITORIAL - A largesse we may not be able to afford
August 18, 2022 | 12:00am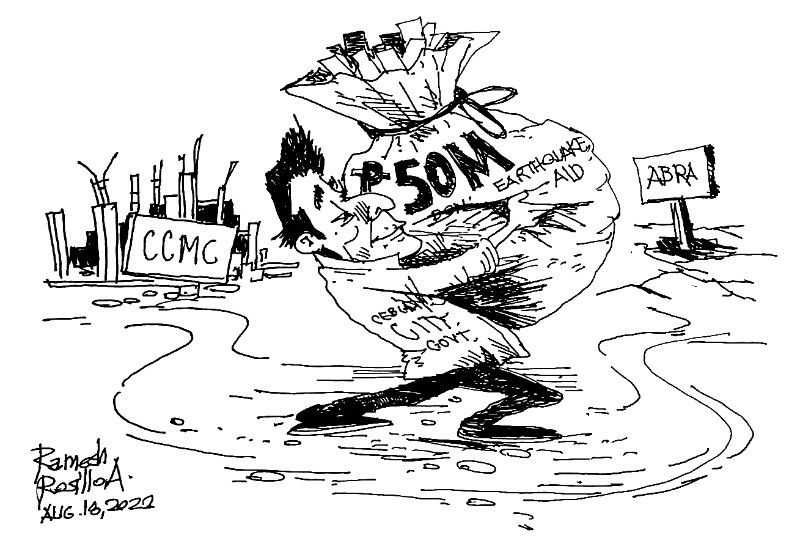 Cebu City Mayor Michael Rama recently handed over P50 million to several local government units affected by the 7.3-magnitude earthquake that hit Abra recently, causing an estimated P1.2 billion in damage and killing 14 individuals.
The financial assistance will be charged to the Quick Response Fund of the Cebu City Disaster Risk Reduction and Management Council.
We are not questioning the act of giving itself; it is always good to give money to those who need it. But did the amount have to be that much? Cebu City may be richer than most local government units, but it is not that rich. P50 million seems a bit too much when you consider what projects in Cebu City can still use funding.
For one, there is the Cebu City Medical Center, still unfinished years past its initial projected completion. The city continues to look for money to finish the hospital, in fact the CCMC just recently received up to P1 billion worth of "concrete pledges" from businesses in Manila.
For another, the city will have need for more drainage and other flood mitigation projects soon; the rainy season is here and floods are becoming more of a serious problem than before. With face-to-face classes expected to start next week we can expect the traffic situation and the flood problems to converge.
Did Mayor Rama give such an amount because he was just elected as national president of the League of Cities of the Philippines? Of course we know he is smarter than to let himself be manipulated like that, but many of us cannot help but think he was somehow pressured into doing so.
Again, we are not questioning the act of giving itself. It is always the duty of local government units to help each other in times of need. In fact Cebu City and Cebu Province are famous for usually being the first to come to the aid of other areas during disasters, as evidenced when floods devastated Ormoc in 1991 and when Yolanda ravaged Tacloban City in 2013.
However, to give so much too much when we still have our own urgent needs to look after may prove to be the wrong move.