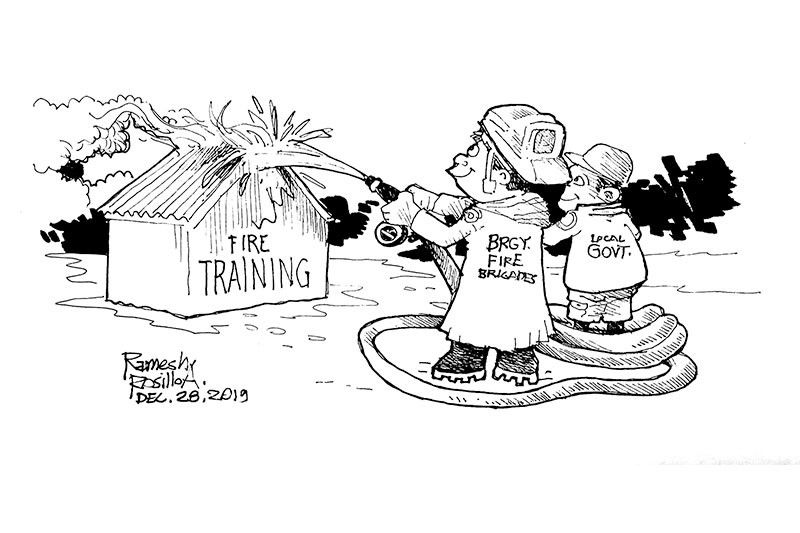 EDITORIAL – Fire volunteers can make a big difference
(The Freeman) - December 28, 2019 - 12:00am
It was a sad Christmas Day for residents of Sitio Abbia, Barangay Mambaling, Cebu City, after a fire razed four houses. One person was killed in the incident.
The last thing we want to do is rub salt into a wound, or in this case, a burn, but what makes it even sadder is that that the resulting loss of life could have been prevented, had the barangay been able to avail of a fire truck the city was set to give it.
As it turns out, there was no one in the barangay qualified to operate such an emergency vehicle, the reason why it was withheld.
Now, Councilor David Tumulak suggests the Bureau of Fire Protection should train barangay workers on how to operate such trucks just in case of fires.
This is a good idea that should be put into action as soon as possible.
Consider how barangay workers will be intimately familiar with the layout of a barangay is; they know the ins and out, they know where the roads are wide or narrow, and where bottlenecks are likely to happen.
For another thing, fire volunteers can be expected to have more motivation to protect their own communities. They will be fighting for the houses of their neighbors after all --if not for their own houses, should the worst scenario happen.
Having fire volunteers in a certain area will also take some of the pressure off firefighters. Don't take it the wrong way; they aren't meant to totally replace firefighters, but to augment them as an initial "skirmishing force."
If a ragtag group of fire volunteers somehow manage to contain a fire and prevent it from spreading to other parts of a community before the timely arrival of firefighters, then they will have made a huge difference.
Of course, this goes without saying we shouldn't just pick anyone in a barangay to do this job. They must be people who are physically fit, are intimately familiar with the barangay's interior areas, and spend most of their time in the place they are meant to safeguard.
With the beginning of a new year, why not make training of barangay fire volunteers a more institutionalized program by the BFP and the Cebu City government? The sooner they are ready, the better they will be.