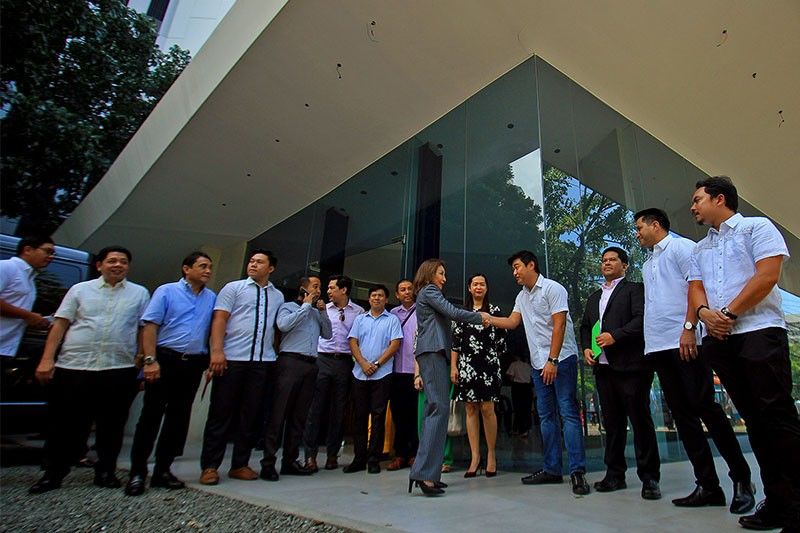 Governor Gwen Garcia and other provincial government officials meet with the executives of Innoland Development Corporation during the signing of a Memorandum of Understanding to officially return the lot it leased from the Capitol in Barangay Lahug, Cebu City.
Aldo Nelbert Banaynal
Firm returns 'questioned' leased lot
CEBU, Philippines — Innoland Development Corporation (IDC) has turned over yesterday its rented property to the Cebu provincial government.
In a ceremony, Governor Gwendolyn Garcia and IDC senior property manager Janez Zozobrado signed the memorandum of agreement for the turnover and transfer of the 849-square-meter property, which the company leased from the Capitol since April 2014.
The contract was supposed to end in April 2020.
Garcia commended IDC for "peacefully" returning the property on Salinas Drive in Barangay Lahug, Cebu City back to the province.
"By turning it over and accepting the termination of the lease contract which did not carry an SP (Sangguniang Panlalawigan) authorization, we take that gesture as an act of good faith from Innoland," she said.
The lease contract that IDC had entered into with the previous administration was questioned recently as it lacked authority from the Cebu Provincial Board. IDC rented the property for P50 per square meter.
It was found out following an inventory of all rented province-owned properties.
IDC surrendered not only the province-owned lot but also the P25-million showroom built on the property.
This was in pursuant to Article 445, Section 2, Chapter 3 of Book II of the Civil Code of the Philippines, which states that "whatever is built, planted or sown on the land of another and the improvements or repairs made thereon, belong to the owner of the land."
Lawyer Marino Martinquilla, Cebu Provincial Legal Management consultant, said the province will no longer file a civil case against IDC.
"We will no longer push through with the case. There is no more case to think of," he said.
However, Garcia said a case might be filed against the previous administration involved in the lease contract.
As for her plans for the property, Garcia said she is contemplating on renting out the prime lot.
Garcia said IDC can still participate in the bidding process for the lot.
She said the Capitol will also look into the legalities for the company to be prioritized for the bidding process.
"We will discuss this further with our legal counsel whether or not we can do that. Kung mahimo, tagaan sila og priority kay sila man ang nag-construct. We will see if that can be justified," she said. (FREEMAN)