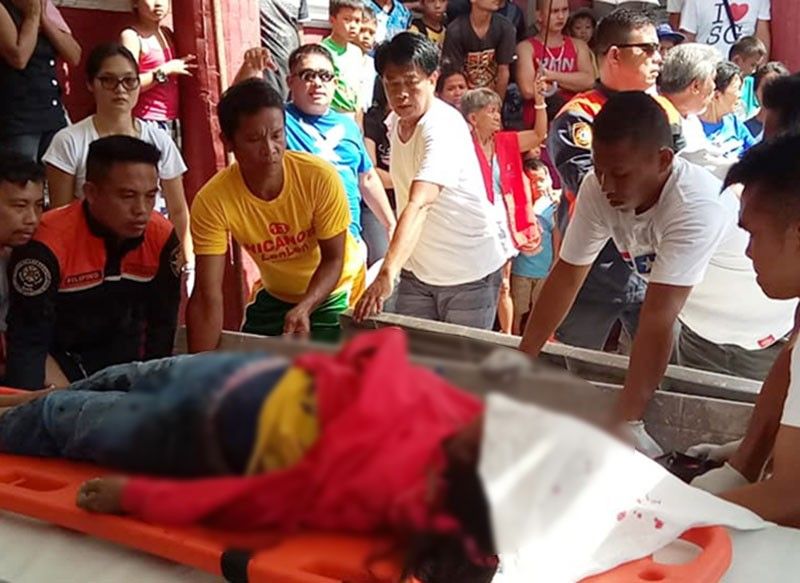 A government dump truck fell on its side following an accident that killed nine people in Barangay Becerril, Boljoon town yesterday morning. (Inset) Rescuers retrieve one of the fatalities.
Decemay Padilla/Contributed
Most victims were children: 9 dead, 16 hurt in road crash
CEBU, Philippines — Nine were killed and 16 were injured when a mini dump truck carrying around 30 students and their guardians figured in an accident in Boljoon town early morning yesterday.
The victims were on their way to attend the District Cultural Sports Festival in Barangay Poblacion at around 7 a.m. when the driver allegedly lost control of the vehicle while maneuvering a hilly portion in Sitio Lintongan in Barangay Upper Becerril, about 12 kilometers away from the highway.
The driver was reportedly forced to crash the truck into the hill on the left side of the road to avoid falling over a shallow cliff on the other side.
"Nag-maneuver ni siya sa descending road nya na-lost control siya kay nitakilid sa tuo ang truck. Wala nahulog sa pangpang (He was maneuvering a descending road when he lost control of the vehicle and the truck tilted to its right. But it did not fall off the cliff," Police Staff Sergeant Nelson Saquibal told The Freeman.
Most of those killed were children.
The fatalities were identified as Jerome Niere, 11; Mary Ann Filipino, 12; Janna Delos Santos, 12; Clint Isidore Dugang, 10; Victoria Gorozon, 40; Jefferson Jorpo, 11; Alexander Villanueva, 20; Mark Loyd Mosqueda,12; Riza Mae Viñan,10 all are residents of Barangay Nangka, Boljoon town.
Those injured were identified as Angel Ceciban, 10; Elvie Jean Gorozon,9; Aga Oliveros, 12; Reyan Bentazal, 10; Lutchie May Rota,11; Roy Endrina,9; Alexes Alloso,10; Analyn Legarte, 10; Gracia Denuyo, 10; Thea Joy Felipe,8; Bernie Niere,11; Roxan Endrina,11; Chan Love Mie Endrina,27; Imee Rivas, 11; and Annrose Niere, 11.
Boljoon's information officer, Ruben Niere, said the survivors sustained serious fractures and had to be brought to the Vicente Sotto Memorial Medical Center in Cebu City.
Wilson Ramos, acting head of the Provincial Social Welfare and Development Office (PSWD), said they called VSMMC right away to prepare for the arrival of patients.
Personnel from the Integrated Provincial Health Office were also mobilized to attend to the patients' needs at the district hospitals.
Five patients had to be taken to the Capitol's hospital in Argao for x-ray.
While the town's Disaster Risk Reduction Management Office was quick to respond to the scene, it took a while for the survivors to be transported to the hospital since the town no longer has ambulances. The ambulances were recalled earlier upon orders of Governor Gwendolyn Garcia.
"We asked the help of nearby municipalities because our ambulances were recalled," Niere said.
Saquibal said it was the Department of Education that requested the dump truck to fetch the students from Nangka Elementary School and San Antonio, and two other barrio schools in Boljoon, for the sports parade in Barangay Poblacion.
The driver was arrested and is facing charges for reckless imprudence resulting in multiple homicide and damage to properties.
Aid
Boljoon Mayor Merlu Derama called for a special session to discuss how the town can assist the victims.
"Nag-convene mi karon sa session hall, nag-emergency meeting ko aron mahibaw-an namo kung unsa amo mahatag na tabang sa mga biktima (We convened at City Hall. I called for an emergency meeting so we will know what we can give the victims)," Derama said.
Ramos said the provincial government will provide burial assistance to the families of those who died in the accident. Social workers will also be sent to attend to the families' psychosocial needs.
Capitol Statement
Meanwhile, the provincial government explained that the recall of Capitol-owned ambulances from Boljoon and other towns was part of a province-wide move to rationalize the use of functioning ambulance units.
"As much as we would like to give to all local government units, as of now, pending the purchase of more ambulance, we must make sure that all four provincial hospitals and 12 district hospitals are equipped with an ambulance. This is why we had to recall those assigned to the town halls, so that we would be able to transfer these to the hospitals," Garcia said.
"We recalled the ambulances in the towns because we are giving priorities to district hospitals," she added.
Garcia made it clear that the ambulances were recalled merely for inventory.
"Sixteen ni kabuok hospitals apan kuwang kaayo tag ambulansya. Samtang, ang mga lungsod tinagurha, tinagutlo na (There are 16 hospitals but there is not enough ambulances and some towns have two or three)," she said. — JMO (FREEMAN)