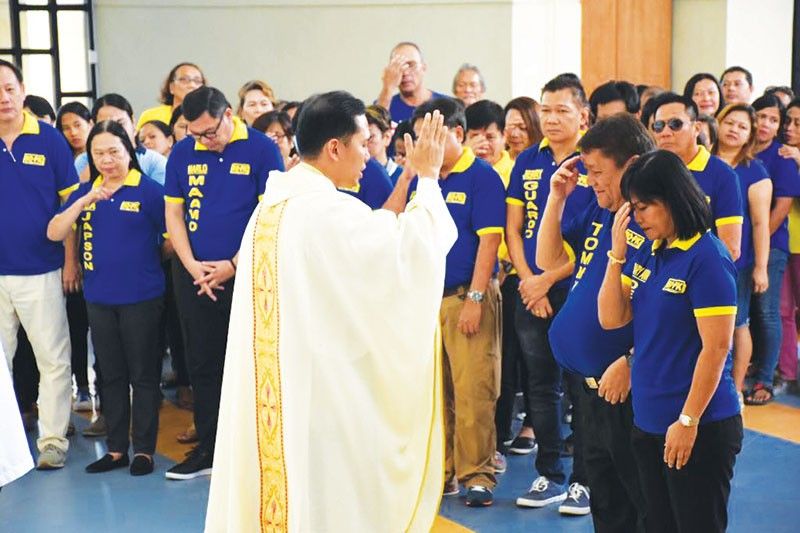 Bando Osmeña Pundok Kauswagan candidates receive a blessing from the priest before filing their certificates of candidacy yesterday.
Paul Jun E. Rosaroso
BOPK bets file COC without Tumulak
CEBU, Philippines — Bando Osmeña Pundok Kauswagan (BOPK) candidates filed their certificates of candidacy yesterday without Councilor David Tumulak in the lineup, raising speculations of possible fallout after the group had picked Councilor Mary Ann delos Santos over him for vice mayor.
Tumulak, however, said he will file his COC today under the BOPK. He will seek re-election as councilor for the Cebu City's South District.
Tumulak said he failed to join other BOPK candidates yesterday because his Certificate of Nomination and Acceptance from his national party, the Nacionalista Party, did not arrive on time.
He said it arrived yesterday afternoon.
"It's confirmed. Nacionalista Party ko last October 11. It was signed by Manny Villar as the president," he said.
He did not say why he chose to be part of NP and not Laban ng Demokratikong Pilipino (LDP), the national party BOPK is affiliated with.
BOPK has left Liberal Party, which reportedly "junked" Serge Osmeña III, the brother of Mayor Tomas Osmeña during the latter's senatorial bid in 2016.
"Nagpasalamat gani ko sa mayor kay nirespeto siya sa akong national party nga akong giapilan na karon, so mao na, nagpaabot nalang ko," Tumulak said.
When Tumulak was still affiliated with Team Rama, which is now called Barug PDP Laban, he was under the United Nationalist Alliance (UNA) party.
Barug PDP Laban is fielding Vice Mayor Edgardo Labella for mayor and former mayor Michael Rama for vice mayor in the 2019 polls.
They will be against BOPK's Osmeña and Mary Ann delos Santos, an incumbent city councilor.
BOPK is fielding anew Raul Del Mar for Congress for the North District and Rodrigo Abellanosa for the South District.
Running for councilor for the North District are Sisinio Andales, Alvin Arcilla, Jerry Guardo, and Joy Augustus Young with Nestor Archival, Alvin Dizon, Lea Japson, and Marlo Maamo. Running for councilor in the South District are Eugenio Gabuya Jr., Roberto Cabarrubias, Rengelle Pelayo, Marie Velle Abella, Michael Gacasan, and Kirk Bryan Repollo and Raul Alcoseba.
Strongholds
Osmeña is confident that BOPK has Guadalupe and Lahug as "bailiwicks" in the 2019 polls.
"The way I look at it, the score of elections is always 0-0 but we have the two biggest bailiwicks already and I am making Michael Gacasan, the barangay captain of Guadalupe, as a candidate of councilor. That's my way of saying thank you," Osmeña said.
Guadalupe has the biggest population in Cebu City.
He also said that BOPK is not threatened that actor Richard Yap is running against Del Mar in the North District.
"You know, artists don't really click in Cebu. I'm happy that they are fielding somebody like that," he said.
Meanwhile, Councilor Erik Miguel Espina, spokesperson of Barug Partido Demokratiko Pilipino-Lakas ng Bayan (Barug PDP-Laban), said their group will file their COC tomorrow, Wednesday.
The group's candidates will attend a Mass at 7 a.m. at the Cebu Metropolitan Cathedral then proceed to the Commission on Elections office nearby. (FREEMAN)