Vessel catches fire, passengers safe
September 3, 2018 | 12:00am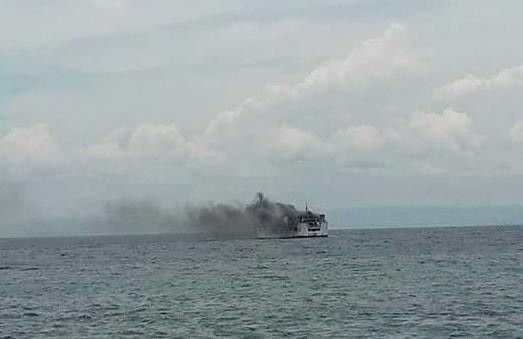 CEBU, Philippines — Sharwyne Graciosa, 22, was travelling with her family to Cebu from Bohol when passengers of the Lite Ferry 28 they were riding panicked when smoke started coming out of the vessel as they were about to dock at the Taloot wharf in Argao town late morning Sunday.
Graciosa said passengers cried, took out life jackets, and sought refuge at the cargo area as the vessel's crew started putting out the fire that had already spread to the vessel's engine room.
Graciosa's father, a seaman, and her brother helped in the effort.
She recalled that the incident occurred just shortly after the crew announced at 10:45 a.m. that the ship was about to dock at the wharf.
A rescue boat arrived just in time as the fire grew bigger.
Chief Petty Officer (CPO) Gerry Patenio of the Coast Guard Substation (CGSS) in Argao said they received a distress signal from the vessel at 12:40 p.m.. Floating assets were deployed immediately to rescue the passengers.
All 92 passengers, 28 vessel crew members, and four vehicles were safe.
Patenio said initial investigation traced the fire to the vessel's exhaust manifold, which reportedly became too hot.
The fire ignited as the vessel was traversing the Taloot wharf, about 300 meters off the Argao coast.
Probe
As part of investigation procedure, the vessel's captain will be made to submit a marine protest to the Coast Guard. The marine protest will narrate the details surrounding the incident.
Seaman First (SN1) Phillip Michael Tan of the Coast Guard Station (CGS) Bohol, told The Freeman that the vessel left Tagbilaran City at 8 a.m. and was scheduled to arrive at the Taloot wharf at 11 a.m.
He said the Coast Guard in Bohol inspected the vessel thoroughly before giving it a go signal to depart.
The vessel is owned by Lite Shipping Corporation and was manned by ship captain Jhonrey Saradillo.
Lucio Lim Jr., president of Lite Shipping Corporation, said the company is holding a separate investigation into the incident.
He said the incident Sunday was the first to occur at their vessel in the 28 years they have been operating.
He said Lite Ferry 28 is less than 10 years old and its existing engine is still three years old. — With Lorraine Mitzi Ambrad (FREEMAN)