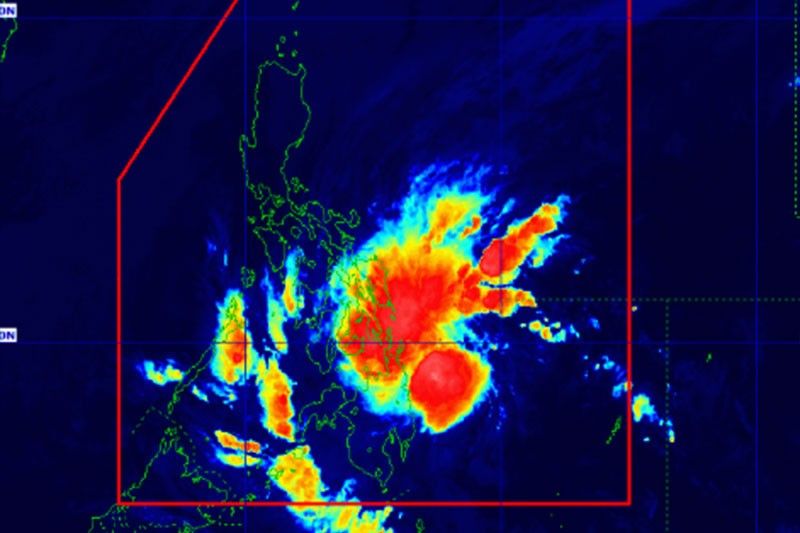 The approaching weather system, however, may still affect Cebu's weather and bring heavy rains today that may trigger flooding and landslides.
PAGASA, Released
Basyang 'may not' land fall in Cebu
(The Freeman) - February 13, 2018 - 12:00am
CEBU, Philippines — Recent weather analysis showed that there is lesser chance for Tropical Storm Basyang to cross Cebu, said an official from Philippine Atmospheric, Geophysical and Astronomical Services Administration-Mactan.
The approaching weather system, however, may still affect Cebu's weather and bring heavy rains today that may trigger flooding and landslides.
PAGASA-Cebu Officer-in-Charge Alfredo Quiblat, Jr. said there is 25 percent probability that it will make another landfall in southern Cebu, but the bigger percentage indicates that Basyang will just pass through the northern sections of Mindanao region.
"The latest forecast on its track is Basyang is most likely to pass through areas in northern Mindanao. The possibility for this to happen is 75 percent. It has almost the same tracking of Vinta that developed last December," he said in a phone interview with The FREEMAN yesterday.
Quiblat said Basyang may still deviate from its main projected track, especially when significant changes occur over the country's atmospheric conditions affecting the direction of the weather disturbance.
But if predictions indeed come true, Quiblat said Basyang while crossing northern sections of Mindanao comes closest to southern Cebu at noon today or in the afternoon.
When this happens, heavy rains can be expected over Cebu province until evening today.
By tomorrow, Quiblat said there may be improved weather in the province.
Cebu province was among the localities placed under Public Storm Warning Signal No. 1 in PAGASA's 8 a.m. online bulletin yesterday.
This event prompted local maritime unit in Cebu to prohibit all sea vessels, including cargoes, from sailing into the seas.
Several passengers were not able to travel after scheduled trips were cancelled yesterday by shipping companies, which also refunded them of the fare.
PAGASA earlier advised that navigating the open waters may be risky as strong winds brought about by Basyang may generate huge waves.
In its 5 p.m. weather bulletin yesterday, Basyang is expected to make its first landfall somewhere in Caraga region today morning or in the afternoon.
Earlier at 4 p.m., Basyang was still spotted hovering over the seas near Hinatuan town, Surigao del Sur while it moves closer to the country's landmass. It was moving at a fast speed in a generally westward direction.
Basyang entered Philippine Area of Responsibility Sunday night, being the second tropical cyclone for 2018 next to Agaton.
With Basyang posing a threat to public safety, all elementary and secondary schools in Argao town will not hold classes today.
Argao Mayor Stanley Caminero issued an executive order (EO) suspending the classes, as per the recommendation of the Local Disaster Risk Reduction and Management Officer.
Warnings have been issued and equipment needed in case of emergency were also prepared.
Meanwhile, Cebu Governor Hilario Davide III has not issued a declaration yet suspending classes as of yesterday.
But the Provincial Disaster Risk Reduction and Management Office (PDRRMO) has already formed two teams to monitor the situation yesterday at the southern part of Cebu Province.
Some of the PDRRMO personnel also called the different local government units to ensure that their respective LDRRMOs are alerted and activated.
PDRRMO Spokesperson Julius Regner said that they asked for the situation in the LGUs and to ensure that the necessary equipment and other preparations are in place.
As of press time, no pre-evacuation activity was done. However, there were cancelled sea travels in Samboan, Cebu.
According to Louie Fuentes of Samboan LDRRMO, the ships heading to some parts of the Visayas and Mindanao were suspended as early as 8 a.m. yesterday.
According to the Provincial information Office, ship trips from Liloan, Santander, Hagnaya, San Remigio, Toledo City and Tangil, Dumanjug were also cancelled.
In Cebu City, the suspension of classes today will be decided in the barangay level, said Cebu City Disaster Risk Reduction Management Office Head Nagiel Bañacia.
"The BDRRM (Barangay Disaster Risk Reduction Management) Council and the principals are given the authority of the mayor to suspend classes based on the hazards and risk prevalent in their areas of responsibility," he told The FREEMAN.
Bañacia said the disaster personnel in the barangay and the city are on standby to respond to any untoward incidents.
As of yesterday, there were no recorded incidents involving the weather disturbance.
"We have advised all barangays to convene their DRRM and prepare their resources and personnel," he said.
Bañacia also reminded the public to be vigilant all the times and continue monitoring the advisories from PAGASA.
He said the public and the disaster teams should never downplay a weather disturbance because it is the usual cause of untoward incidents. (FREEMAN)