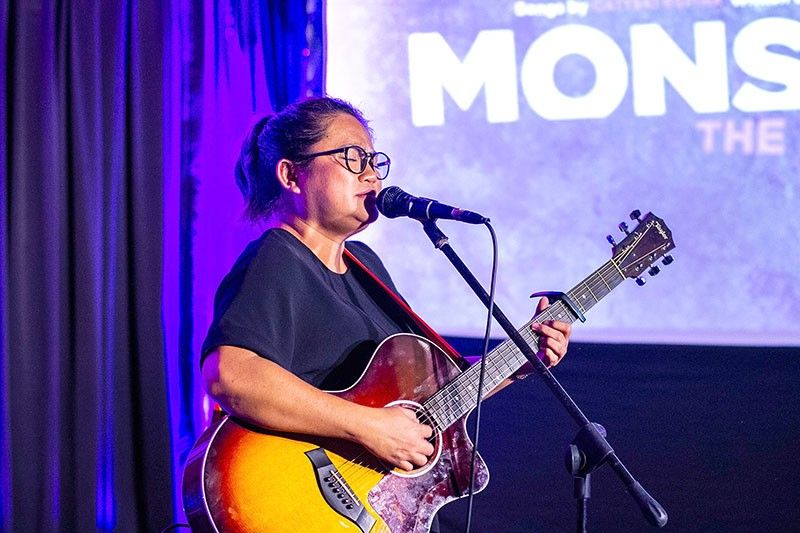 Cattski with the cast of the upcoming "Monsters the Musical" production.
Cattski Espina's five albums turned into a musical
Karla Rule
(The Freeman) - October 14, 2019 - 12:00am
CEBU, Philippines — As founder of the independent music label 22 Tango Records and with five albums under her belt, Cattski Espina is someone many artists look up to, and for good reason. After almost two decades of making music, the singer-songwriter and record producer finally gets brave.
Cattski, known even without her last name, is the inspiration and the very backbone of the upcoming "Monsters the Musical," a brand new all-Cebuano production by MDF Productions featuring her music.
More than a year in the making, the coming-of-age story centers on Bea and Elle, whose friendship spans their childhood, adolescence and professional lives. As they discover themselves through each other, they also encounter and battle their monsters with the other on their side.
In an October 10 press conference, Cattski said that "Monsters the Musical" is essentially her coming-of-age tale.
"Life is about telling stories. And if my songs have the capacity to tell other stories, not just mine, then why not. It is the ultimate validation of a songwriter," said Cattski as she talked about how the West has musicals from the music of ABBA, Carole King, and Alanis Morissette, and how the Philippines has one for Aegis and The Eraserheads.
"In Cebu, we have 'Monsters the Musical.' And it features my songs from my five albums. It's not a bad place to be in, to be honest. I'm really honored."
Much like she never imagined becoming a leader of a movement before creating 22 Tango Records, she also never envisioned that her songs would ever be subject of a musical, not even her favorite album "(0:00:00)" which she considers a turning point in her life.
"My songs are like a form of coping with pain. It's like, if napaso ka, you have a reaction. Emotionally, if napaso ko, that's my reaction. The themes of my music and the way I wrote them are the same. It was always about rejection, of being not celebrated, being hidden, the complexities of being gay, my attractions to unavailable people, and sometimes for some reasons I get to be the third wheel. You get to write crazy things when you're in pain. I was just writing what I was going through."
The musical, which has a November 16 and 17 playdate (2 p.m. matinee and 8 pm gala) at the SM Seaside City Cebu Centerstage, dives into what it really means to be truly brave. Her song "Monsters," the center of the production, is about Cattski's experience of dating someone who didn't want to come out. Despite feeling the thrill of liberation, Cattski at the time thought it best to change herself just so she doesn't lose the person she loved, even if it meant putting her beliefs in the backseat. Addressing the dilemma is how Cattski found what bravery truly meant.
"I would say I've gotten braver. I never talk about my sexuality to people," she shared. "People just assume and they are always right anyway. I never say it out loud in public, to that effect."
"I think this is my way. It's my time to tell the truths. Before, mauwaw ko. Mahadlok ko. It's scary. Now it's better, but when I was growing up, it was not. I'm happy that in my lifetime, I get to celebrate who I really am through creativity and through this play…that even with my struggles with anxiety and depression, I am still capable of meaningful things."
Apart from that newfound confidence, Cattski also noted how much she trusted this collaboration. As a creative, she naturally felt very protective of her songs and treated them like her children. She wasn't about to hand her babies over to someone who didn't have their best interests at heart.
"It didn't feel like I was going to lose something. In fact, I was going to gain from it. I've written a few for Manila, and in the process they changed something. That's disrespectful for me. It's like a violation, like you tampered with something valuable to me. With this, it is used to become bigger, to communicate something, to tell a story. It's an honor of a lifetime."
These days, Cattski is hard at work producing Lourdes Maglinte's debut album, and Wonggoys' third. Fans would also be delighted to know that her 20th anniversary album is already in the works.
Through 22 Tango Records, she's able to mentor artsits and make sure they don't commit her past mistakes. In her desire to teach, hone, enhance, and empower, she wants new artists to know that if they really love music, they should realize that it is a journey.
Cattski just wants to make music because she believes it is her calling, destiny, and purpose. That passion dovetails with her desire to be remembered as someone who lived life to the fullest.
"The Antarctica is melting. There might be a big flood. We're all going to die," she said. "Do what you've been wanting to do – and do it now."