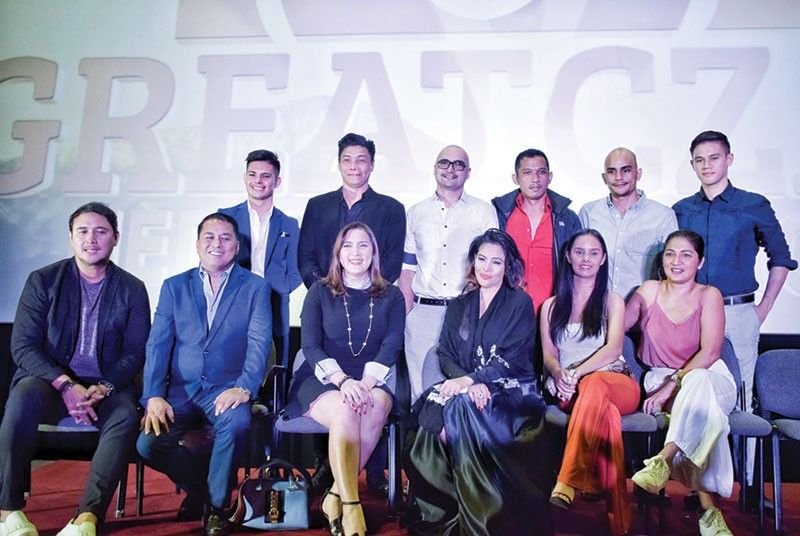 The cast of the biopic "The Last Interview: The Mayor Antonio Halili Story"
Ara Mina felt late mayor's presence while filming biopic
Award-winning actress Ara Mira didn't mind playing a mother role in the bio-pic "The Last Interview: The Mayor Antonio Halili Story."
"As long as the role is good, I don't mind. Even if I am playing the role of the stepmom, it is substantial. I am not getting any younger and I can't afford to be choosy. I liked the role so I accepted it," said Ara who plays the wife of John Estrada and the stepmom of Phoebe Walker in this Caesar Soriano film.
She also enjoyed working with John. "We have a good working relationship. We were able to portray our respective roles well kasi we have good rapport."
The movie was shot in the residence of Mayor Halili who was killed while attending a flag ceremony last year. Ara said they felt the mayor's presence while they were filming.
"I love horror movies and I am not easily scared if I feel the presence of something. But when we were filming, I really felt that someone was watching us. The lights would turn on and off suddenly. We just continued working even if we felt there was something unusual on set."
Ara would have wanted to run as councilor in the recent elections but decided against it when she didn't get a sign that she should do so.
"I was hoping the Lord would give me a sign that I should run but I didn't get it. Besides, my dad Chuck Mathay decided to run for mayor. Ayoko naman na sabay kaming tumakbo," said the actress.
She just opened her new restaurant for franchising and there are many things that she needed to attend to. So instead of running for councilor, she decided to just devote her time to her new business.
"I want to expand my business and hopefully it becomes successful," said Ara.
"The Last Interview: The Mayor Antonio Halili Story" is not a political movie but tells about the inspiring story of a good mayor who is well-loved by his constituents. The film also stars Martin Escudero, Yayo Aguila, Mon Confiado, Juan Miguel Soriano, and Phoebe Walker. It is written by Robert Abet. The movie opens today in theaters nationwide.
***
Nadine Lustre rose above the MYX Music Awards 2019 competition with the most number of wins, while Juan Karlos triumphed with Song of the Year for "Buwan" at the awards night held at the ABS-CBN Vertis Tent.
Nadine she took home four huge wins—Artist of the Year, Female Artist of the Year, Media Soundtrack of the Year (with James Reid for "Prom"), and Music Video of the Year for her song "St4y Up."
"This is a big surprise for me. I would like to thank all the JaDine fans who voted for me, all our supporters. To James, of course, thank you for writing this beautiful, beautiful song. Thank you so much, MYX," said Nadine.
Darren Espanto, I Belong to the Zoo, and Moira dela Torre also bagged two awards each—Darren with Male Artist of the Year and Remake of the Year for "Dying Inside to Hold You," I Belong to the Zoo with New Artist of the Year and MYX Bandarito Performance of the Year, and Moira with Collaboration of the Year for "Kung 'Di Lang Rin Ikaw" with December Avenue and Mellow Video of the Year for her hit song "Tagpuan," which she also performed at the awards night alongside her husband Jason Hernandez.
The 14th MYX Music Awards was hosted by VJs Ai dela Cruz, Inigo Pascual, Robi Domingo, Samm Alvero, Sharlene San Pedro, and Sunny Kim.
Relive the MYX Music Awards 2019 moments on MYX on May 25 (Saturday) at 3 p.m.
***
The audience who filled up the Theatre @ Solaire certainly had a good time watching "Into The 80s" concert held at The Theater at Solaire on Saturday night.
It was one memorable trip down memory lane as Raymond Lauchengco, Gino Padilla, Lou Bonnevie, Jett Pangan, and Jam Morales performed one hit after another of the iconic years which became the soundtrack of the lives of the people who filled up the venue and danced the night away.
The opening number alone already set the tone for what turned out to be a fantastic evening of music. The 80s people lapped it up when Raymond sang "Electric Dreams," Jam rendered "Xanadu," Jett Pangan did "Eye of the Tiger," Gino Padilla sang "Ghostbusters" with matching costume and choreography, and Lou rendered "What A Feeling."
Of course, they also performed the OPM hits of the era: "Enveloped Ideas," "Gusto Kita," "Smile In My Heart," "I Need You Back," among others. It was indeed a celebration of 80s music.