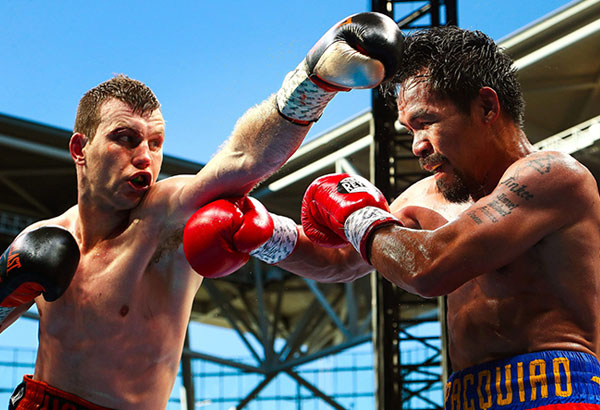 Manny Pacquiao trades blows with Jeff Horn during their title fight in Brisbane, Australia yesterday. AFP
Horn stuns Pacman; retirement or rematch mulled
BRISBANE – Australian challenger Jeff Horn turned "Sunday Bloody Sunday" into one of boxing's greatest upsets as he shocked Filipino icon Manny Pacquiao to win the WBO welterweight belt before over 50,000 fans at Suncorp Stadium here.
All three judges had Horn winning the bout, the biggest in Australian boxing history, 117-111, 115-113, 115-113. In the eyes of the judges, it was unanimous.
Pacquiao climbed the ring as the heavy favorite, and sought to score his first knockout win in nearly eight years. Instead, he took a loss, his seventh against 59 wins and two draws.
It was his fourth defeat in his last nine fights. And it's one that should remain at the back of his mind, and raise questions on whether or not it's time to call it a day.
Unless there's a change of plan, Pacquiao will fly home to General Santos City today.
Neither boxer went down, and while Pacquiao was rocked a few times by Horn's uppercuts and big rights, it was Horn who seemed on the verge of going down in the ninth.
Pacquiao's trainer, Freddie Roach, had told reporters here a few days ago that if Pacquiao won the fight but struggled, he may have to ask his favorite boxer if it's time to step down.
Michael Koncz, ring adviser, said if Pacquiao failed to be impressive against Horn or was unable to score a knockout, they would have to talk about retirement.
Everything is now up in the air.
Nothing is definite as of Sunday here in cold Brisbane although inside the ring, just moments after the bloody war, there were early talks of a rematch.
It was stipulated in the contract that if Horn won, Pacquiao would get a rematch.
"Yeah, that's fine," said Horn, his voice filling the entire stadium that had never seen a crowd this big.
"Absolutely. No problem," said Pacquiao, the smaller fighter.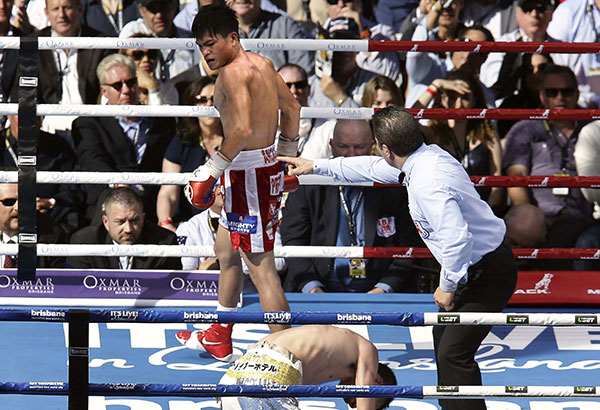 Photo shows Teiru Kinoshita of Japan is on the floor after being knocked down by Jerwin Ancajas of the Philippines, who retained the IBF World Junior Bantamweight title in Brisbane ahead of the Pacquiao-Horn bout. AP
After weighing in at 146, Pacquiao had planned to climb the ring no heavier than 156 while Horn, who was at 147 on the scales, looked like a middleweight during the fight.
Pacquiao had trouble dealing with Horn's size, and landing the shots he wanted to land.
Horn stepped out of the ring at the Suncorp Stadium packed with 50,052 fans like he'd been in a bar brawl. But he smiled as he wore the belt over his right shoulder.
The former schoolteacher was cut at the corner of his right eye in the second round although it was not clear if a blow or an accidental clash of heads had caused it.
In the succeeding rounds, Horn traded heavy blows with Pacquiao, who himself bled profusely from cuts on both sides of the head, due to accidental headbutts in the sixth and eighth rounds.
In the closing rounds, it had become a bloody contest between two fighters.
Horn graced the post-fight press conference with his right eye almost shut, and bruises around his white Australian face. But these nothing to him at all.
The WBO belt sat in front of him and his trainer/manager as they fielded questions from the international press.
"It feels amazing, I feel tired but I feel like a winner," said the new world champion, a massive underdog against the eight-division world champion and senator from the Philippines.
"We wanted to upset his rhythm. I'm happy I won the fight," said Horn, now 17-0-1 with 11 knockouts.
"He was tough," said Pacquiao, who skipped the traditional post-fight press conference due for medical reasons, needing stitches on both cuts.
While Horn controlled the fight early on, Pacquiao, an aging superstar, bounced back in the second half, and had the Australian in deep trouble in the ninth round.
Pacquiao landed his best shots in that round but also missed wildly as he went for the kill. After the bell, Horn went back to his corner looking like he was ready to quit.
But he said that was never part of the plan.
"No way," said Horn.
Horn , who had very few people believing he could win the fight, started strong and threw his weight inside the ring against the same fighter who used to beat up bigger opponents.
It worked well for the 29-year-old Horn.
He's now a world champion.