Maroons find gold, win in Goldwin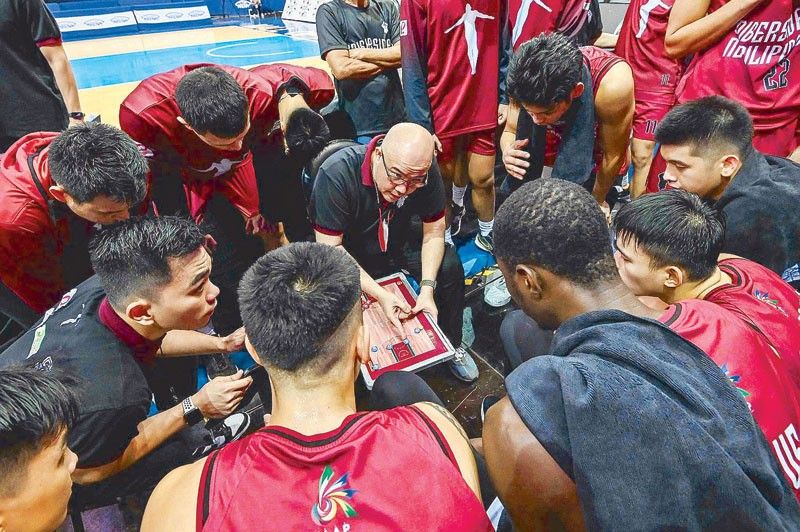 MANILA, Philippines — For more than three decades, the University of the Philippines searched for an answer. To no avail, it failed over and over again. Through fate and faith though, it never stopped trying.
Tirelessly, UP scratched and dug for a beacon of hope. All it wished for was a glimpse of triumph to bolster their quest for glory soon without knowing that it had already mined gold in the rough as early as last year.
And that's coach Goldwin Monteverde, who literally and figuratively delivered UP's biggest win for the school's first gold in 36 long years in his rookie year in seniors coaching, pulling through versus decorated Ateneo coach Tab Baldwin.
A lot has been said on the will, resilience and heart of the Fighting Maroons that thrived through adversity all-season long even against the mighty Ateneo in the finale. But for the Diliman heroes that came before him, it was Monteverde who steadied the ship against all the tides.
Monteverde was the "calm" in every storm. And as the skies cleared, he was the rainbow in the aftermath of UP's coronation, at last, for the first time since 1986.
"They say that it's all about heart, especially in the deciding game. But I would like to add the brilliance of coach Gold into that. It's his composure and wisdom that led this team. He's a picture of calmness and the team followed him," said UP program director Bo Perasol, whom Monteverde replaced at the coaching helm last year.
Coaching legend Joe Lipa, the mentor who authored UP's previous title 36 years ago, saw those unique qualities as early as the 80s when he was serving as an adviser to UNO high school, where Monteverde played.
"He has very a good demeanor. He's level-headed. He's cool under fire and he works hard," Lipa told The STAR as Monteverde went on to translate those traits into coaching strength, of all teams, for UP.
For the 78-year-old mentor, that spelled the difference in honing this already talented UP unit to an even gutsy team that pulled off the epic 72-69 win in overtime over Ateneo in the UAAP Season 84 winner-take-all Game 3.
"Tumibay nang tumibay 'yung team because of the hardships and pressured moments they have been through. It was a team that was prepared for all kinds of adversities. Kumbaga sa bakal, asero," said Lipa, who celebrated at home after witnessing UP's classic win.
Former Maroons and now coaches Eric Altamirano and Ronnie Magsanoc echoed the same praise on Monteverde's squad, who had to erase a 14-point deficit in the Final Four against La Salle and trailed against Ateneo in several occasions in the finals series.
"Hats off to coach Goldwin and his entire coaching staff. They pulled it off and I am so impressed with their solid defense. Many coaches tried it but it was the magic touch of coach Goldwin that made it all happen" said Altamirano, the Finals MVP in UP's 1986 title run.
"It was a special group of players and coaching staff led by coach Goldwin that was supported and embraced by the UP community. To all those who worked tirelessly behind the scenes and helped put the team together, you're all part of history. We salute you," said Magsanoc.
But for Monteverde, the credit goes to the entire UP community, sponsors along with all the mentors and players that came before him as the true magic in this golden run.
"There are no words that can express my honor to have coached UP. I'm honored of what we have achieved. I just want to give the love of the UP community back to them (with this championship)," beamed Monteverde, who built an empire in the Philippine high school scene with National U before bringing his coaching genius over to UP.