Houston's Jalen Green on cusp of rookie scoring feat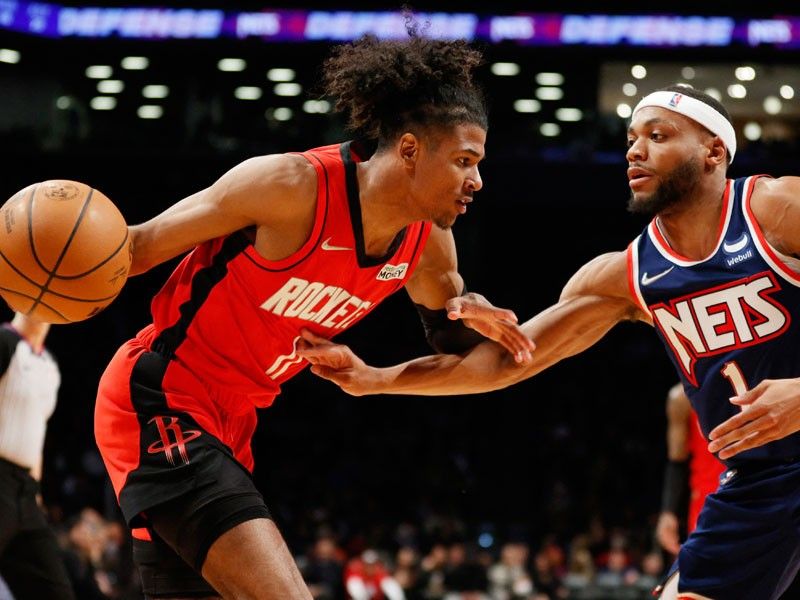 NEW YORK – Filipino-American Jalen Green pulled one game closer to matching the longest 30-plus point streak by an NBA rookie.
Green scored 30 points in a 118-105 loss to the Brooklyn Nets on Tuesday (Wednesday, Manila time) that extended his 30-plus point streak to five, surpassing Michael Jordan, who had four during the 1985 season.
Green could match Allen Iverson's record of six straight games in 1997 when the Rockets square up against the Toronto Raptors in their penultimate match.
Filipino-American guard Jalen Green is on pace to his 5th straight 30-pt game. pic.twitter.com/UQwIM12c8z

— alder almo (@alderalmo) April 6, 2022
The Rockets livewire rookie waxed hot early, scoring 14 points as Houston kept it close. Green's reverse dunk tied the game at 32 with 10:32 left in the second quarter. Kyrie Irving responded with a three before Green went out for his customary rest.
That's when the Nets ripped the game wide open as they scored eight straight more to lead by 10, 42-32, and never looked back.
Green dropped 10 points in the fourth quarter to end up with 30 as the Rockets came to as close as within six before Irving led the Nets breakaway.
Green and Irving dapped up after the game and chatted a little bit.
Their history goes a long way.
"Me and Kyrie talked before when I was in High School and G League," Green said. "He gave me his number. So, he was just telling me that I could reach out to him whenever. That he's always there for me and just to keep going."
Irving watched Green and his peers since they were 14 and 15 years old. Irving waxed poetic when asked what it means to be looked upon by the younger generation.
"It's a blessing and an honor," said the 30-year old Irving. "We're just breathing the right energy into the next generation that will follow in our footsteps. Those guys are ultra-talented. I've watched these guys since they were 14, 15 years old."
"I've grown with them. I've sent them messages of encouragement and motivation trying to inspire them as they inspire me. And I look forward to the challenge of going against them for quite a few more years. That's the fun part, right? You made it here. They made it here. This was the dream, but now it's leaving a legacy where other guys will be following you the same way that they're following me. And that's the beauty of the brotherhood," Irving added.
Perhaps aware of Green's historic scoring run, Irving didn't let the kid one-upped him at home. The Nets guard made half of his 16 three-point attempts and shot 13 of 24 overall. His last basket — a 3-pointer — served as the dagger with 1:22 left.
"We all look out for one another. And we all want to see each other do well, but when we step on the floor, we understand that it's a [game among] competitive warriors, the friendships go aside and that makes it even more of a beautiful game," Irving said.
"So, I try to have a positive outlook with these guys. And just tell them that I'm always around, you know, as a young fellow coming into the league, you kind of want to have that ego, that verve. You're only 19, 20 years old, or 21 years old, and sometimes it could be a little intimidating to ask for guidance or help, but those who want to know the information come to your doorstep, and they want to know the answers. So have a few answers to give them, and I just look forward to seeing them grow and mature and where they end up."
The loss shoved the Rockets deeper in the basement with their fifth straight loss. But the growth of Green in a rebuilding year isn't lost on Houston coach Stephen Silas.
"His ability to read defense has improved. He had 30 again tonight on 23 shots, and he shot over 50 percent, which is good," Silas said of Green.
"We got to make sure that he is taking the right shots and making sure that he is staying aggressive in reading defenses and not being wasteful with possessions. He's not doing that at all. He's been very proactive. He's doing a great job of letting the game come to him."
It wasn't the case when Green was erratic at the start of the season, shooting just 33.7 percent from the field in his first month. But as the season went on, Green has grown comfortable against NBA's switching defenses. Over the last two months, he's shooting above 48 percent from the field and has curbed his turnovers from 3.0 per game in December to just 1.3 this April.
Against Irving and the Nets, Green went 12 of 23 from the field and 40 percent from the three-point zone. He only had two turnovers in nearly 41 minutes.
"At the end of the day, the main goal is to end the season strong," Green said. "With that being said, you try to play your game and attack every situation."
Green will attack the season's final two games with Iverson's record chase as the backdrop.

--
Alder Almo is a former senior sportswriter for Philstar.com and NBA.com Philippines. He is now based in Jersey City, New Jersey, and writes for the New York-based sports website empiresportsmedia.com.