Bolts hit paydirt, rule PBA 3x3 leg 2
November 26, 2021 | 12:00am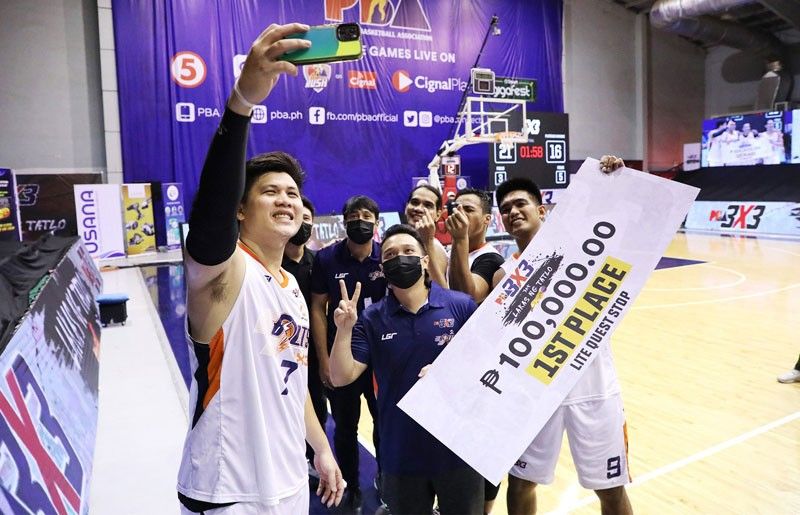 MANILA, Philippines — With a highly-charged performance in the final day of hostilities, the Meralco Bolts struck gold in the second leg of the PBA 3x3 last night at the Ynares Sports Arena in Pasig City.
Runners-up to TNT in the opening leg over the weekend, the Bolts powered up and hurdled all obstacles to the top leg honors this time, sealing their rise with an emphatic 21-16 romp over Platinum Karaoke.
Tonino Gonzaga stood at the forefront with seven points in the clincher, dropping five as Meralco jumped to an early 10-3 cushion.
Joseph Sedurifa, with six, Dexter Maiquez, with five, and Alfred Batino, with three, ably complemented Gonzaga's game as the Bolts put the finishing touches to a hot run also highlighted by a 21-13 payback victory over the Tropang Giga in the semis.
Prior to taking out TNT, the Bolts started the day with a 21-12 demolition of Barangay Ginebra in Pool B then stamped their class on San Miguel Beer in the quarterfinals via the same scoreline.
Meralco earned P100,000 for this leg win while Platinum's Karl Dehesa, Chris de Chavez, JR Alabanza and Yutien Andrada settled for No. 2, worth P50,000.
Meanwhile, TNT consoled itself with third-place honors worth P30,000, securing a podium finish with a 21-14 verdict over Limitless App.
The Bolts and Platinum set up a duel for Leg 2 dominance with convincing victories in the semifinals.
Meralco rode on Gonzaga's 13-point effort to gain revenge on TNT, its conqueror in last week's battle for opening-leg honors, and clinch back-to-back finals stints.
Platinum, for its part, used a Dehesa-led 8-2 windup to dispose of Limitless, 21-16, for its first final appearance in the three-a-side loop.
The 13 PBA 3x3 pioneer teams quickly transition to the third leg, which gets off and running tomorrow.
Meanwhile, Terrafirma and the PBA assured its full support to 3x3 player Roider Cabrera, who is being treated at a hospital after collapsing following the Dyip's two games last Wednesday.
"The whole Terrafirma Dyip family is full of hope that things would turn out fine for Roider Cabrera," said Dyip governor and PBA vice chairman Bobby Rosales.
"He is now in the hospital, getting the best medical treatment and care possible. Terrafirma Dyip management is completely behind his full recovery," he added.
PBA commissioner Willie Marcial similarly expressed hope for the former Adamson star.