Solid Gold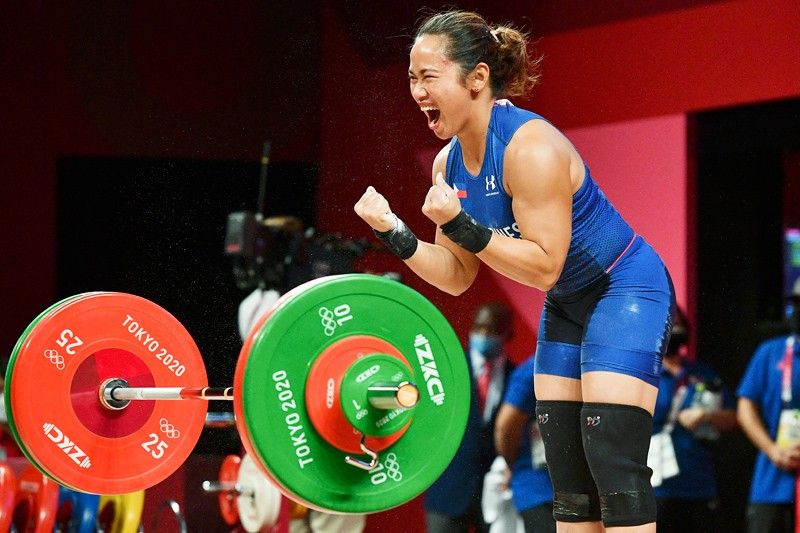 Diaz hands phl 1st olympic gold
MANILA, Philippines — The evening championship session, featuring nine participants, was led by Uzbek Muattar Nabieva in the snatch but boiled down to a one-on-one duel between Diaz and the Chinese world champion in the clean and jerk.
Nabieva had a 98 and Diaz and Liao both had 97 in the snatch, with Diaz unsuccessful at 99.
Then the gritty Pinay first went for a 119 in the clean and jerk then a 124, but her bid hung in the balance as Liao got a 126 in her final lift.
But Diaz, who had never done 120 in training, refused to give up.
Everyone held their breath as Diaz went for a 127. And the hall erupted to cheers when the Pinay did it.
The historic day for Team Philippines was also marked by Nesthy Petecio's Last Eight entry in boxing, Carlo Paalam's triumphant Olympic debut also atop the ring and Margielyn Didal's proud seventh-place finish in skateboarding's street event.
Petecio moved within a win of the medal play in women's featherweight as she stood her ground versus Taiwanese top seed Lin Yu-ting in their much-anticipated duel, pounding out a tough 3-2 victory.
Quicker and more accurate in exchanges, Paalam beat Ireland's Brendan Irvine in their men's flyweight Round-of-32 showdown.
Meanwhile, another weightlifter Elreen Ando and judoka Kiyomi Watanabe hope to ride the momentum as they chase their own dreams today.
Swimmer Remedy Rule will be back in the Tokyo Aquatic Center, competing in the 200m freestyle after vying in her first event, 100m butterfly on Saturday. Fil-Kiwi Luke Gebbie also plunges in the pool, competing in the 100m freestyle.
"The Palace congratulates Hidilyn Diaz for bringing pride and glory to the Philippines for winning the country's first-ever Olympic gold medal," said presidential spokesman Harry Roque Jr.
"Congratulations, Hidilyn. The entire Filipino nation is proud of you. Laban, Pilipinas!"
For PSC chairman Butch Ramirez, it was a dream come true.
"We have been dreaming about this and believing for it and now here it is - - a reality. All the hard work paid off and Hidilyn made history," he said.
"Congratulations it is well deserved. I am very humbled to witness this momentous milestone in Philippine sports. Salamat Hidilyn. You make us all proud to be Filipinos."
Related video: