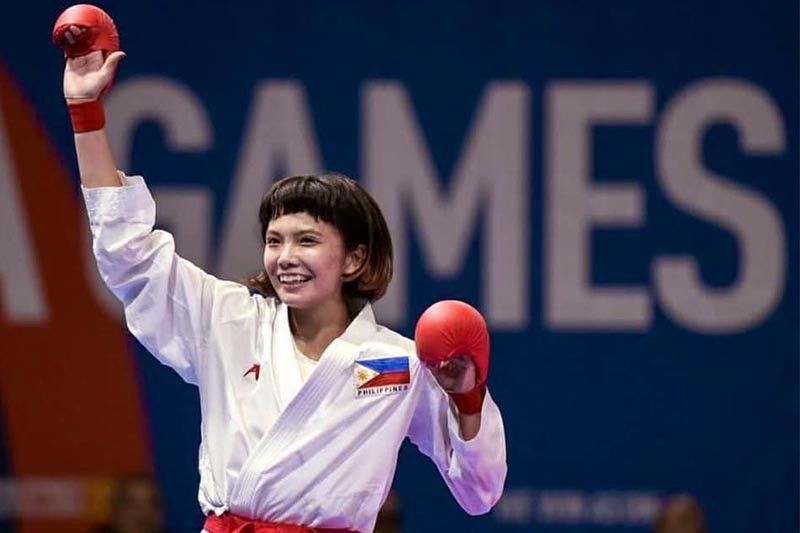 Junna Tsukii during the 30th Southeast Asian Games held in Manila.
Facebook/Junna Tsukii
Karateka Junna Tsukii aims to boost Olympic hopes in Turkey tiff
Joey Villar
(Agence France-Presse) - February 25, 2021 - 4:06pm
MANILA, Philippines – Filipino-Japanese karateka Junna Tsukii will be the country's lone representative to the Premier League tournament set on March 11 in Istanbul, Turkey where she hopes to gain precious Tokyo Olympic ranking points.
The 29-year-old Tsukii will fly from Japan where she has trained during the COVID-19 pandemic to Turkey with hopes of improving her current Olympic ranking at No. 10.
The 2019 Southeast Asian Games gold medalist and 2018 Asian Games bronze medal winner would need to move up to the top four in the Olympic ranking system for her to automatically advance to the Summer Games.
If not, Tsukii will have two remaining Tokyo pathways — finish in the top three in the World Olympic qualifying event in June in Paris, France or via wildcard.
Southeast Asian Games gold medalist Jamie Lim, and national team mainstays Sharif Afif, Alwyn Batican and Ivan Agustin were originally scheduled to join Tsukii in Premier League but decided to decline upon the recommendation of Turkish coach Okay Arpa.
Arpa, who has now joined the national karatekas at the Inspire Sports Academy in Calamba, Laguna, believes they are not yet ready to compete at a high level after almost a year of no sparring and competition.
But Karate Pilipinas president Richard Lim said the four plus Joan Orbon, who will be coming from the United States, will fly on March 15 to join Tsukii in Turkey for a two-month training camp there.
"That's part of our preparation for the qualifying tournament in Paris," said Lim.