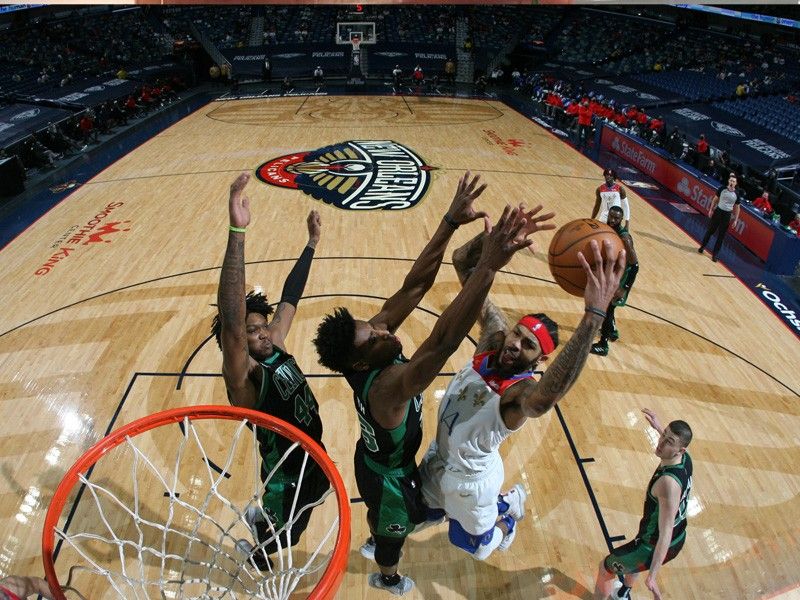 Brandon Ingram of the New Orleans Pelicans shoots the ball against the Boston Celtics on February 21, 2021 at the Smoothie King Center in New Orleans, Louisiana.
Layne Murdoch Jr./NBAE via Getty Images/AFP
Ingram powers Pelicans to OT win over Celtics
(Agence France-Presse) - February 22, 2021 - 11:42am
LOS ANGELES – Brandon Ingram scored 33 points as the New Orleans Pelicans engineered their largest comeback in team history Sunday (Monday, Manila time) by overcoming a 24-point deficit to beat the Boston Celtics, 120-115, in overtime.
Ingram hit the go-ahead 3-pointer with 34 seconds remaining in the overtime.
Zion Williamson had 28 points and 10 rebounds, and Josh Hart had 17 points and 10 rebounds in the win.
Jayson Tatum scored 32, Jaylen Brown had 25, and Tristan Thompson and Kemba Walker added 14 each to lead the Celtics.
After an exchange of baskets to start the overtime scoring, Williamson made one of two free throws.
Brown made a layup to give Boston a 112-111 lead with 72 seconds left. Ingram tied it with a free throw and added a three-pointer to give the Pelicans a 115-112 lead in the overtime.
Walker missed a three-pointer, and Hart hit two free throws for a five-point lead with 18 seconds left as New Orleans closed it out.
Lonzo Ball made one of two free throws at the end of the fourth quarter to give the Pelicans a one-point lead with 32 seconds left in regulation.
Williamson then executed a three-point play to give the Pelicans a 108-106 lead with six seconds left. Tatum scored on a short shot with 0.2 left to send the game into the extra session.