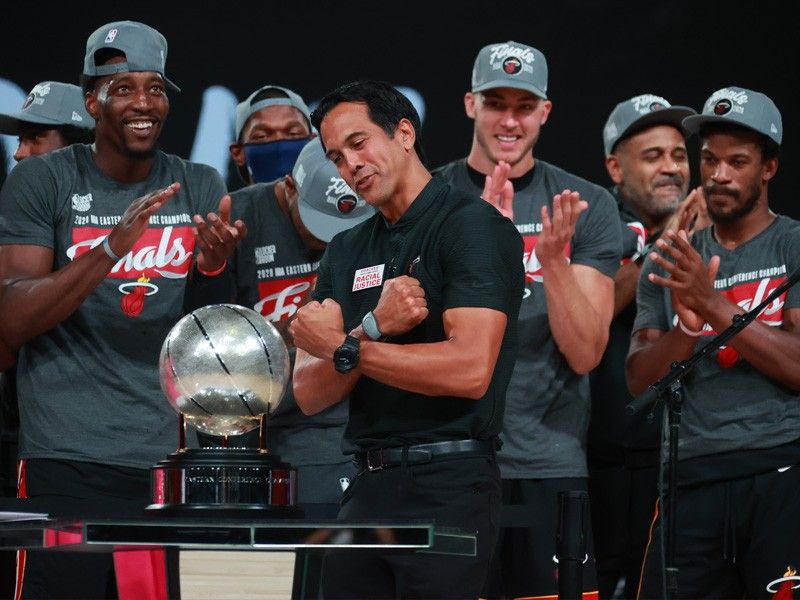 Erik Spoelstra of the Miami Heat celebrates after winning Game Six of the Eastern Conference Finals of the NBA Playoffs on September 26, 2020 at The AdventHealth Arena at ESPN Wide World Of Sports Complex in Orlando, Florida.
Nathaniel S. Butler/NBAE via Getty Images/AFP
Time for Heat coach Erik Spoelstra to get his due
Rick Olivares
(Agence France-Presse) - September 29, 2020 - 2:52pm
MANILA, Philippines – Hold up a second. Back up. Doesn't Erik Spoelstra have two NBA championships tucked under his belt?
He guided the Miami Heat to the 2012-14 titles.
Pundits might say that he had LeBron James and Chris Bosh joining Dwyane Wade to form their own Big Three down south.
I think Spoelstra showed his mettle during the 2008-09 season where he led the Heat back to respectability after Pat Riley's final year at the helm where Miami finished with a 15-67 record.
They were exciting to watch that first season of Spoelstra where they drafted Michael Beasley and had a healthy Wade back. They went 43-39 — quite a turnaround — although they lost to Atlanta in the first round of the playoffs.
The Heat improved once more during Erik's second year in charge as they finished with a 47-35 slate but were knocked out of the first round of the playoffs by the Boston Celtics, which went on to win that year's championship.
The Heat's ascent continued when James and Bosh joined the club for 2010-11, although they lost to the Dallas Mavericks in the finals, 4-2.
After the Heat won back-to-back titles, they lost to San Antonio the following finals. They slumped with the departure of James, who returned to Cleveland but had a winning record in 2015-16.
And now, Spoelstra has brought the Heat back to the NBA finals where he will face his former player in James.
In his 11 seasons in Miami, Spoelstra has compiled a 523-363 record (.590) and a 71-47 record (.602) in the play-offs. His teams trail only Golden State by one; with the most play-off victories since the 2008 season with 71. And he is already the winningest coach in Miami history.
He has done his best work in recent years after Wade hung up his sneakers. The squad was rebuilt with young players like Dion Waiters and James Johnson as he turned his team around.
Spoelstra tweaked his team to surround Goran Dragic with talent like Jimmy Butler, Jae Crowder, Bam Adebayo, Tyler Herro, Solomon Hill, and veteran Andre Igoudala. They still have forward Udonis Haslem — the only player left from the crew that won NBA titles.
The departure of James, Bosh and Wade, and the work Spoelstra has done since once more bolstered talk about how good he is. People conveniently forget that he pointed Miami to the right direction after Riley called it quits.
However, more than that, he doesn't really have those superstar players. He's worked with whatever lineups he is given and gotten results. Good results. Sure, Butler is good, but if you look at the Los Angeles Lakers' squad that counts James, Anthony Davis, Rajon Rondo and Dwight Howard as their stars, the Heat are definitely underdogs.
And there's the matter of longevity. Aside from the San Antonio Spurs' Greg Popovich, Spoelstra is the second longest tenured coach in the NBA — with one team.
And Spoelstra's peers have taken notice. Jeff Van Gundy and Mark Jackson have sounded off how Erik is a "Hall of Fame-caliber" coach.
While that is cool, you know he has eyes on the Larry O'Brien trophy. I am sure he would love to win one over James and company. However the NBA Finals end, Spoelstra should always be in the conversation as a top-caliber coach and one who gets the job done with all sorts of personnel.