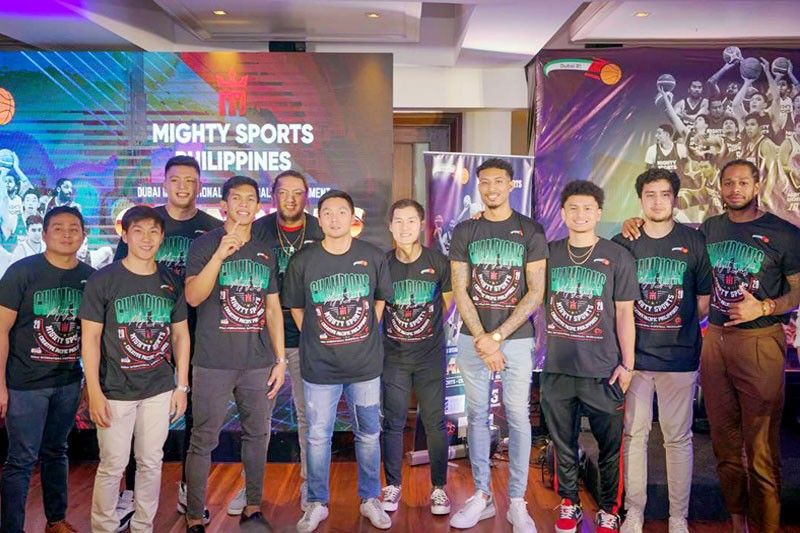 Players and coaches of Mighty Sports, which ruled the recent Dubai International basketball tournament, take center stage during the team's victory party last Thursday. Facing the media are (from left) assistant coaches Paolo Layug and TY Tang, and players Isaac Go, Thirdy Ravena, Beau Belga, Joseph Yeo, Jarrell Lim, Jamie Malonzo, Juan Gomez de Liano, Javi Gomez de Liano and Jelan Kendrick.
Mighty always ready to carry Philippine flag
MANILA, Philippines — Mighty Sports will never get tired of hoisting the Philippine flag overseas.
After becoming the first non-Middle Eastern champion of the Dubai International basketball tournament, there's no stopping Mighty as it now looks forward to another title run in the William Jones Cup in Taipei.
Coach Charles Tiu and Mighty Sports founder Caesar Wongchuking assured the squad's readiness and desire to represent the country once again if tapped by the Samahang Basketbol ng Pilipinas (SBP) for the annual invitational tourney among Asian national teams and leading ball clubs.
After all, Mighty Sports-Philippines is the reigning Jones Cup champion after sweeping the competition last year. It also won the Taiwan tourney in 2016.
"If we will be blessed to be chosen by the SBP, anytime that we will have the chance to represent the country, we will go for it. We would love to represent the country and try to form the best team possible," said Tiu in the team's victory party after their seven-game sweep of the Dubai event, with a team led by Renaldo Balkman and ex-Gilas Pilipinas naturalized player Andray Blatche.
"Our goal is really to represent the Philippines in international competitions. It's really our objective. Mighty Sports is a brand that emphasizes excellence and for us to be able to represent the Philippines is truly an honor. It's so much sweeter that we won the championship," said Wongchuking.
Ryan Gregorio, the special assistant to SBP president Al Panlilio, assured strong consideration of Mighty not only for the Jones Cup but for other future international tournaments as well.
"They have been supportive to the programs of the federation. In the future tournaments, we're going to align with them, partner with them, to bring more trophies for the country," Gregorio said.
Since it decided to throw full support to Philippine sports, the Alex Wongchuking franchise has made some noise in the international stage with a total of three championships in the past four years.
Asked if it is sufficient validation in a bid to seriously consider forming a team for commercial or professional leagues in the country, Wongchuking said that's not part of the plan.
"We have no plans of joining local tournaments. We just build a team when there is an invitation. No plans of putting up a PBA team, 5-on-5 or 3x3," he said, reiterating Mighty's mission of just donning national colors abroad once in a while.