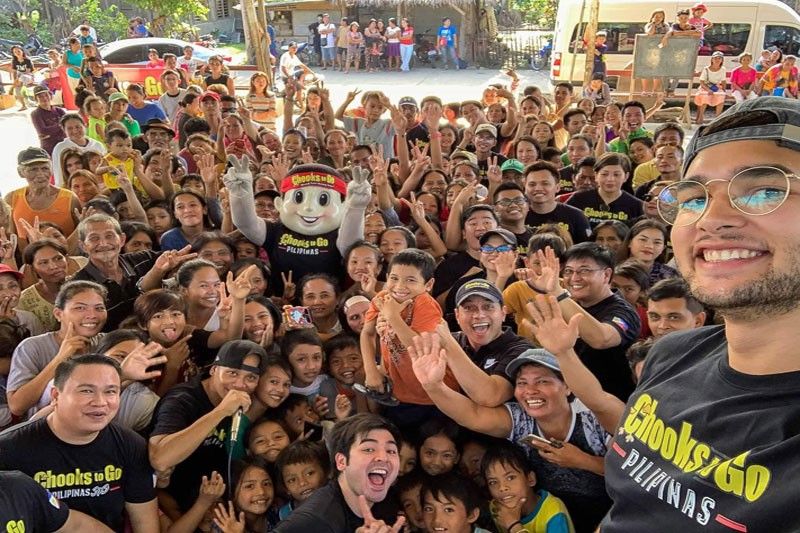 Kobe Paras, right, and the Chooks-to-Go team mingle with the Padada, Davao del Sur folks.
Paras brothers, Chooks-to-Go team lend a hand
Joey Villar
(The Philippine Star) - December 27, 2019 - 12:00am
MANILA, Philippines — Chooks-to-Go sent in brothers Kobe and Andre Paras on a Christmas mission to lend a helping hand to victims of the earthquake that struck Padada, Davao del Sur recently.
Kobe, a University of the Philippines standout, and Andre, a basketball player and showbiz personality, along with Bounty Agro Ventures, Inc.'s Davao Business Center staff, mingled with 200 displaced families at the Barangay Lower Limonso basketball courts.
"Despite the holidays, Kobe, Andre, and the entire Davao Business Center immediately said yes when I called. They really wanted to help out our brothers and sisters in need," said Bounty Agro Ventures, Inc. president Ronald Mascariñas.
Each family received groceries, sleeping bags, bottles of mineral water and Christmas goodies for the children apart from the warm meals for the day.
"We just want to let them know that we care for them," said Andre.
The group, which also included Chooks-to-Go's official voice Mike Swift, also hosted some parlor games including the Chooks-to-Go chicken-eating contest.
"I'm just glad we were able to make them smile despite everything that has happened to them," said Kobe, who promised to dedicate to them all his games with the Maroons in next year's UAAP season.
"What they are going through right now is hard. I will never forget the smiles on their faces when we arrived. Knowing their stories inspires us to do more," said Kobe. "For every game, I will play next season, I will always have them in my mind and in my heart."