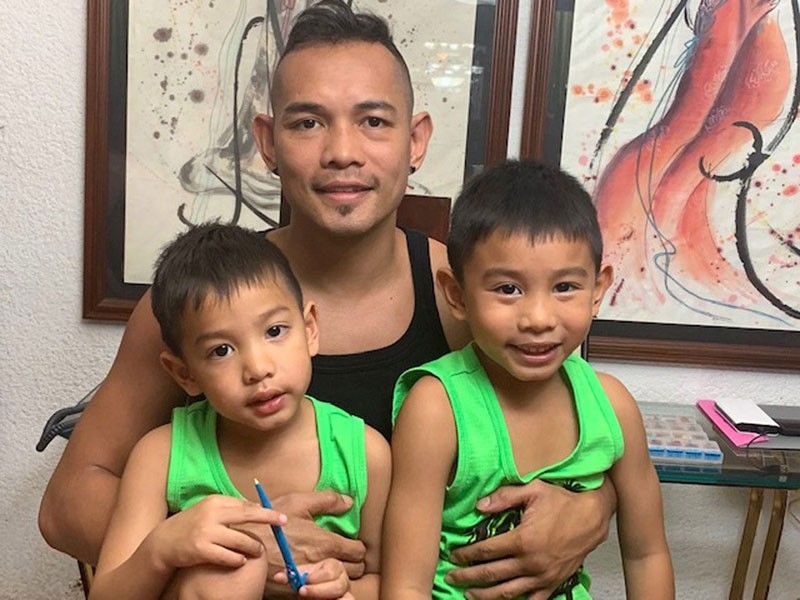 Nonito Donaire Jr. with sons Jarel and Logan in Alabang yesterday.
Trilogy on Donaire's mind
MANILA,Philippines — Nonito Donaire Jr. isn't just conjuring visions of a rematch with super WBA/IBF bantamweight champion Naoya Inoue. He's thinking a trilogy would be one for the books. Two weeks ago, they figured in what had to be a candidate for Fight of the Year before 20,000 fans at the Saitama Super Arena in Japan as Inoue floored Donaire with a liver shot in the 11th round and scored a win by a unanimous decision.
From Japan, Donaire, wife Rachel and their two sons Jarel, 6 and Logan, 4 went to Boracay and Bohol for a family vacation. They're now in Manila. They leave tomorrow to return home to Las Vegas.
While Inoue isn't sure when he'll be back in the gym, Donaire said he's ready to roll. Inoue suffered a fracture in his right orbital bone, another fracture in his right cheekbone, a broken nose and a right eyelid cut that took five stitches to close. Donaire went to a hospital in Saitama right after the fight for a voluntary CT-Scan and received a clean bill of health. He had bruising around both eyes but was otherwise, unmarked.
When he arrives in Las Vegas, Donaire will go back to the gym, do drills and shadow box. Early next year, he'll resume sparring. His next fight will depend on what Ringstar Sports CEO Richard Schaefer recommends as the best option.
"The Inoue fight was my hardest ever and I enjoyed every moment of it," said Donaire. "I think a rematch would be even more exciting. It was a fair decision but a close fight. Inoue had never been hurt before, never been cut, never had to hold and never been pushed to the limit. He's still healing while I'm back to 100 percent. I've never engaged anyone in a trilogy before but this would be an unbelievable trilogy if ever. We could do an immediate rematch or we could do separate fights, win then do a rematch. Of course, I'd have to win the rematch to force a third fight. I think if and when we fight again, it'll be a different story."
Donaire, 37, said Inoue could be the best fighter he's ever faced. "He's got great power like (Vic) Darchinyan," said Donaire. "He stunned me a few times with power shots but I was never dazed. My legs held up and that's why he never went all-out to attack. If he saw my legs buckle, he would've attacked. In the 11th, he got me with a liver shot that slipped under my elbow, close to the solar plexus. I was breathing in so when he hit me, I lost my breath. I was in pain, I couldn't breathe. I decided to take a knee. I thought of just staying on my feet so I wouldn't give up a 10-8 round but I figured in a close fight, I couldn't win a decision anyway. So I went down. I took my time and got up at nine. The referee (Ernie Sharif) didn't even bother to ask if I was okay. He saw in my eyes, I wasn't badly hurt. I recovered and hurt Inoue before the round ended."
Donaire said he blew the opportunity to stop Inoue in the ninth. "I landed a counter right," he said. "He grabbed me. Instead of creating a situation to put him away, I waited for the right opening and it gave him a chance to recover. But I did what (trainer) Kenny (Adams) wanted me to do. I threw my right a lot which Inoue didn't expect. I also did what Papang (his father Nonito Sr.) told me to do, to bang the body. I give credit and respect to Inoue for taking all my shots. I hurt him but he never quit."
Donaire said Inoue changed tactics early in the fight. "He was aggressive at the start then when he felt my power, he adjusted and started to box," said Donaire. "I know what to do next time. Inoue's previous opponents didn't last long because they were too scared of his power. I showed I'm not scared of his power. But I think if we do a rematch, he'll be scared of mine."