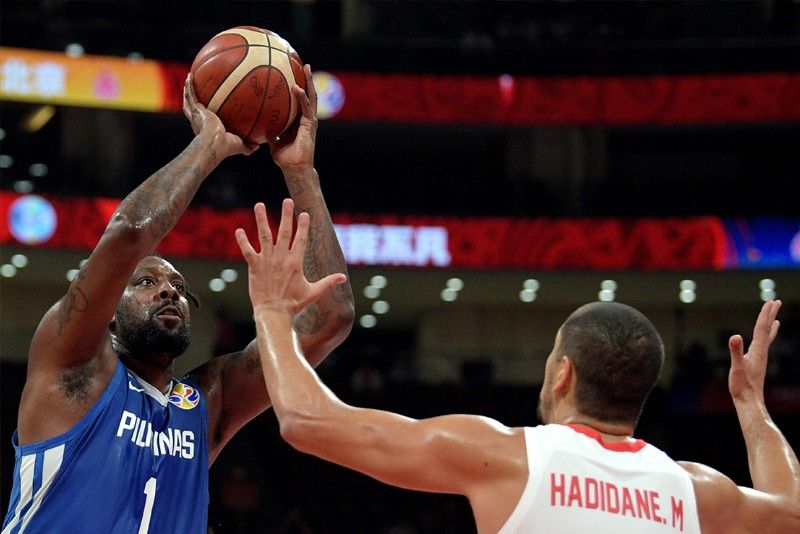 Andray Blatche of Gilas (left) takes a shot over Tunisia's Mohamed Hadidane in their Group N classification match in Beijing last Friday. Tunisia won the contest, 86-67.
AFP
Has Gilas seen last of Blatche?
Olmin Leyba
(The Philippine Star) - September 10, 2019 - 12:00am
MANILA, Philippines — With Gilas Pilipinas trailing Iran, 62-89, with 5:23 left the fourth, Andray Blatche drove to the basket, felt he was fouled but didn't get the call. Frustrated, he gave the referees a piece of his mind, incurred back-to-back technicals and got tossed out.
Not the best way to end the 2019 FIBA World Cup. Or, if you believe critics, his days as Gilas' naturalized player.
Blatche, now 33, was a shade of the efficient Blatche who carried Team Philippines in many previous battles, including the unforgettable Gilas coming-out party in the 2014 World Cup in Spain, where they nearly shocked the heavyweights.
In China, Blatche posted averages of 15.8 points, 8.4 rebounds, 3.4 assists, 2.4 steals along with 4.4 turnovers as the Nationals lost all their five assignments.
"It's been a tough journey for all of us, not just myself, my teammates, the fans who continue to support us. Its been tough for everybody," Blatche said after the Philippines' setback to Tunisia in its penultimate game Friday night.
"To not come here and compete on the level we knew we're capable of and get some wins or even be in the game, it's frustrating," he said.
Asked whether Blatche will retain his Gilas spot after this, coach Yeng Guiao said: "I cannot say that. I don't think that decision is going to be made now or the next few days."
"That will take a lot of evaluation and assessment and I'm not even sure if I'll be the one to make that evaluation," he stated.