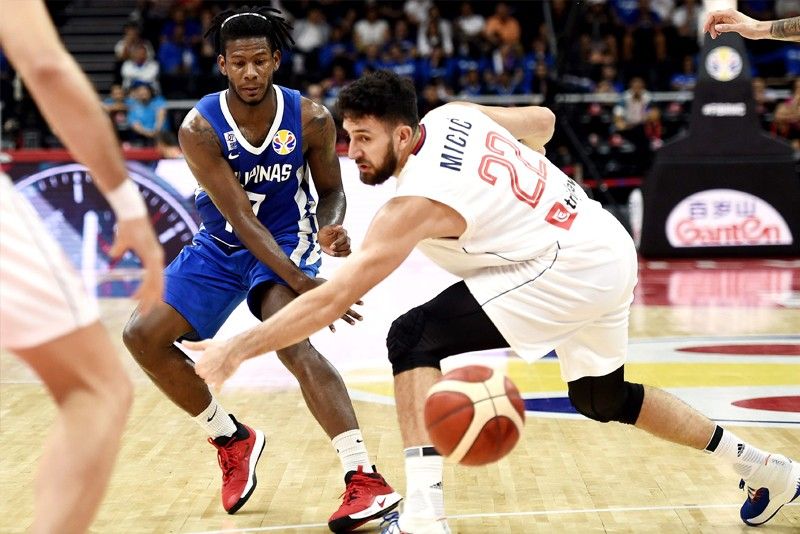 Gilas rookie CJ Perez and Serbian Vasilije Micic fight for the ball in their game Monday night. Perez is among the few bright lights for Team Phl in the tourney.
AFP
Gilas braces for dogfight vs Angola
Olmin Leyba
(The Philippine Star) - September 4, 2019 - 12:00am
Game today (Foshan GBA International Sports and Cultural Arena)
3:30 p.m. – Angola vs Philippines
FOSHAN – With the unstoppable heavyweights out of the way, Gilas Pilipinas intends to make the most of its best opportunity to finally get a feel-good result in the FIBA World Cup with fellow winless Angola on the other end of the court in the final day of Group D action today.
The Filipino cagers rammed into Euro juggernaut Serbia and conceded a massive 67-126 setback Monday, losing badly for the second straight time after Italy handed them an ego-deflating 62-108 beating two nights before.
Thus the desire to wash away all the frustrations and gain a confidence builder is high in the 3:30 p.m. encounter with the Angolans at Foshan GBA International Sports and Cultural Arena.
Gilas coach Yeng Guiao added that the Angola game can be used as springboard as the squad later heads into the classification phase over in Beijing for two more assignments to wrap up World Cup stint here.
"We're disappointed (after the blowouts to Italy and Serbia) but I don't want those games to get in the way of us still trying to play well in the next three games that we have here," said the fiery Phl mentor.
The Nationals haven't been able to get into rhythm in the global showpiece being held in this city known as the birthplace of kung-fu legends Bruce Lee and Ip Man.
Naturalized player Andray Blatche has struggled big time, posting subpar averages of 10 points, seven rebounds, and four assists with 5.5 turnovers in two games.
"I'm sure Andray's disappointed himself and the best for him to make up and for us to make up as a team is to be able to play well and try to win the next games that we'll play," said Guiao.
Angola, which also lost by large margins to Serbia (59-105) and Italy (61-92), won't be easy pickings, cautioned Guiao.
"I think it's going to be really tight. Angola is a strong team. Italy and Serbia are just in a class by themselves and not at our level but I guess Angola and the Philippines will be a good matchup," said Guiao.
"Angola also has the size, the strength and they have veterans, some of them have played in the Euro League and Division 1 basketball actually. So it's going to be a tough matchup for us, especially coming from these two tough losses.
"We have to lift up the spirits of the guys to be able to play well in the next games," he added.
Rookie CJ Perez has taken the cudgels for struggling Gilas, norming 15.5 points an outing to go with three assists, and Guiao hopes he won't be the lone spark against Angola.